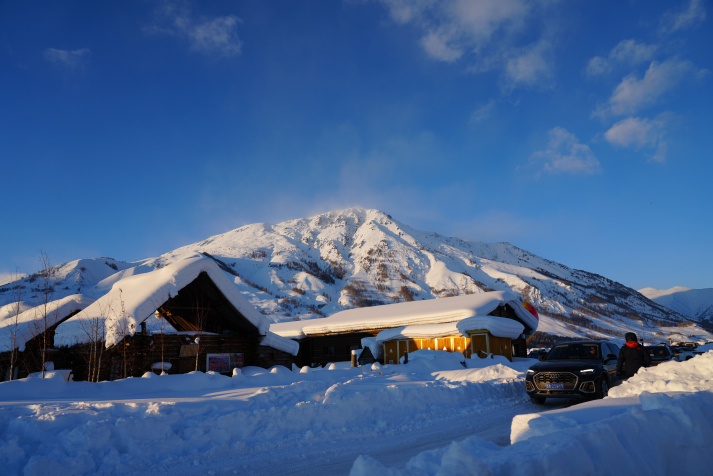 Visitors come and go in Hemu Village, Altay City, Xinjiang Uygur Autonomous Region, on January 25. Most travelers to this area come here specifically to enjoy the excellent powder snow at the local Jikepulin International Ski Resort (LI FANGFANG)
'What fire does not destroy, it hardens," illustrious Irish poet and playwright Oscar Wilde wrote in his only novel, The Picture of Dorian Gray, in 1890. It was the quote that somehow sprang to this author's mind as she gazed into the languid flames struggling to stay alive inside a towering hotpot sculpture at an annual winter festival in Longqingxia Scenic Area, a two-hour drive away from downtown Beijing. Just to dot the i's, hotpot is a flavorful broth brought to a boil at table; raw ingredients, including fish, meat and vegetables, are put into the simmering broth and thus cooked throughout the meal. It's possibly China's ultimate comfort food.
As the winter festival in Longqingxia was celebrating north China's ice lantern tradition, the huge hotpot sculpture was made entirely of ice. Nevertheless, it proved a warming sight as many of China's residents shivered through a freezing Chinese New Year holiday, from January 21 to 27 this year, as temperatures in certain parts of the country, including Beijing and its surrounding areas, plunged to record lows. On the morning of January 25 the National Meteorological Center announced a weather station in Mentougou District, on the outskirts of Beijing, recorded its lowest-ever temperature of minus 22.4 degrees Celsius.
In China, bright floral quilted jackets, fireworks, elaborate lanterns and other lively and festive items are all embedded in the tapestry that is Chinese New Year or Spring Festival, which fell on January 22 this year. And when tourists began to flock to China's snow and ice destinations during the three-day New Year holiday, from December 31, 2022 to January 2, a number of leading domestic media outlets, including People's Daily, China Daily and ThePaper.cn, suggested ice and snow sports may be in the process of joining these Chinese New Year traditions.
Based on the number of users posting short videos and other visuals of their ice and snow vacation fun on Chinese social media during the Spring Festival holiday alone, one might be inclined to agree with their suggestion.
So as she stood there in this "grotto," surrounded by ice lanterns and warming herself by the imaginary broth burbling inside the massive frozen dish in front of her, this author wondered and pondered… Last year's Beijing Winter Olympics inspired unprecedented interest in ice and snow sports, with national authorities setting the goal of 300 million Chinese participating in these sports by the time the games commenced. But almost one year on, will China continue to maintain its ice and snow fervor?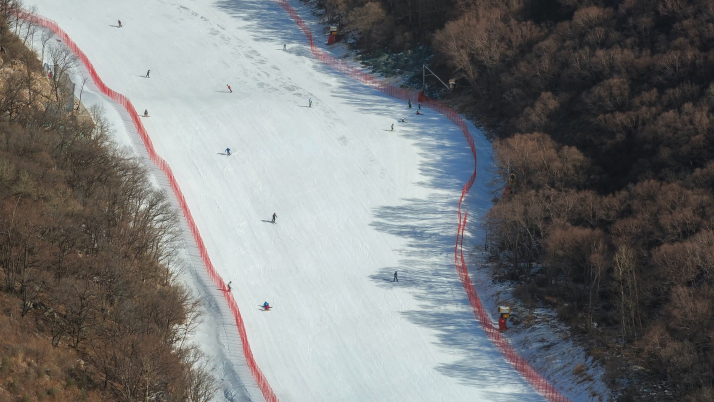 As China's first competition zone to meet Winter Olympic standards, the Yanqing Olympic Zone in Beijing, pictured on January 18, has been gaining popularity among skiers eager to take on the slopes conquered by the 2022 Olympians (ZHANG WEI)
How it all began…
A rock carving of skiers uncovered in a cave close to Altay City in Xinjiang Uygur Autonomous Region in 2005 remains one of the earliest records of humankind's skiing activities. The petroglyph shows that skiing as a means of transport for humans has a history of at least 10,000 years.
During the reign of Emperor Qianlong (1736 - 96) of the Qing Dynasty (1644-1911), ice sports became a mainstream winter activity in China, as new sports including ice skating and archery on ice skates took shape, involving early forms of skates and sleds.
To survive the harsh, cold winters, the ancient Chinese of several ethnic groups residing across north China gradually turned ice and snow to their own advantage. During the Qing, farmers and fishermen on the Songnen Plain in the northeast, for example, would fill a bucket with water and then place it out in the open to partially freeze. After pulling out the bucket-shaped ice, a hole was made in the bottom to allow the water remaining inside to escape, creating a hollow vessel. This would then be placed over a candle, et voilà… a windproof ice lantern, the ancestor of today's multicolored winter festival ice lanterns, was born.
Chinese people also hold the longstanding belief that a snowflake represents purity, dignity and royalty. No wonder then that during the opening and closing ceremonies of the Beijing 2022 Games, directed by revered film director Zhang Yimou, a giant illuminated snowflake became a recurring symbol. The enormous flake consisted of 91 smaller ones representing each delegation to the games.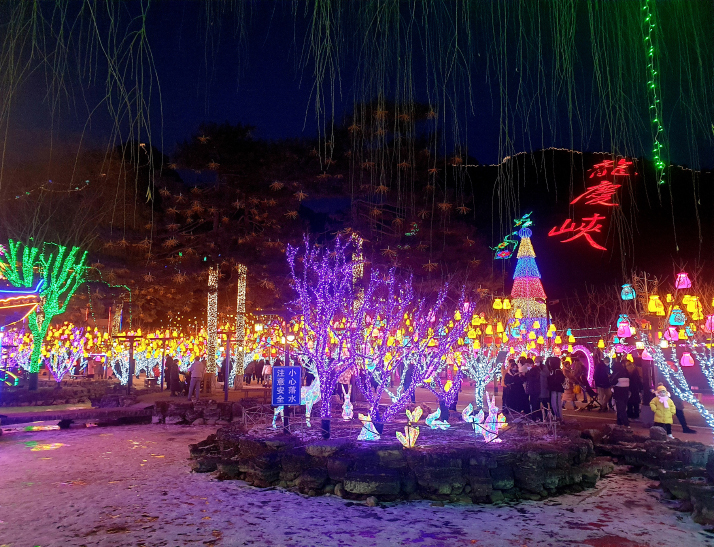 A winter festival in the Longqingxia Scenic Area in Yanqing celebrates north China's ice lantern tradition, boasting fairy tale views as far as the eye can see, on January 18 (ELSBETH VAN PARIDON)
Feel the burn
Driven by the Winter Olympics, ice and snow tourism has gradually gained popularity among Chinese people. A report on China's snow and ice tourism development, released by the China Tourism Academy on January 8, predicted that the number of snow and ice leisure travelers in China will exceed 300 million in the 2022-23 winter season. This number is expected to reach 520 million in three years' time and related tourism revenue will reach 720 billion yuan ($106.1 billion).
With this promising market potential, many related businesses and destinations are preparing to take advantage, eager to lace up those figure skates and put their own spin on it. For example, this season, more than 20 parks across the city of Beijing, including the Summer Palace, Beihai Park and the Olympic Forest Park, have launched ice and snow activities that will continue to run throughout February 2023.
Those seeking the real skiing experience need only travel a little further outside the city. Standing atop a windy mountain at the Olympic Zone in Beijing's Yanqing District, located 75 km from the downtown area, Bi Chongming told Beijing Review on January 18 that this ski season has already seen an uptick in visitors ready to take on the slopes conquered by Olympic champions last year. Bi is deputy general manager of Beijing National Alpine Skiing Co. Ltd., which manages Yanqing's Olympic Zone. During the Games, the zone hosted sliding sports—bobsleigh, skeleton and luge—as well as alpine skiing competitions.
"As China's first competition zone to meet Winter Olympic standards, it has been gaining popularity among skiers," Bi explained. "From last May, visitor numbers have been on the up, particularly starting from the second half of December until January 2023, the [beginning of the] ski season. Given that the number of visitors keeps rising, the Spring Festival holiday is bound to bring another travel peak." And Bi was right. The Spring Festival holiday saw nearly 20,000 visitors from all over the country flock to the area, generating nearly 10 million yuan ($1.5 million) in ticket and hotel revenue.
The author speaks with Chen Fenglan who, together with her husband, owns the Xiangheyiju homestay in Gucheng Village, one of the 100 dongaorenjia, or Winter Olympic homestays, in Beijing's Yanqing District. Despite business slowing down due to the impact of COVID-19 since mid-2022, Chen is optimistic about the outlook for this year
(ZHANG WEI)
Over the past year, Yanqing has continuously promoted the use of its Winter Olympic venues, promoting sports training and sports tourism and accelerating the improvement of infrastructure and supporting services—homestays included.
The local dongaorenjia, or Winter Olympic homestays, were fully booked around this time last year—courtesy of the games. And even though business has slowed due to the impact of COVID-19 since mid-2022, owners are confident that, with the relaxing of pandemic control measures in December last year, things will pick up. Take Chen Fenglan and her husband for example. They own a homestay in Gucheng Village, Xiangheyiju, one of the 100 Olympic B&Bs in Yanqing. Chen shared her optimistic outlook for 2023 with Beijing Review, saying, "We expect to welcome more guests after Spring Festival as this year's holiday will see many Chinese going home to reunite with their families for the first time in three years. Spring, particularly, looks to be a promising season. Our biggest advantage is that we also have the facilities to cater to travelers during the warmer seasons, given we have a [heated] outdoor pool and leisure area."
Cities across northeast China are also set on further developing their ice and snow tourism to move past their "declining industrial
base" stereotypes. Related cultural activities such as the ubiquitous ice lantern and snow sculpture festivals—with the pièce de résistance being the annual Harbin Ice and Snow Sculpture Festival in Heilongjiang Province—have turned large parts of this region into winter wonderlands straight out of a fairy tale.
China's northwest, too, is gearing up to become an ice and snow powerhouse.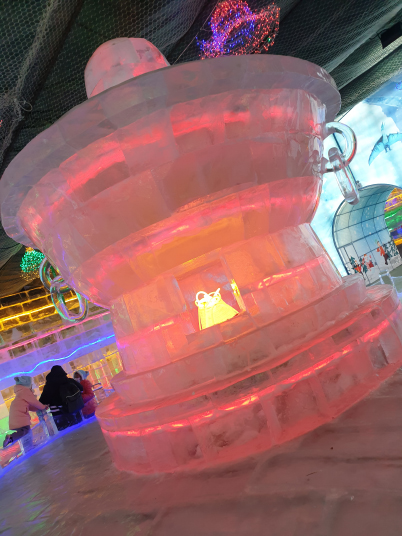 Captured on January 18, a huge hotpot ice sculpture at Longqingxia proves a warming sight as temperatures across certain part of China plummeted in the lead-up to and during this year's seven-day Spring Festival holiday from January 21 to 27 (ELSBETH VAN PARIDON)
The land of plentiful powder
Xinjiang, home to the 10,000-year-old depiction of skiers, is comparable to the European Alps or the Rocky Mountains in North America in both latitude and geography. This ski season, all 84 ski resorts in Xinjiang are fully open to the public and the regional culture and tourism department has established 180 activities focusing on snow and ice tourism.
According to Beijing Review opinion editor Li Fangfang, who is from Xinjiang and returned there for the Spring Festival holiday, the quality of the region's powder snow has long been well-known to locals but became nationally renowned during last year's Winter Olympics. Arriving in Altay City during the holiday to explore the winter scene, Li found the place was already swarming with likeminded visitors. Boasting one of Asia's top ski resorts, Jikepulin International Ski Resort is a popular destination for hitting the slopes, with tens of thousands of short videos on Douyin, China's TikTok, dedicated to the resort's 103 ski runs and their surroundings.
Circling back to the original question, considering the numbers, firsthand information and social media dedication, plus the tiny element that China's Spring Festival does coincide with the annual skiing season, it seems the country's ice and snow affinity will keep firing up over the years to come.
"Some say the world will end in fire, some say in ice"—the poem by the aptly named Robert Frost explores the power of ice and fire as agents of destruction. But, far from being agents of destruction, ice and snow in China are instead sparking the creation of new sports, leisure activities, businesses, industries and even new traditions. With the culture and economy around ice and snow growing so rapidly, it's clear that while the festival itself will always be a celebration of spring, the holiday is increasingly becoming a celebration of winter and its many delights.
(Print Edition Title: Burning For More?)
Copyedited by G.P. Wilson
Comments to elsbeth@cicgamericas.com