Chinese tourists visit the Grand Palace in Bangkok, Thailand, on February 7 (XINHUA)
Fresh flowers, banners displaying welcoming messages, and a group of officials and local tourism operators greeted two Chinese tourist groups when they stepped into Bangkok, Thailand, on February 6.
After a three-year COVID-19-induced break, China resumed outbound group travel to 20 countries, including Thailand, the Maldives, the United Arab Emirates, Russia and New Zealand, on February 6.
These first two groups of travelers to Thailand, from Guangzhou, capital of Guangdong Province in south China, were welcomed at Bangkok's Don Mueang International Airport by officials from the Thai tourism authority and the Chinese Embassy in Thailand, among others. One banner at the airport read, "Welcome, my dear Chinese jiarenmen!" Jiarenmen is a Chinese online buzzword, mainly used by young people to greet their family members or close friends. The groups, each of around 20 tourists, visited the country for six days, first touring Bangkok before relaxing at a southern seaside resort.
The move came after the country downgraded its management of COVID-19 from that of a Class A infectious disease to that of a Class B one on January 8. Resuming outbound travel is one of the measures undertaken as part of China's adjustment of its COVID-19 response.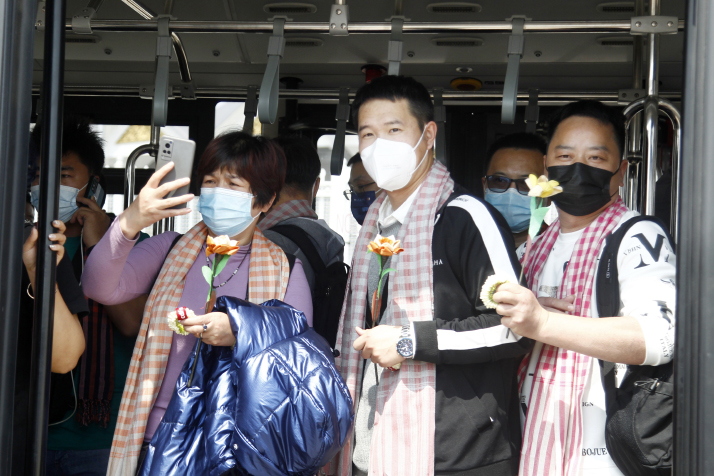 Chinese tourists take a shuttle bus at Phnom Penh International Airport in Phnom Penh, Cambodia, February 7
(XINHUA)
A stellar welcome
"Thailand is honored to be among the 20 countries chosen to once again welcome tour groups from China. We are extremely pleased to receive these first groups today and look forward to seeing many more," Yuthasak Supasorn, Governor of the Tourism Authority of Thailand, said at the welcome ceremony at the airport.
Acknowledging the contribution Chinese tourists make to Thailand's tourism economy, which makes up around a fifth of its GDP, Yuthasak said "Our thanks go out to China, the Chinese tour operators and the Chinese tourists themselves for their continued confidence in Thailand as a preferred holiday destination."
"As a tourism practitioner, I myself want to participate in the first batch of outbound tourism groups after the resumption," Xu Xiaolei, CBO of the CYTS Tours Holding Co. Ltd., one of China's leading travel agencies, told Beijing Review, "I really want to share in everyone's happiness, both the tourists and our friends from the destination countries."
CYTS' first outbound group departing from Beijing flew to Phuket, Thailand, on February 8. Most of the first groups of outbound tours departing from other large cities like Shanghai and Guangzhou on February 6 were destined for Thailand, Singapore and the Maldives.
For Gao Lei, a Beijinger, wandering around the beautiful island of Phuket is just like revisiting a second home. This is also the first overseas trip for his family of four in the past three years. "The feeling of revisiting Thailand is both familiar and strange, like seeing an old friend," he told Beijing Review. "It's exactly the same as the country in my memory."
"Thailand is my first choice for vacations," Gao said. "It's very convenient to travel there by direct flight, a quite cost-effective travel experience, and the Thai people have always been friendly to us."
Local residents, too, have been eagerly awaiting the return of Chinese tourists. When Gao and his family were visiting the island's largest seafood market, they were immediately surrounded by a group of vendors. One of the Thai shopkeepers was very enthusiastic. "He sells his products in standard Chinese and even knows a lot of Chinese online buzzwords," Gao laughed. "Some vendors said he had been waiting for Chinese tourists to return for three years."
After the announcement of China's orderly resumption of outbound tourism, Gao read some playful comments on social media, like "The monkeys at Thailand's scenic spots will finally be saved!"
And this is not an exaggeration. At the beginning of 2020, the number of tourists in Thailand dropped sharply, and the monkeys in the scenic area ran out of food and began to grab food on the street, disturbing the residents.
But aside from these "funny" incidents, the tourism industry overall suffered during the pandemic. "In the three years that followed, whether it be directly related to travel agencies, airlines, visa services, hospitality or consumer entertainment, almost all industries in travel destinations were continuously affected," Xu said.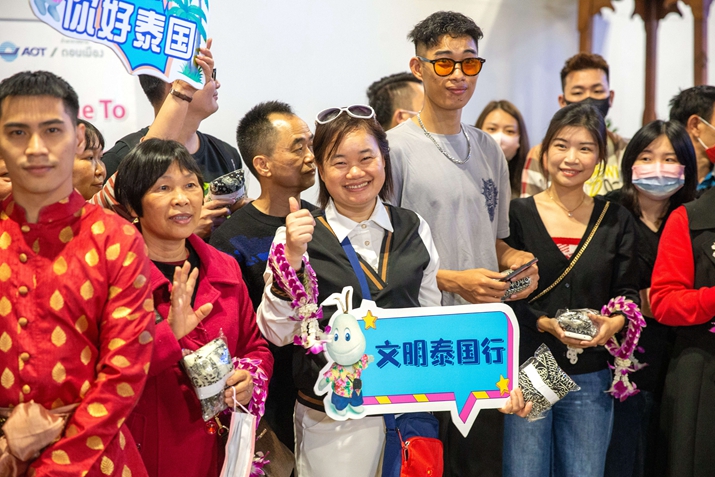 Chinese travelers arrive at Don Mueang International Airport in Bangkok on February 6 (XINHUA)
Before the pandemic, China was the world's biggest outbound travel market. According to the World Tourism Organization, Chinese tourists spent $254.6 billion overseas in 2019, accounting for nearly one fifth of global tourism expenditure. Arguably, no country has had a greater impact on global tourism than China over the past decade.
While 11.15 million travelers visited Thailand in 2022, that figure pales in comparison to the record set in 2019—nearly 40 million international tourist arrivals. That year, Chinese tourists accounted for more than a quarter of the total.
Prelude and preparation
Actually, tourism recovery within China raised the curtain before February 6. During the seven-day Spring Festival holiday from January 21 to 27, China saw nearly 2.9 million cross-border trips, made by individual travelers, up 120.5 percent year on year; and 308 million domestic trips, up 23.1 percent year on year and back to 88.6 percent of the 2019 level for the same period.
Yu Jiali, General Manager of Spring Airlines Southeast Asia, told People's Daily that Spring Airlines has resumed 24 international and regional routes, including 16 to Southeast Asia. Since the Spring Festival holiday, the passenger load factor on international flights has reached an average of over 90 percent, and many flights have reached 100 percent.
At the same time, on major online travel platforms, bookings for outbound travel products have also increased accordingly. According to data from Ctrip, China's leading online travel agency, in the week after the Spring Festival holiday, the booking volume of outbound group tours and "air ticket plus hotel" packages increased by more than three times compared with the actual seven-day holiday.
The recovery of tourist confidence is also reflected in the gradual pick-up in demand for overseas long-distance travel. On Ctrip, the first tour group to New Zealand, departing on March 18 at an average cost of 27,999 yuan ($4,129) per person, was sold out immediately after it went on sale.
"Chinese tourists have always been our main tourism source. At present, we have started the preliminary preparations for group tours," Erin Zhang, who works at a travel agency based in Queenstown, New Zealand, told Beijing Review. "New Zealand is in summer now, which is a good time to travel." Zhang has been busy communicating with China's travel agencies and customizing the latest tour itineraries to prepare for Chinese tourists visiting New Zealand this summer.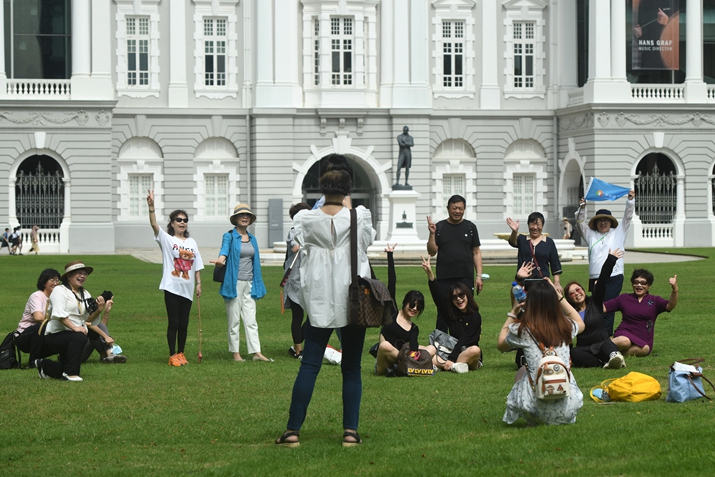 Sightseers pose for a group photo outside the Victoria Theater and Concert Hall in Singapore on February 7 (XINHUA)
"The New Zealand tourism industry is very excited about the upcoming arrival of Chinese tourists," Zhang said. Actually, before the COVID-19 pandemic, China was already New Zealand's second biggest source of international tourists after Australia, and spending by Chinese visitors hit 1.7 billion New Zealand dollars ($1.07 billion) in 2019, according to the country's statistics agency Stats NZ.
For countries that rely on tourism revenue, the comeback of Chinese tourists has brought hopes of economic rebound and, more importantly, adds optimism and helps them pull through from a possible economic downturn.
The effect of stronger tourism activity due to the resumption of China's outbound group tours could boost Malaysia's GDP by at least 1 percent, UOB Global Economics & Market Research said on February 3, according to Xinhua News Agency.
According to the research house's economists, the boost will further support their baseline GDP growth forecast for Malaysia of 4 percent for 2023. Moreover, according to a report released by Fitch Ratings in January, Chinese tourists are expected to further lift the tourism economy across the Asia-Pacific region.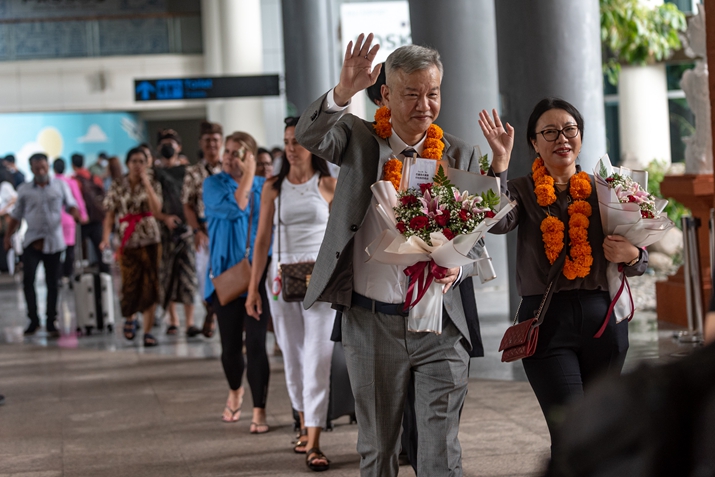 Tourists, wearing welcome garlands, exit Bali Ngurah Rai International Airport in Bali, Indonesia, on January 22 (XINHUA)
Resurrecting the champ
Although the outbound travel business has not been active in the past three years, the communication and exchanges between Chinese travel agencies and overseas tourism enterprises have never ceased, according to Xu.
China's outbound tourism supply chain is ready for market recovery. "The exchanges and communication between travel agencies in China and reception links at destinations such as overseas consulates, tourism bureaus, hotels, and airlines have never stopped," he said.
However, due to the pandemic, "We need to admit that many overseas travel agencies and some other tourism-related resources have undergone changes, which has also generated challenges for the recovery of outbound travel," he explained.
Particularly, the impact on small tourism agencies overseas was quite obvious. "We will help some local travel agencies to restore their reception capacity as soon as possible, and help them restore the industrial chain," Xu said. "We hope the industry will return to normal operation as soon as possible."
"It's still a prelude," Xu illustrated, introducing that the company now only launched 200 products for the first pilot batch of 20 countries at the moment, about one 10th of the number for the pre-pandemic level in 2019.
"We expect by the end of the first quarter, or the beginning of the second quarter, China will resume group tours to more countries, in preparation for the traditional 'travel golden period' starting from May," he concluded.
At the same time, with the Chinese mainland's full resumption of normal travel with Hong Kong and Macao special administrative regions (SARs) starting from February 6, group tours between the mainland and the two SARs have also resumed.
Tourists from the Chinese mainland have long made up the majority of visitors to Hong Kong, accounting for 78.29 percent of the 55.91 million arrivals in 2019.
On February 6, a total of 135 people from six mainland tour groups arrived in Macao. The Macao Government Tourism Office hosted welcome ceremonies at Hengqin Port and Macao International Airport, respectively, presenting souvenirs to tour group members. Also, the first Macao tour group of 37 people set out for Hengqin Port that same day.
Data from Ctrip showed that as of February 4, bookings for Hong Kong and Macao trips for the following week by mainland residents were up 228 percent year on year.
Meanwhile, 20 Hong Kong tourists arrived at Beijing Capital International Airport on the afternoon of February 6, starting a four-night and five-day tour of the capital. BR
Printed edition title: Hello World
Copyedited by G.P. Wilson
Comments to taozihui@cicgamericas.com