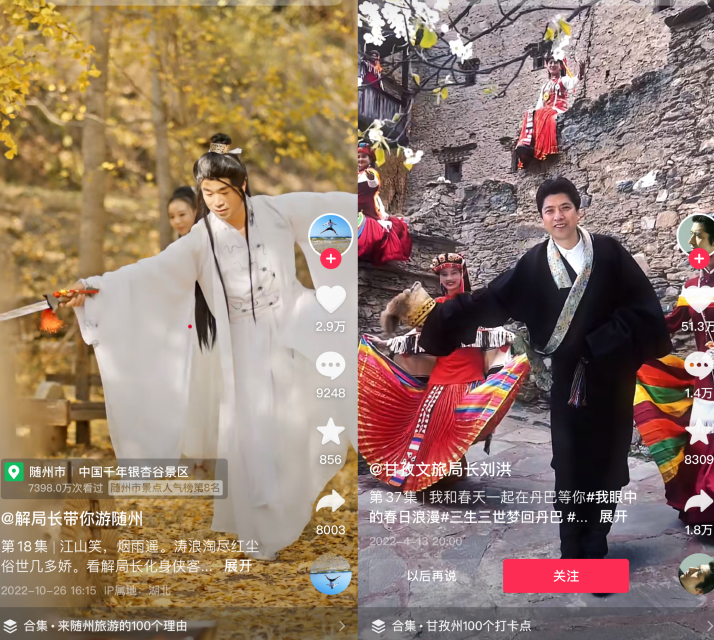 (Left) Xie Wei, surrounded by gingko trees, performs as an ancient swordsman in Suizhou Prefecture, Hubei Province. Liu Hong dresses in Tibetan costume while shooting a promo video in Garze Tibetan Autonomous Prefecture, Sichuan Province (FILE)
In the digital age, online celebrities attract public attention and influence followers more easily on issues such as what to buy and where to go. The latest trend spreading among civil servants: becoming social media influencers to promote their hometowns. Xie Wei, Director of the Culture and Tourism Bureau of Suizhou Prefecture in Hubei Province, is one such official-turned-influencer. He has found success online making an ancient ginkgo forest and other local scenic spots famous around the nation.
Testing the waters
In a short video that was widely discussed and made fun of on social media in late 2022, Xie is dressed in the costume of an ancient swordsman. He performs swordplay, plays chess and drinks wine under ancient ginkgo trees in the golden hues of autumn. He and his team aimed to create a romantic artistic atmosphere in the ginkgo valley, with a view to promoting it as a destination for audiences.
The site was used in several scenes in the 2015 period kungfu drama The Assassin and Xie performed a sword-dance in his own special style to recreate scenes from the movie.
However, because his team had a busy shooting schedule that day and also a limited budget, his makeup was rushed. As a result, his crude and funny appearance incurred waves of ridicule online that criticized him for damaging the image of ancient swordsmen. Rather than feeling embarrassed by the derision, Xie explained the abovementioned aims on his short video account. "As long as my video cheers the audience up and helps to attract the public's attention to Suizhou's beautiful scenery and rich cultural heritage, we've hit our goal, even if I have made fun of myself," Xie said.
His sincerity won him a large number of followers, who began to watch, like and repost his previous promotional videos. Before shooting to fame, Xie had already tried other ways to promote Suizhou to the rest of the country, even inviting local influencers to help promote its peach blossoms festival. Although this did help Suizhou get more publicity, it cost much more than what local budget could sustain. While looking for more effective and economical means to promote Suizhou, Xie was inspired by Liu Hong, Director of the Cultural and Tourism Bureau of Garze Tibetan Autonomous Prefecture in Sichuan Province. Liu had already risen to fame several months before Xie's foray into video making.
In a striking contrast to Xie's funny performance, Liu is hailed by netizens as a combination of several famous and very handsome Chinese movie stars.
In one of the videos that made a splash online, Liu is also dressed as an ancient swordsman, touring among the mountains and around lakes, leading a horse along the ancient tea-horse road from Sichuan to Tibet Autonomous Region.
Having received more than 200 million views so far, the video is one of a series of short clips designed by Liu's team to promote the local tourism industry. This was Liu's debut playing a kungfu hero and within the first month of registering an account on social media, he had secured more than 80,000 followers. So far, that number has jumped to over 1.3 million.
Every day, Liu spends some time scanning comments left by netizens and leaves some replies. Most importantly, his short video account has now become an extra channel for tourists to report tourism-related complaints. "We should not always seek plaudits. Tourists' concerns are also worth listening to. This will help us serve our tourists better," Liu said when talking to the media.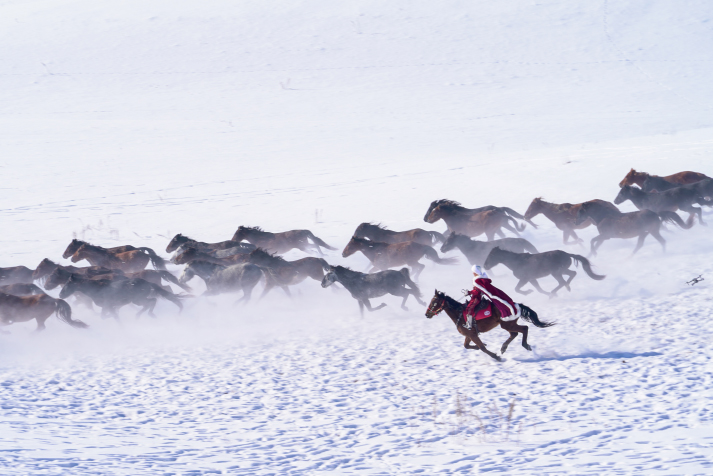 He Jiaolong rides with a herd of Ili horses in Zhaosu County, Ili Kazak Autonomous Prefecture, Xinjiang Uygur Autonomous Region, on December 31, 2021 (XINHUA)
Making good use of new media
Despite playing the roles of ancient swordsmen, these two officials-turned-influencers are gentle and quiet in manner. In contrast, the scene of a galloping heroine is breathtaking, particularly when it was later revealed that this heroine fell from the horse and into a river during filming. The accident occurred when He Jiaolong, Vice Director of the Culture and Tourism Bureau of Ili Kazak Autonomous Prefecture in Xinjiang Uygur Autonomous Region, was shooting a video of Ili horses galloping, playing and bathing in the river in a local wetland park in July 2021. He, dressed in a red dress and wearing a hat with a long red veil, gallops among a herd of hundreds of horses, creating a magnificent and heart-stirring picture.
In November 2020, He became an overnight household name thanks to a clip of her, draped in a red cloak, galloping across a vast snow field. Views of the video have exceeded 600 million, and her followers instantly ballooned from 500,000 to 1 million.
Before becoming well-known, He was already involved in live-streaming marketing, promoting local farm products. Her account on Douyin, TikTok's Chinese version, is now used as a window to display local tourism and agricultural products. A growing number of followers bring increasing economic benefits. So far, her live-streaming operations alone have raked in more than 100 million yuan ($14.7 million) in revenue to local businesses.
Unlike He, Liu has set a rigid rule for himself: He will not sell goods through live-streaming or accept tips from followers. He will work in a voluntary way to promote local tourism to the rest of the country. In his opinion, promoting goods for a particular business will only benefit that business; his main goal is to attract more tourists to Garze, so that local agricultural products will be purchased as souvenirs.
Whatever their aims, recent years have seen a growing number of local officials choosing to promote their areas as influencers. Indeed, short videos on social media are a very helpful means for local governments to promote their regions and local specialties. Meanwhile, the audience has also become increasingly uninterested in materials such as promotional brochures from local authorities. The videos on social media make it possible for them to interact with influencer officials, and thus such videos are attracting more and more viewers.
However, up until now, only a handful of these officials have reached the level of stardom enjoyed by those mentioned above. Zhang Xiaoqiang, a professor at Chongqing University's School of Journalism and Communication, suggests that officials who have yet to attract online traffic should find ways to inject their own personalities into their promotion of their regions.
To officials who have so far achieved a modest degree of recognition, Zhang suggests making adequate preparations before shooting to prevent hastiness doing damage to their image. This piece of advice is extremely important as, after all, not everyone is as lucky as Xie.
Copyedited by G.P. Wilson
Comments to panxiaoqiao@cicgamericas.com