Aerial photo taken on June 29, 2022 shows a view of the Nansha Bridge, which links Guangzhou City and Dongguan City, in south China's Guangdong Province (XINHUA)
With China's "two sessions" around the corner, the global community has once again turned its eyes towards some of the hot-button topics expected to be discussed over the coming days.
This year's version is of special relevance, as 2023 marks the first year for China to fully implement the guiding principles of the 20th National Congress of the Communist Party of China (CPC).
More importantly, how China will get off to a good start and provide the world with new opportunities through its own development has captured global attention.
Boosting global recovery
At a time when the world economy is still plagued with growing and overlapping uncertainties and risks, China's economic recovery has become the sliver lining of the prolonged global recession.
During the Spring Festival holiday, China witnessed a booming domestic market and expanding consumption in various sectors. International institutions like the International Monetary Fund have raised China's growth expectations, and multinational companies have increased investment in China.
China is arguably the only major economy set anticipated to see faster economic growth this year, Yi David Wang, chief China economist at Credit Suisse Group AG, told Xinhua.
An accelerated recovery of the Chinese economy has sent a positive signal to the world, and gives more reasons for observers to be confident in a stronger economic outlook.
After China optimized its COVID response, cross-border movements of personnel and materials are returning to normal, which will significantly improve global expectations for the stability of China's industrial and supply chains, Ding Ke, senior research fellow at the Institute of Developing Economies of the Japan External Trade Organization, told Xinhua in a written interview.
The rapid growth of digital economy, new energy and other emerging industries will equally bring greater dynamism for China's economic development, he added.
Such a good start, stemming from the fundamentals supporting China's steady economic growth, sheds light on the country's economic resilience, potential and vitality.
Given the fact that China is the world's second-largest consumer market and the largest trader of goods, the international community expects China to further consolidate its economic comeback and continue to inject confidence, stability and vitality into the global economic recovery.
"China will undoubtedly continue to be an important 'engine' for world economic growth," said Liang Guoyong, a senior economist with the United Nations Conference on Trade and Development. Focusing on economic policies expected at the "two sessions," Liang believes a rational use of macroeconomic policy tools will play a more active role in promoting China's economic growth.
For other economies, China's expanding import demand means new trade opportunities, and the surge in outbound trips by Chinese tourists will also give a boost to the global service industry, he said.
Khairy Tourk, a professor of economics with the Stuart School of Business at the Illinois Institute of Technology in Chicago, said that the swelling consumption market in China entails "a tremendous demand for new products, say refrigerators, the durable goods, housing that kind of thing."
"My expectations in the short term is that property market will gradually rejuvenate, and foreign direct investment to continue, it is growth unabated," he added.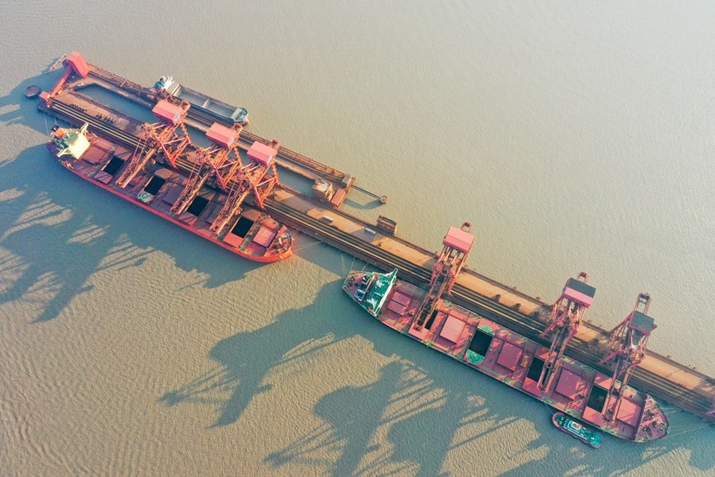 This aerial photo taken on January 30 shows a view of the Ningbo-Zhoushan port in east China's Zhejiang Province (XINHUA)
Raising all boats
This year marks the 45th anniversary of China's reform and opening-up. How China will continue to open up its door means a lot for both itself and the wider world, particularly at a time when the economic globalization is under serious pressure.
The reform and opening-up has prompted the Chinese economy to grow at high rates over decades, with a giant leap in per capita income and living standards, Lewis M. Ndichu, a researcher at Nairobi-based think tank Africa Policy Institute, told Xinhua.
The expert said he believes that during this year's "two sessions," there will be much deliberation concerning how to continue to expand opening up, lift market confidence and defuse major risks.
Noting that China's Ministry of Commerce has pledged to fully resume offline trade fairs and support Chinese enterprises to go global, among other policies, Koh Chin Yee, president of Singapore's South Seas Society, said that many business delegations of Chinese local governments have recently headed to Singapore in search of new opportunities for trade and investment, attesting to China's commitment to further strengthening foreign cooperation.
From holding such international fairs as China International Import Expo and Canton Fair and pushing forward free trade projects like the Hainan Free Trade Port, to joining multilateral mechanisms such as the Regional Comprehensive Economic Partnership ... China is opening its door wider, further expanding international cooperation and sharing its development dividends with the rest of the world.
From the perspective of an exporter, Nicolas Perinetti, export manager for Asia at Argentina's Casarena winery, noted that China's import categories have been increasing in parallel with the expansion of its economic openness.
Noting that products of agricultural trade between Argentina and China have extended from grains to fruits, meat, wine, etc., Perinetti believes the trade of goods with higher added value will help boost Argentina's economic development.
China's further opening-up in the new era has caught high attention from the international community, said Yuri Tavrovsky, a professor of the Russian University of Peoples' Friendship. He has long been following China's development and published in 2017 the book One Belt, One Road: Traveling Westward.
Noting this year also marks the 10th anniversary of the Belt and Road Initiative (BRI), Tavrovsky said how the initiative will foster common development of the partner countries is also an interesting topic to which he has paid much heed.
Over the past decade, China has signed Belt and Road cooperation agreements with 151 countries and 32 international organizations in the principles of extensive consultation, joint contribution and shared benefits.
Take Uzbekistan, one of the first countries joining the BRI. It has collaborated with China in multiple major projects such as the China-Central Asia Gas Pipeline and the Qamchiq Tunnel on the Angren-Pap railway line.
The initiative acts as a crucial venue to consolidate cooperation through infrastructure connecting land and sea; simultaneously, it is becoming an important platform for global economic growth, said Azamat Seitov, a scholar of Uzbekistan's University of World Economy and Diplomacy, who hopes that new measures to be declared at the "two sessions" will bring new opportunities to expand cooperation between the two countries.
New choice to modernize
Since the 20th CPC National Congress, the "Chinese path to modernization" has spurred worldwide discussions. Many believe that it has offered another option for developing countries to modernize, and embodies Chinese thinking on the cause of peace and development of humanity.
The forthcoming "two sessions" have become an important window for observers to have a deeper understanding of the Chinese path to modernization and keep pace with China's future development.
"The proposal of the Chinese path to modernization is a pioneering work for the development of human society," said Yersultan Zhanseitov, a senior expert at the Institute of World Economics and Politics in Kazakhstan, who believes the new ideas and practices provide new choices, which shows that countries can independently explore their own modernization paths and achieve leapfrog development.
Joseph Matthews, a senior professor at the BELTEI International University in Phnom Penh, said China's modernization is unique in the sense that it is based on inclusive development, common prosperity, people-centered and friendly policies, and a community with a shared future for mankind.
As the world's second-largest economy, China's modernization drive will bring positive changes to the world and promote multilateralism and economic globalization, he told Xinhua, adding China's economic development in the last four decades is a great inspiration for other developing countries such as Cambodia.
Abdoulaye Ba, general secretary of the Foreign Press Association in Senegal, said many African countries, including Senegal, are beneficiaries of China's modernization, which promotes high-quality development in the world.
Applauding several Belt and Road projects in Senegal, such as the Foundiougne Bridge and the Ila-Touba highway, he said, "I am very concerned about the two sessions this year. I want to know how China will further promote and expand Chinese modernization, and how to further promote high-quality development in the world, including African countries."
"Without the slightest doubt, China is a successful case that serves as an inspiration for all developing countries aspiring to become more developed," said Luis Antonio Paulino, director of the Confucius Institute at Sao Paulo State University.
It's hoped that the upcoming two sessions will not only help China forge ahead toward its goals, but also contribute to upholding a fair and equitable global order so as to bring peace and development to the rest of the world, he said.