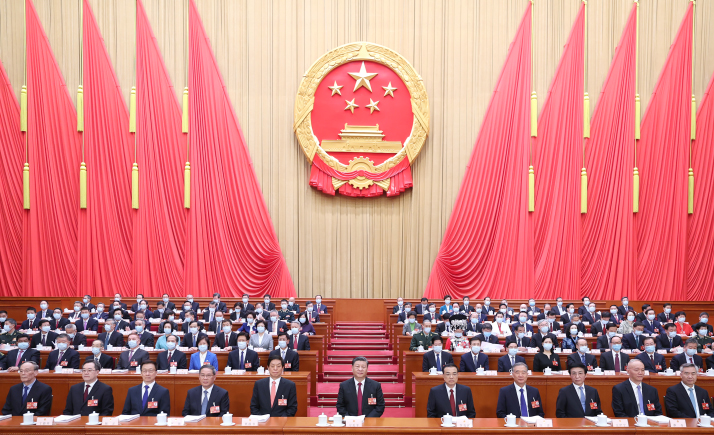 President Xi Jinping attends the opening meeting of the First Session of the 14th National People's Congress (NPC) with other leaders at the Great Hall of the People in Beijing on March 5
(XINHUA)
China has set its GDP growth target at around 5 percent for this year. The target was revealed in the government work report delivered by then Premier Li Keqiang at the opening meeting of the First Session of the 14th National People's Congress (NPC), China's highest state organ of power, in Beijing on March 5.
The growth target of around 5 percent "is necessary to ensure stable growth, employment and prices," according to a report on the implementation of the 2022 plan and the draft of the 2023 plan for national economic and social development, submitted by the National Development and Reform Commission (NDRC), the country's top economic planner, on March 5.
"It will be a positive signal to the market and will bolster confidence, guide expectations, expand employment, improve living standards, and prevent and defuse risks while pursuing development," the NDRC report said.
This year's GDP target is also consistent with the growth potential of the Chinese economy at present and with the capability of resources and production factors to support the economy, according to the report.
"This suggests the government's focus is on high-quality economic growth. I believe this target is achievable," Yu Miaojie, President of Liaoning University and a deputy to the 14th NPC, told Beijing Review while attending the annual legislative session in Beijing, which concluded on March 13.
"The growth target is achievable in light of China's average annual GDP growth rate of 6.2 percent in the past 10 years. Also, as the country has adjusted pandemic control measures, its economic vitality will be unleashed and the economy will see a recovery," Jin Li, Vice President of the Southern University of Science and Technology and a member of the 14th National Committee of the Chinese People's Political Consultative Conference, the top political advisory body, told People's Daily.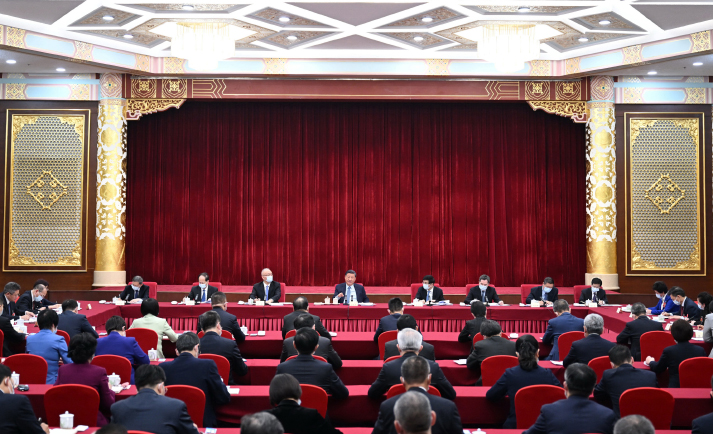 President Xi Jinping attends a joint group meeting with national political advisers from the China National Democratic Construction Association and the All-China Federation of Industry and Commerce on March 6 (XINHUA)
In January, the International Monetary Fund (IMF) raised its forecast for China's economic growth to 5.2 percent in 2023, up 0.8 percentage points from its projection in October last year, as it said the country's reopening has paved the way for a faster-than-expected recovery. Pent-up demand could also fuel a stronger rebound in China, the IMF said in its World Economic Outlook report released in January.
China's economic rebound is having a significant positive spillover effect on the regional growth of Asia, Krishna Srinivasan, Director of the Asia and Pacific Department of the IMF, said.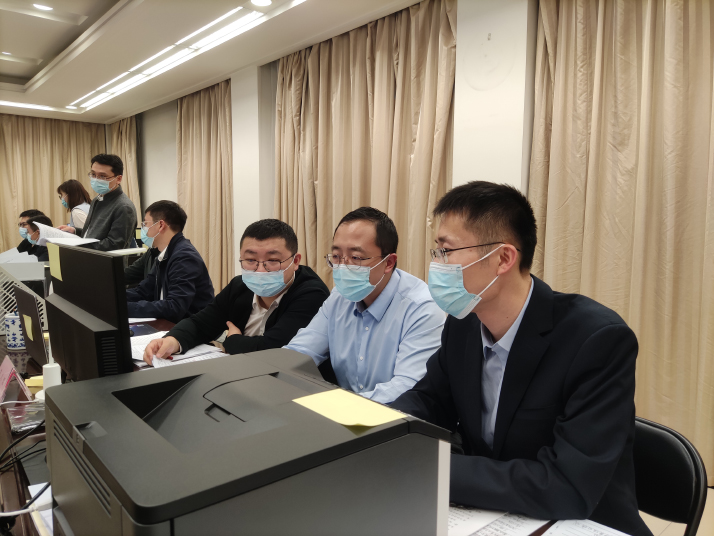 Staff members of the General Office of the State Council sort through suggestions from deputies to the NPC and members of the National Committee of the Chinese People's Political Consultative Conference (CPPCC) collected through multiple channels on March 5. The suggestions will be passed on to the related government departments for review and feedback
(XINHUA)
Srinivasan further said during the International Finance Forum One-on-One Global Dialogue on March 3 that a 1-percentage-point increase in China's growth leads to a 0.3-percent growth in output level across Asia.
A pickup in China's tourism has "had a huge impact" on countries like Thailand and Viet Nam, he said, adding that recovering consumption in China will boost the exports of its trading partners in the region.
Xulio Rios, a Spanish author and adviser emeritus of the Chinese Policy Observatory website, told Beijing Review that the 5-percent growth target is pragmatic but not easy to achieve. China still needs to confront a complicated international situation, the influence of the COVID-19 pandemic as well as challenges in its transition to a new growth model. In spite of many uncertainties, the Chinese economy has shown great resilience and its sound growth is important for the global economy to return to normal in the post-pandemic era.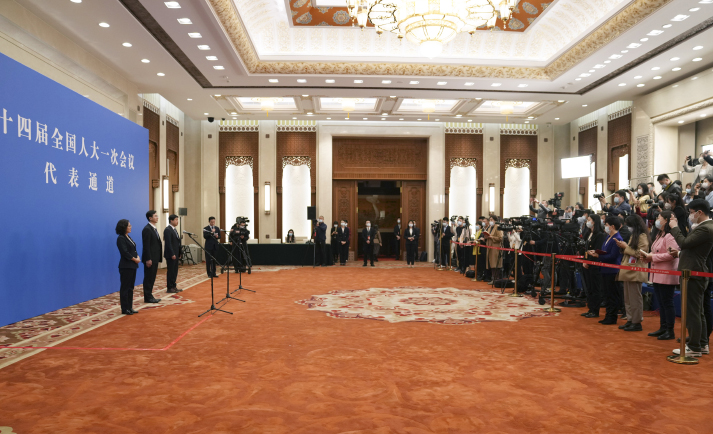 Deputies take questions from reporters during the First Session of the 14th NPC in Beijing on March 7
(XINHUA)
Promoting growth
This year, China aims to create around 12 million new urban jobs, with a surveyed urban unemployment rate of around 5.5 percent, according to the government work report. Other annual objectives include keeping the consumer price index increase at around 3 percent and grain output above 650 million tons.
The report unveiled a raft of measures to shore up growth this year, including a projected deficit-to-GDP ratio of 3 percent, 0.2 percentage points higher than the level last year, and 3.8 trillion yuan ($545.7 billion) of special-purpose bonds to be allocated to local governments.
To expand domestic demand, the government will prioritize the recovery and expansion of consumption, and improve the incomes of urban and rural residents, the report added.
China's final consumption expenditure contributed more than 50 percent to domestic economic growth in 2022, which is low compared with developed countries. Therefore, China still needs to expand domestic demand and stimulate consumption.
Yu suggested the government step up policies to support the real economy, narrow the urban-rural gap in infrastructure, and increase tax and fee cuts to expand domestic demand. He also said manufacturers should be encouraged to move up to the higher ends of industrial chains.
"The government should boost the consumption of big-ticket items like cars and home appliances, advance the development of convenience stores in urban communities, improve logistics services in rural areas, and support the tourism industry as people's desire to travel returns," he said.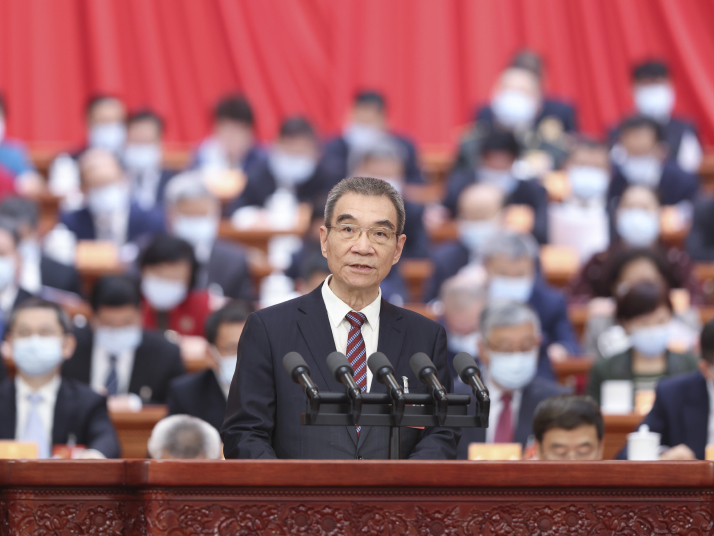 Justin Yifu Lin, a former World Bank chief economist, a professor at Peking University and a member of the 14th CPPCC National Committee, speaks at the second plenary meeting of the First Session of the 14th CPPCC National Committee on March 7
(XINHUA)
High-quality development
In addition to measures aimed at bolstering growth, the government work report has underlined the importance of high-quality development in economic growth.
Liu Tao, Vice President of Zhixin Investment Research Institute, told China Newsweek that this year's report has given more emphasis to green and low-carbon development. The report has vowed to continue the transition to green development, improve the quality of the ecological environment and advance energy conservation and carbon reduction in key areas. "High-level environmental protection will not hinder economic growth but add new engines to growth instead and promote high-quality development," Liu said.
President Xi Jinping, also General Secretary of the Communist Party of China Central Committee and Chairman of the Central Military Commission, said that high-quality development is the top priority in transforming China into a modern socialist country in all respects. He made the remarks on March 5 during a deliberation with deputies from the delegation of Jiangsu Province at the First Session of the 14th NPC. Xi is one of the deputies in the Jiangsu delegation.
Xi added the country must fully and faithfully apply the new development philosophy on all fronts, and as far as understanding, assessing and promoting development is concerned, people must make sure that the development is innovative, coordinated, green, open and for everyone in a well-integrated manner.
"A better balance must be maintained between effective rise in quality and reasonable growth in quantity, with quality first and priority given to economic and social benefits," he said. "We must stay committed to deepening reform and opening up, further transform the growth model, and work for better quality with higher efficiency and more robust drivers of economic growth through reform, so as to accelerate the development of institutions and mechanisms for sustainable high-quality development," he added.
Xi pointed out that the nation must speed up efforts to achieve greater self-reliance and strength in science and technology to promote high-quality development. "Facing fierce global competition, we must open up new areas and new tracks in development and foster new growth drivers and new strengths, which, fundamentally, depends on sci-tech innovation," he said.
Xi pointed out that accelerating the creation of a new development pattern is the strategic foundation for promoting high-quality growth. "We should make sure that our implementation of the strategy to expand domestic demand is integrated with our efforts to deepen supply-side structural reform, and move faster to modernize the industrial system... We need to advance new industrialization, intensify efforts to reengineer the industrial foundation and tackle key issues in major technologies and equipment, so as to make the manufacturing sector high-end, smarter, and greener," he said.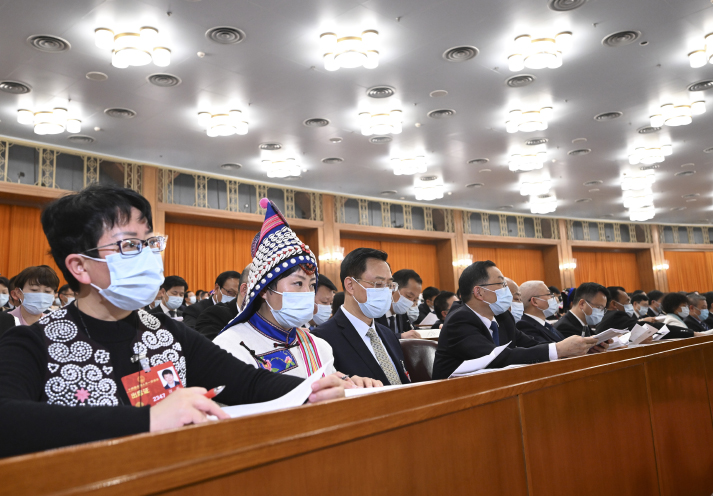 Deputies from all segments of society attend the second plenary meeting of the First Session of the 14th NPC on March 7
(XINHUA)
The report also highlighted the role of private businesses in promoting high-quality growth. It said the government will protect the property rights of private enterprises and the rights and interests of entrepreneurs, encourage and support the private sector and private businesses in growing and expanding, and support micro, small, and medium-sized enterprises and self-employed individuals in business development.
During a joint group meeting with national political advisers from the China National Democratic Construction Association and the All-China Federation of Industry and Commerce on March 6, Xi underlined the need to guarantee a level playing field for private businesses and state-owned enterprises through laws and institutional arrangements, encourage the private sector and its enterprises to grow larger and further lift market expectations and confidence.
More effective measures must be adopted to support the growth of smaller enterprises and self-employed individuals, while platform companies will be encouraged to play a greater role in creating jobs, in boosting consumption and in international competition, he said.
Xi encouraged private businesses to transform their growth patterns, adjust their industrial structure, focus on their main business portfolios and follow a path of high-quality development.
Capable firms should enhance their independent innovation and contribute more to the nation's science and technology self-reliance as well as the commercial application of research outcomes, he said.
To spur private investment, the government should attract the participation of more private investors to the construction of major projects and projects that are part of key industries and supply chains, he said.
Yu called for greater support for private businesses, especially ensuring their access to production inputs at the same prices as state-owned enterprises. According to him, the government and financial institutions should improve support for private enterprises. "Some private firms still face difficulties in financing and land use. As long as their operation costs are cut, improving profits will facilitate their business expansion and therefore expand employment and boost consumption," he said.
According to Yu, China's supply chains have weathered the challenges of the COVID-19 pandemic well, but logistics costs are still high and digital transformation and efficiency should be improved. The government should ramp up support for enterprises to develop offline supply chains as well as digital platforms. He also said the online procurement of materials through digital platforms will drive the upgrading of small and medium-sized enterprises.
The report said China will intensify efforts to attract and utilize foreign investment and continue to open up the modern services sector.
"The opening up of fields including banking, insurance and securities is widening. The government needs to improve the business environment and shorten negative lists defining industries in which foreign companies cannot invest," Yu said.
"Some foreign-funded enterprises are moving out of China, but this is not becoming a trend. China remains attractive to many foreign enterprises and foreign direct investment is improving," he said.
(Li Xiaoyang and Miao Ye contributed to this story)
(Print Edition Title: A Balanced Agenda)
Copyedited by G.P. Wilson
Comments to jijing@cicgamericas.com