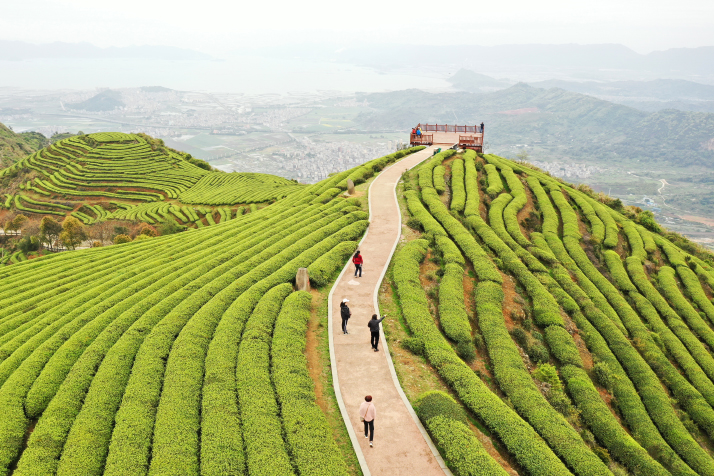 Tourists visit a tea garden in Lianjiang County, Fujian Province, on March 28 (XINHUA)
Rural tourism is tourism that takes place in non-urbanized areas which typically include (but are not limited to) forests, countryside areas and mountain areas. In China, this tourism sector is becoming a hotspot for consumption and a popular travel choice for many city dwellers.
Hosted by the Ministry of Agriculture and Rural Affairs in Longyan, a city in Fujian Province, on March 23, a promotional event recommended 56 tourist routes for the spring season. Local governments across China, considering this a new opportunity for development, are eager to step up support and lift rural tourism to the next level.
Local action
Released in February, this year's No.1 Central Document, an important indicator of the central authorities' policy priorities for the 12 months ahead, emphasizes the implementation of high-quality agritourism programs as well as the upgrade of rural homestays. In March, the government work report approved at the First Session of the 14th National People's Congress, China's top legislature, also pledged to endow rural industries with more local features to create more channels for increasing rural incomes.
On March 23, the Sichuan Provincial Government announced at a press conference it would be implementing a promotional campaign, calling on rural tourism programs to focus on sightseeing plus resort tourism and make the province a unique destination for rural microtravel—offering visitors a more personal and curated experience.
A few days earlier, the 2023 Ningbo Rural Tourism Season and Fenghua Peach Culture Festival had opened in Ningbo, Zhejiang Province, during which the coastal city released its boutique routes, catering to visitors' individual demands, for rural tourism. From March to June, the city's 34 key tourism townships are hosting a series of activities, including sports and leisure, fruit picking, sightseeing, country cuisine and cultural festivals, which aim to boost the market and increase farmer income.
"Rural areas have unique advantages to develop tourism," Xu Yingmei, head of Modern Agriculture Research Office of the Institute of Rural Development under the Shandong Academy of Social Sciences, said. The countryside is rich in natural resources, unique folk customs, village characteristics and vegetation, allowing tourists to relax while experiencing the unique charm of traditional culture, Xu explained.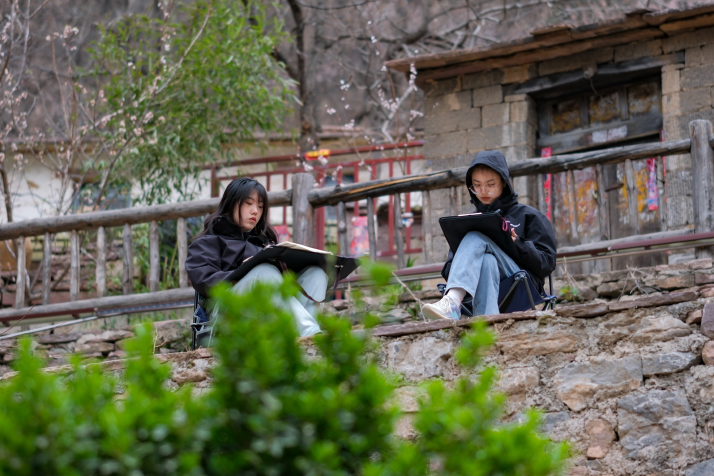 Visitors hone their landscape sketching skills in Gaojiatai Village, Anyang City, Henan Province, on March 24. The picturesque village is a popular travel destination for artists
(XINHUA)
Rapid growth
China's rural tourism has become increasingly prosperous in recent years and the industry today contributes more and more to overall economic and social development.
"At this point, Sichuan has 1,363 rural tourism sites, 55 villages and townships on the national list of recommended rural tourism destinations, and 53,000 households engaged in the industry, with millions of people benefiting from rural tourism," You Yong, Deputy Director of the Sichuan Provincial Department of Culture and Tourism, said.
According to figures released by Ningbo, the city received roughly 12.55 million visitors specifically traveling to the area for rural tourism throughout 2022, an increase of 8.72 percent year on year; related tourism revenue reached 7.76 billion yuan ($1.13 billion), up 4.95 percent year on year; and rural tourism provided over 70,000 jobs, accounting for 19 percent of the city's rural workforce.
And businesses in the field, too, are multiplying.
According to figures from Chinese corporate information provider Tianyancha, China now has more than 494,000 rural tourism-related businesses, of which 95,000 were registered in 2022, marking a year-on-year increase of 24.7 percent. In the 2020-22 period, the number of newly registered rural tourism-related businesses grew at an annual average of 24 percent; Sichuan, Shandong and Hubei provinces made up the top three in the number of such enterprises—with 40,000, 34,000 and 31,000, respectively.
Xu said rural tourism integrates the primary, secondary and tertiary industries as well as creates new agriculture-related industries and business models. This will improve the efficiency of rural resource utilization, maximize the economic value of natural resources in the countryside and provide new options for the promotion of rural revitalization, a core component of the central authorities' strategies to promote more balanced economic and social development nationwide.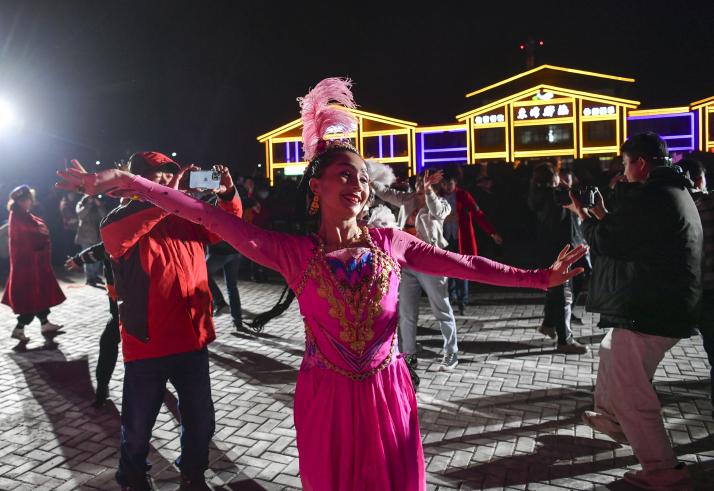 Villagers in traditional costumes in Akto County, Xinjiang Uygur Autonomous Region, dance with tourists on March 27
(XINHUA)
Offering range
However, while rural tourism keeps booming, the sector does have an urgent need for more range, i.e., effective branding strategies, to better boost local economies.
"I've visited many ancient towns and streets, but few of them really impressed me," Mu Yi (pseudonym), a tourist visiting from Beijing, said, adding the same snacks such as roast squid, fried stinky tofu and sugar-coated haws on a stick plus cookie-cutter souvenirs are everywhere. "It's like a copy-paste concept," he complained.
"In the process of explosive growth, rural tourism inevitably faces problems such as a simple development model, insufficient capability, poor services and weakness in stimulating other industries," Xu said, adding these problems are tied in with the lack of planning, inadequate industrial integration and the relatively inefficient operation of the rural tourism industry.
According to her, the resources are plentiful, but the products designed for the sector remain unsophisticated, mainly focusing on sightseeing and agritainment while lacking activities featuring local characteristics, history and culture, resulting in tourists only paying short visits.
"It is important to integrate local characteristics into rural tourism products," Xu said, suggesting rural tourism up its appeal by designing more diversified programs and providing more special cuisines, folk traditions and local decorations, thus stimulating consumer demand and accelerating the sector's development.
And the lack of professionals in the related field constitutes another major reason impeding growth.
"Effective policies and measures in line with the real conditions of rural tourism development can attract more high-caliber personnel to enter the industry. On the other hand, the training of rural tourism professionals needs an upgrade, including the distribution of knowledge on how to design products and execute development strategies, to increase the number of local experts and explore new paths for the sector's growth," Xu said.
The author is a reporter with China.org.cn
Copyedited by Elsbeth van Paridon
Comments to yanwei@cicgamericas.com