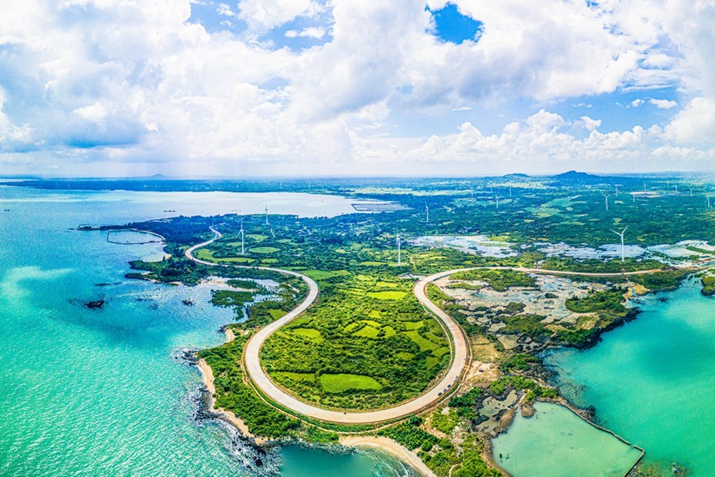 This aerial photo taken on October 6, 2022 shows a section of the round-the-island tourist highway in Danzhou, south China's Hainan Province (XINHUA)
Over the past five years, China has made solid strides in building a high-level free trade port (FTP) in its southern island province of Hainan.
On April 13, 2018, China announced a decision to support Hainan in developing the whole island into a pilot free trade zone and gradually exploring and steadily promoting the establishment of a free trade port with Chinese characteristics.
China has called for accelerating the development of Hainan into an FTP with Chinese characteristics and global influence and making Hainan into a paradigm of reform and opening up in the new era.
The Hainan FTP construction is in full swing as the tropical island province further deepens reform and opening up and makes institutional innovations to align with top international standards.
Bustling FTP construction
Hainan is doing preparation tasks and stress tests for independent customs operations and plans to finish building 31 necessary infrastructures by the end of 2023, Liu Xiaoming, acting governor of Hainan, told a press briefing on Wednesday.
According to a master plan on the Hainan FTP released in 2020 by the central authorities, the Hainan FTP is scheduled to initiate independent customs operations throughout the whole island by the end of 2025.
As one of the country's major opening-up measures in the new era, China aims to build the whole of Hainan into a globally influential and high-level FTP by the middle of the century.
Over the years, more than 180 policies and measures on tariff exemptions and trade and investment facilitation have gone into effect to support the development of the Hainan FTP. China's Law on the Hainan FTP went into effect in June 2021.
Apart from a list of zero tariffs, China exempted tariffs on goods imported to and processed in Hainan and then sold elsewhere in China if the processing trade entities in Hainan meet a 30 percent value-added threshold.
As of January this year, Hainan had exempted nearly 3 billion yuan (about $435.7 million) of import duties for the goods subject to zero tariffs as well as for the processing trade.
China also has capped the income tax rate at 15 percent for eligible companies registered in Hainan as well as individuals with high-level and in-demand expertise working in Hainan.
Hainan has made 134 institutional innovations in FTP construction, of which eight have been ordered by the State Council, China's cabinet, to be copied in other parts of the country.
Thanks to institutional innovations, 13 major industrial parks of the Hainan FTP, with less than two percent of the province's land area, contributed over 30 percent of Hainan's investment and over 60 percent of its foreign trade in 2022.
In the next step, Hainan will implement high-standard international economic and trade rules, and integrate into the global network of high-standard free trade zones, Liu said. It will also speed up the development of an external-oriented economy and continue to improve its business environment.
Liu added that new market entities added in the past five years exceeded that of the three decades prior to the period.
High-quality growth
With the bustling FTP development, Hainan's actual use of foreign investment grew 63.2 percent on average annually over the past five years, and the total investment in the period exceeded that of the prior three decades, Shen Danyang, executive vice governor of Hainan, told the same press briefing.
The strong growth came thanks to a spate of institutional innovations in foreign investment facilitation, promotion, and access, including the country's shortest negative list for foreign investment, Shen added.
The province is also seeking to build itself into an international tourism and consumption center with booming duty-free shopping over the years.
Sales of offshore duty-free shops in the province are expected to exceed 80 billion yuan this year after exceeding 60 billion yuan in 2021, Shen said. The province has increased shopping quotas and expanded categories of duty-free goods to boost duty-free shopping.
Implementing the new development philosophy, Hainan has cut its heavy reliance on real estate and has been speeding up the development of the modern industrial system.
Liu said that five years on, the contributions to the gross domestic product by the four key industries of tourism, modern services industry, high-tech industry, and tropical high-efficiency agriculture had increased to 70 percent from 53 percent.