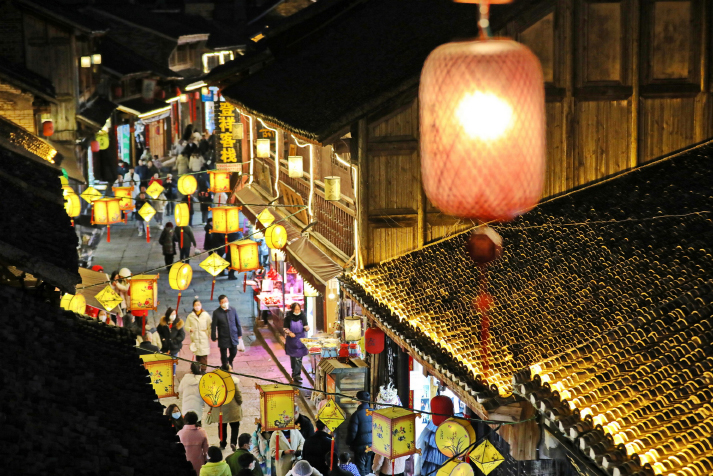 Tourists visit Qingyan Ancient Town in Guiyang, Guizhou Province, on the night of January 23 (XINHUA)
Qingyan, an ancient town in Guiyang, Guizhou Province, has seen more tourists in recent years with the improvement of its tourism infrastructure and services.
As a frontier garrison built in the Ming Dynasty (1368-1644), the town retains much of its original layout and many of its ancient buildings, from the Qing (1644–1911) and even the Ming dynasties. Visitors can see well-preserved stone-slab lanes, archways, watchtowers and battlements.
"In the past, there was only one road leading to the ancient town and there were few entertainment activities on offer at the destination," Yang Yufan, a local ride-hailing driver, told Guizhou Daily.
To solve the transportation problem, which had hindered its efforts to attract tourists for years, the town has built or rebuilt five roads, stretching along 23 km.
Supporting facilities such as parking lots and restrooms have also received an upgrade. Chen Li, who operates a restaurant from her house in the ancient town, said the local government had helped her repair her house and widened the road in front of her gate. Now, tourist numbers are on the up and her business is thriving.
In addition to improving infrastructure, the town has enriched its tourism products by building a commercial street outside its northern gate.
The street features cultural creative products developed based on intangible cultural heritage such as the traditional Chinese embroidery of the Miao ethnic group, as well as distinctive local foods. It has also attracted famous brands such as top alcohol brand Kweichow Moutai from Maotai Town in Guizhou to set up outlets there.
And then there's the street's nighttime tour. During the Spring Festival holiday, from January 21 to 27 this year, the ancient town was lit up with red lanterns and colorful lights at night, and tourists enjoyed dreamy scenes of sparkling lights.
"I never imagined the town could be bustling with tourists at night," Chen said.
"The nighttime tour has further enriched the experiences the town has to offer. It has not only increased the time tourists spend here but also convinced them to visit again," Liu Haifeng, Secretary of the town's Communist Party of China (CPC) Committee, told Guizhou Daily.
From April 6 to 7, Qingyan hosted the 17th Guizhou Tourism Industry Development Conference. The conference, which has been held every year since 2006, has become an important platform for promoting the integrated development of tourism and other industries and boosted the continuous growth of the province's tourism economy.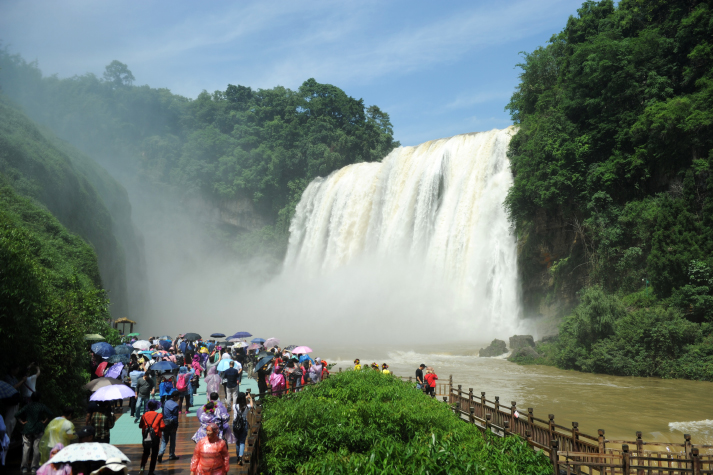 Tourists take in the view of the Huangguoshu Waterfall in Anshun, Guizhou Province, on June 5, 2018 (XINHUA)
Improving services
Guizhou has abundant tourism resources. It has diverse natural sceneries including karsts, waterfalls, valleys, lakes and hot springs. The 1,100-meter average altitude, an average temperature of 23 degrees Celsius in summer and its 62-percent forest coverage have made the province famous as an "oxygen bar" and a summer resort.
In addition to its natural beauty, the province features rich ethnic culture as it has multiple ethnic minority groups. It also has its share of red culture, as the Zunyi Conference, an important event in the history of the CPC, took place in Zunyi in 1935.
The province is also home to mega projects such as FAST (Five-hundred-meter Aperture Spherical Radio Telescope), the world's largest single-dish radio telescope, and of the world's 100 highest bridges, nearly half are in Guizhou.
In recent years, Guizhou has stepped up efforts to develop its tourism industry and worked to transform itself into a mountain tourism destination and holiday resort.
At the Huangguoshu Waterfall in Anshun—one of the largest waterfalls in China, tour guide Du Yin told Guizhou Daily that in the past, tourists mostly came in summer to escape the heat. But today, the resort is seeing more visitors in other seasons as it has provided more diversified visitor experiences. "Tourists can visit local villages to get a taste of distinctive customs and visit the waterfall at night. These richer experiences have attracted more tourists," he said.
In the first quarter of this year, the resort received 1.07 million tourists, up 5 percent from the same period in 2019.
Guizhou has improved travel services by upgrading accommodation as well as food and beverage establishments at scenic spots to increase the time tourists spend in the province.
The number of hostels is now 12,000, five times more than what it was in 2019, making Guizhou the province with the fastest growing hostel industry in China. The province is also accelerating the building of high-end hotels to help satisfy demand for all types of accommodation.
Since the beginning of this year, Guizhou has been promoting its tourism in major source cities such as Beijing, Chongqing and Chengdu in Sichuan Province. The province has attracted an investment of 20.1 billion yuan ($2.9 billion) for 168 culture and tourism projects this year.
The culture and tourism combo
During the conference on April 6, the provincial department of culture and tourism signed an agreement with eight companies, including China CYTS Tours Holding Co. Ltd. and Guizhou Tourism Investment Group, to form a platform for exchange and cooperation between tourism-related companies both in and out of Guizhou. Seven labs for researching and incubating new tourism models, and sports and cultural tourism products related to intangible cultural heritage were established under the framework.
Ni Yangping, Chairman of the Board of China CYTS Tours, said at the conference that Guizhou has diverse tourism models and great potential in the integrated development of tourism and other industries such as science and technology, as well as alcoholic beverages.
A 100-million-yuan ($14.5 million) project will be built by Hong Kong Causeway Bay Group, a real estate company specializing in the development of commercial properties and shopping malls, in Nanming District, Guiyang. The project will build a new urban space combining creative culture, entertainment and sports and serve as a cultural tourism destination for people both in and out of Guizhou .
Chen Zhi, Chairman of Hong Kong Causeway Bay Group, said during the conference that he is optimistic about the prospects of Guizhou's tourism industry and hopes to reach more cooperation deals with the province to promote the integrated development of culture, commerce and tourism.
(Print Edition Title: The Road Less Traveled)
Copyedited by G.P. Wilson
Comments to jijing@cicgamericas.com