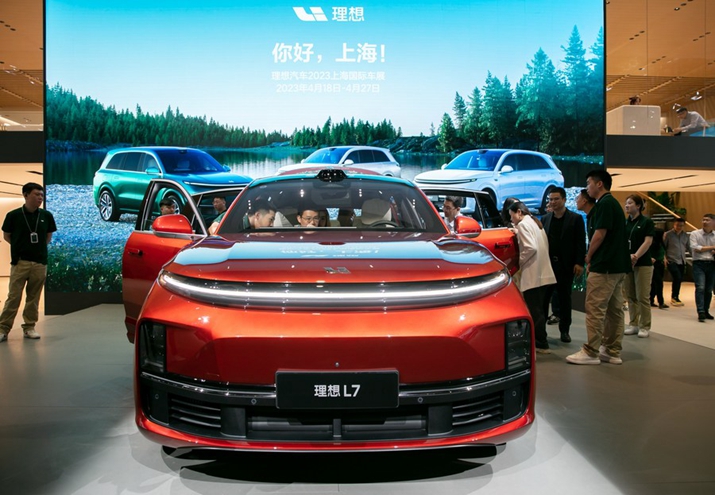 This photo taken on April 18 shows a Li Auto L7 on display during the 20th Shanghai International Automobile Industry Exhibition in Shanghai, east China (XINHUA)
The 20th Shanghai International Automobile Industry Exhibition concluded on April 27 at the National Exhibition and Convention Center (Shanghai), where approximately 1,000 global auto enterprises battled it out to showcase their best products over the course of the 10-day show.
The exhibition, also known as Auto Shanghai 2023, not only foreshadows technological trends in the global auto market, but also demonstrates the strength and confidence of China's rising automakers in the face of established global giants.
"Previously, the luxury car pavilion was the most popular location at the auto show. However, the most popular zone now is the exhibition area of Chinese auto companies," said Zhou Minhao, head of the Council for the Promotion of International Trade Shanghai, one of the show's organizers.
Executives of established global auto giants such as Volkswagen, Mercedes-Benz, BMW and Toyota could be seen visiting the booths of Chinese brands to learn about the rapid rise of China's NEV industry.
Blume said he respects all the competition and is interested in how other companies think. "I will visit Chinese car brands like BYD, NIO, XPeng and others (during the auto show). For me, it's always inspiring," he said.
In Zhou's eyes, this was rare in the past Auto Shanghai, reflecting the Chinese brands have taken a qualitative leap, especially in the field of new energy and intelligence with the leading edge of technology.
Data from the China Association of Automobile Manufacturers shows that in the first quarter of this year, sales of domestic-brand passenger vehicles rose 5.3 percent year on year to top 2.68 million units, accounting for 52.2 percent of overall passenger car sales in China. The market share of local electric vehicle brands exceeded 80 percent last year.
Electrification
According to the China Association of Automobile Manufacturers, China's NEV sales nearly doubled to 6.89 million units last year, accounting for over a quarter of the total automobile sales in the world's largest auto market.
Despite a downturn in the overall Chinese car market in the first three months of this year, NEV sales totaled nearly 1.59 million units, increasing by 26.2 percent from a year ago. The market share of NEVs in China's auto market topped 26 percent during the same period.
"The speed of growth here is much faster than in other regions of the world," Blume said.
Data shows that China's leading NEV manufacturer BYD overtook Volkswagen and Toyota to become the best-selling passenger car brand in the first quarter in China, with total sales of 440,798 vehicles.
Emerging local electric vehicle maker NIO debuted its high-end intelligent electric SUV ES6 and launched its updated electric flagship sedan ET7 during the exhibition. The on-site demonstration of its third-generation battery swap station at the booth wowed the crowds of visitors. NIO's first 10 third-generation battery swap stations were put into operation on April 13 in 10 Chinese cities, including Beijing, Shanghai and Shenzhen, with a total of 1,342 swap stations built nationwide.
Intelligence
"There are two revolutions that are happening in the automotive world. One is electrification, and the other one is autonomous driving and driver assistance. China is at the forefront in these two directions," said Francois Marion, group communications and investor relations senior vice-president of French automotive supplier Valeo.
A variety of domestic smart and digital technologies have been applied to car models at the auto show. On the eve of the show, Chinese tech giant Huawei unveiled its latest autonomous driving system, ADS 2.0, which boasts the capability to function without relying on high-precision maps. The first model to use the system, the advanced intelligent driving version of the AITO M5 from the Chinese EV brand AITO, was one of the star exhibits at the event.
IM Motors, a high-end smart electric-vehicle company jointly launched by leading Chinese automaker SAIC Motor, Zhangjiang High-tech Park in Shanghai's Pudong New Area and e-commerce giant Alibaba Group, announced its intelligent strategy at the show, aiming to create an intelligent traffic scene experience through hardware and software architecture, large-scale intelligent algorithms, and an intelligent scene experience.
Shi Shuai, a partner at global consultancy firm Roland Berger, said that domestic industry players are engaged in a new round of technology-driven innovation competition and, ultimately, are working together with global giants to create a new technology landscape and future travel ecology. This can be seen in everything from integrated autonomous driving solutions and a new generation of sensors, to electronic and electrical vehicle architecture and basic software platforms, Shi said.
Going global
Data shows that in 2022, China exported over 3.11 million vehicles, overtaking Germany to become the world's second-largest auto exporter. The trend continued in the first quarter of this year, with China exporting more than 990,000 cars, up 70.6 percent year on year.
China's auto exports have increased by almost 1 million units a year over the past two years, due to improved competitiveness in the country's supply chain, quality, technology and brands.
More Chinese carmakers are no longer satisfied with their existing markets, including Southeast Asia and Latin America, and have now set their sights on the European market. At Auto Shanghai 2023, emerging Chinese automobile brands such as ZEEKR, NETA and HiPhi announced their plans to go to Europe, which is dominated by established global auto giants.
ZEEKR, an electric vehicle brand from Chinese automotive giant Geely, said its first vehicles for Europe will debut in Sweden and the Netherlands this year. Spiros Fotinos, CEO of ZEEKR Europe, said the company will enter most of Western Europe by 2026, and aims to become a leading brand in the EV market in Europe by 2030.
NETA has established a subsidiary in Europe, and it is preparing for its car models, including the NETA S and NETA GT, to enter the European market. HiPhi, a luxury Chinese pure-electric brand, said it will begin in Munich and Oslo, with two models expected to go on sale in Europe in the third quarter of this year.
"I think there is opportunity also for Chinese brands to be successful not only in China but also worldwide in the future," Blume said. "Some Chinese automotive brands already have very competitive products on a high innovation level, and now it's up to them build a dealer network and make the products more international."
Localization strategy
The exhibition was the first A-class international auto show held in China since the country adjusted its COVID-19 response measures. With an exhibition area of more than 360,000 square meters, it displayed 1,413 cars, including 93 vehicles making their global debuts and 513 new energy vehicles. A total of 906,000 visitors from home and abroad participated in the event.
"More than 20,000 overseas exhibitors and visitors came to Auto Shanghai 2023, the highest on record," Zhou said. "While the show was still underway, more than 80 percent of the booths for the next show in two years had already been booked."
Most global automakers are pushing ahead at full speed with their localization strategies for the Chinese market.
Volkswagen brought 20 electric vehicles to the exhibition, including the Volkswagen ID.7, which made its world debut at the event. By the end of 2030, the group will offer more than 30 all-electric models to customers in China. It will massively strengthen its local competency not only in e-mobility but also in the areas of digitalization and autonomous driving, including software and R&D. Maserati launched three new vehicles at the show, including an electric sports car and an electric SUV.
"We propose the electric cars because China is at the front of technology, and the market is growing dramatically," said Mirko Bordiga, managing director of Maserati Greater China.