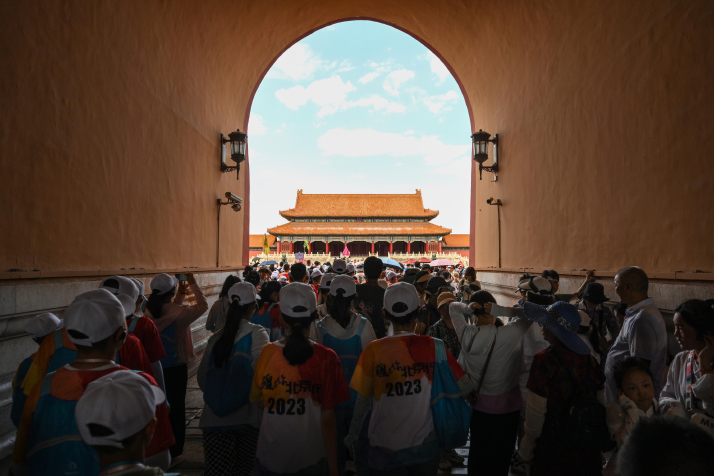 Visitors enter Beijing's Palace Museum on July 8 (XINHUA)
Li Yuanyuan, a 41-year-old who has worked as a tour guide in Beijing for 17 years, has never been more exhausted than she is this summer. Despite the scorching heat baking the pavements and people of the Chinese capital, tourists from all over the country are swarming into the city. The Palace Museum—the former Forbidden City, which housed China's imperial palace from the 15th century to the early 20th century— where Li shows tourists around and explains to them the site's history and culture, is among the hottest Beijing destinations this summer. Tickets to the museum sell out instantly when they become available at 8 p.m. every day.
Li told Chinanews.com that she takes her customers on a six-hour tour of the Palace Museum every day and, given the few trees around the scenic spot, she is exposed to the scorching heat and harsh UV rays all day long.
The influx of visitors means tour guides like Li are in high demand and their salaries have now also doubled from the pre-pandemic level in 2019.
Data from online travel agency Qunar showed that in the first week of July, ticket bookings for Beijing tourist attractions had increased by 200 percent from 2019 and hotel bookings had increased by 36 percent from the previous month.
But Beijing is not the only city seeing a surging number of tourists. Tourist destinations across the country are packed with visitors as this summer school vacation, from early July to late August, is the first since China adjusted its COVID-19 pandemic control policies late last year. Multiple online travel platforms have predicted the tourism market this summer will become the hottest in the past five years.
Data from FlightAI, a market insight platform affiliated with Trip.com, showed that domestic airports saw 9 million passengers from July 1 to 5, up 14 percent from the same period in 2019. The data also show that the number of outbound air ticket bookings from July 1 to 5 was seven times that of those in the same period last year.
High travel demand has in turn pushed up prices of tourism-related products such as air tickets and accommodation. Data from Trip.com demonstrated that the average price of domestic and international air tickets (including taxes) in the first five days of July had increased by 21 and 22 percent, respectively, from the same period in 2019.
Data from Trip.com also showed how the average booking price of hotel rooms in Beijing had increased by 30 percent year on year from June 1 to 10.
Tang Liping, a high school English teacher from Zibo, Shandong Province, planned to take her two sons on a tour of Beijing in early August. But after seeing the surge in hotel prices, she hesitated. "Maybe we'll just go to a coastal city in my home province; it's cooler there," she told Beijing Review.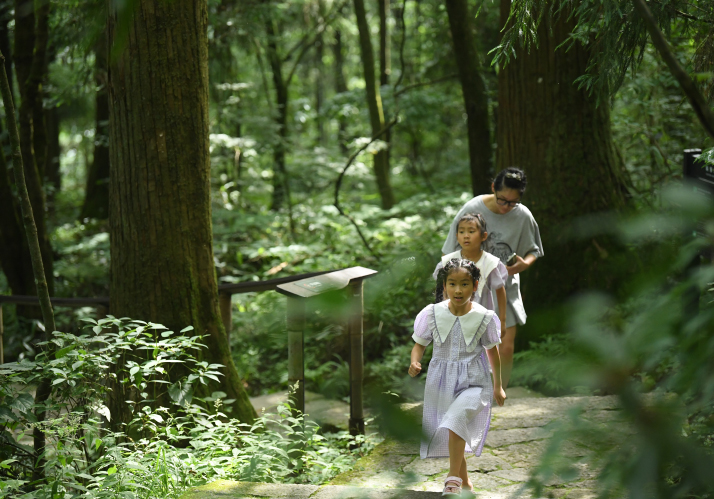 Visitors hike on Mount Tianmu in Lin'an, Hangzhou, capital of Zhejiang Province, on July 11 (XINHUA)
Wanderlust
The Summer Tourism Trend Report released by online travel agency Tongcheng Travel on July 13, read that this year's hottest summer travel choices include water activities, night tours, family trips, music festivals, and city walks, or roaming around a city on foot, relishing in the atmosphere and finding unusual things that even a resident might not have noticed before.
As was the case in previous years, families with children are a major force driving summer travel this year. Cheng Chaogong, a senior researcher with the research institute of Tongcheng Travel, told Chinese news portal ThePaper.cn that the better-than-expected performance of the summer tourism market is in large part due to the rapid return of family tour consumption. Cheng said the proportion of family tours has reached a new high this summer since 2019 and families with children in preschool, primary and middle school have a high demand for travel, forming an important engine driving summer tourism this year.
According to Tuniu, a tourism services provider, of the users subscribing to its summer tourism products as of late June, 58 percent were families with children.
Data from online service platforms Meituan and Dianping revealed that accommodation reservations by family customers from July 1 to 10 had jumped by 150 percent from the same period in 2019.
The hottest destinations for family tours are renowned historical and cultural cities such as Beijing and Xi'an, capital of Shaanxi Province, according to Tongcheng Travel.
The success of animated film Chang'An, having been screened since July 8, has further boosted the popularity of Xi'an. The film takes its title from the ancient name of Xi'an, which served as the capital of the Tang Dynasty (618-907), and revolves around the extraordinary lives of great Tang poets Li Bai and Gao Shi, highlighting their enduring friendship.
According to data from Meituan, in the 10 days following the release of the film, restaurant reservations in Xi'an by customers from outside Shaanxi Province increased by 387 percent year on year and those for hotels and homestays in the city increased by 339 percent year on year.
In addition to historical sites, the most popular family tour destinations also include theme parks such as the Shanghai Disney Resort and the Universal Studios Beijing Resort, as well as museums such as Beijing's China Science and Technology Museum and the Beijing Planetarium, according to data from Qunar.
Aside from families, recent high school and university graduates form another important customer group this year. Data from Trip.com indicates that bookings by recent graduates for tourism products for the period from early June until late August are twice the number registered in the same period last year.
Chen Qianru, a graduate of Shandong Normal University, has chosen the Changbai Mountain resort in Jilin Province in northeast China, which is famous for its stunning Tianchi crater lake and its fairytale-like primeval forests, as the first stop of her graduation trip. "I want this trip to preserve the best memories of my youth," she told Guangming Daily. "The weather there is cool now and you have clear lake waters, dense forests, blue skies and colorful flowers, making it a solid summer resort," she said.
College graduates like Chen prefer outlining their itineraries themselves. Daka trips, which mean visiting a series of popular places like you're "punching a card" (the literal translation of daka) to show on social media that you've been there, are especially popular among graduates.
For instance, some graduates opted to visit Chengdu in the southwestern Sichuan Province to catch a glimpse of celebrity giant panda Huahua; others chose to travel to Chongqing Municipality to visit the Liziba Station on the Chongqing Rail Transit's Line 2, which became one of the world's most famous stations several years ago after videos of a metro passing through a 19-story residential building went viral on social media everywhere.
But many graduates are going for self-driving tours. The number of rental car reservations by users aged 18-24 increased 52 percent year on year on Trip.com this summer vacation. Chengdu, Sanya and Haikou in Hainan Province, Xinjiang Uygur Autonomous Region and Dali and Kunming in Yunnan Province are some of the most popular destinations for self-driving graduation trips.
It's worth noting that the reopening of the Duku Highway, renowned as one of China's most picturesque routes, in Xinjiang on June 18, after six months of being closed for maintenance, has reignited enthusiasm for self-driving tours in the region.
Cool escapes
Record-breaking high temperatures have made tours aimed to escape the summer heat the top choice for many travelers.
Wang Quanshun, a tourist from Beijing, picked Datong City in Shanxi Province, a place renowned for its ancient Buddhist architecture more than 300 km from the national capital, as his summer travel destination.
At the Yungang Grottoes there, a UNESCO World Heritage Site featuring over 50,000 pieces of stone Buddhist sculptures, tourists can either appreciate the sculptures in the caves or saunter through the site under the pleasant shade provided by its many trees.
"Datong has pleasant temperatures and rich cultural heritage; my family has driven all the way here to escape the summer heat," Wang told Xinhua News Agency.
With an average temperature of around 20 degrees Celsius in summer, Datong has become a trendy place for tourists from neighboring regions fleeing the heat.
Tongcheng Travel data demonstrated that coastal cities and cities featuring vast grasslands, both boasting cooler weather, have surged in popularity. Coastal cities such as Qingdao and Weihai in Shandong and Hulun Buir, famed for its vast grassland areas, in Inner Mongolia Autonomous Region are among the top cool travel destinations.
Cool travel is swiftly becoming a new growth point for the summer economy, according to the Summer Night Tour Report 2023 released by the China Tourism Academy (CTA). The report estimated the current cool travel market in China to be worth 1.2 trillion yuan to 1.5 trillion yuan ($167.8 billion to $209.8 billion).
Dai Bin, President of the CTA, told Xinhua that as the tourism industry evolves, local climate has become one of the most important factors drawing in or driving away tourists. In a nutshell, scorching hot temperatures today lead many people to rethink their overall travel plan.
Night trips are another form of cool travel. According to the CTA report, 95 percent of those surveyed said they planned to take a night tour. Night tourism is usually shorter in terms of travel distance and time. The offering of nighttime events and travel products meets demand from young consumers, usually born after 1990, who take tours locally and in neighboring areas.
According to LY.com, an online travel agency operated by Tongcheng Travel, "night tour" searches had increased by 161.5 percent on the platform from June 29 to July 5 from the same period last month.
Multiple tourist attractions in Beijing have extended their visiting hours and introduced night tour products amid the sweltering summer heat, allowing visitors to rediscover the capital city from a different perspective.
For example, the Mutianyu section of the Great Wall in suburban Huairou District has extended its opening hours until 9 p.m., from the usual 5:30 p.m., from July 1 to August 31. The scenic area has also launched guzheng (a traditional Chinese stringed musical instrument) and dance performances at night to enrich the visitor experience.
Outbound recovery
Outbound tourism is recovering but is yet to return to pre-pandemic levels.
According to a summer tourism trend analysis report published by Chinese tourism services company U-tour on July 10, based on the reservations of the company's summer tourism products, the company's outbound tourism reservations for the summer vacation period are expected to recover to 30 percent of their pre-pandemic number.
Li Mengran, manager of the Media Public Relations Department of U-tour, told Chinese newspaper Global Times that the slow recovery of outbound tourism to destinations such as Europe has been affected by the slow recovery of flights.
According to the Civil Aviation Administration of China, 3,368 flights had been scheduled each week from Chinese airports to other countries as of June 30, just 44 percent of the pre-pandemic level. Multiple factors have contributed to the slow recovery, including the slow healing process of the outbound tourism market. Also, airlines and airports in many countries laid off staff during the pandemic and are now having trouble recruiting experienced professionals. It obviously takes time to train new hires.
Moreover, many visa application centers that were closed during the pandemic have not yet fully reopened, resulting in backlogs in visa application processing for travelers.
According to Tuniu, the earliest available date for Chinese tourists to submit their visa applications for European countries right now is in September or October.
Trip.com data show outbound tourism this summer features mostly short-distance travel, with Japan, Singapore, the Republic of Korea, Thailand and Malaysia being the top destinations. The most popular long-distance destinations include Australia and the United Kingdom, while most mainland European and North American destinations still see fewer Chinese visitors owing to the difficulty in obtaining the required visas.
Li said that as China has already resumed outbound group tours to 60 countries and regions, this bodes well for the outbound tourism market. "I believe outbound tourism will gradually recover," she concluded.
(Print Edition Title: A Sizzling Sector)
Copyedited by Elsbeth van Paridon
Comments to jijing@cicgamericas.com