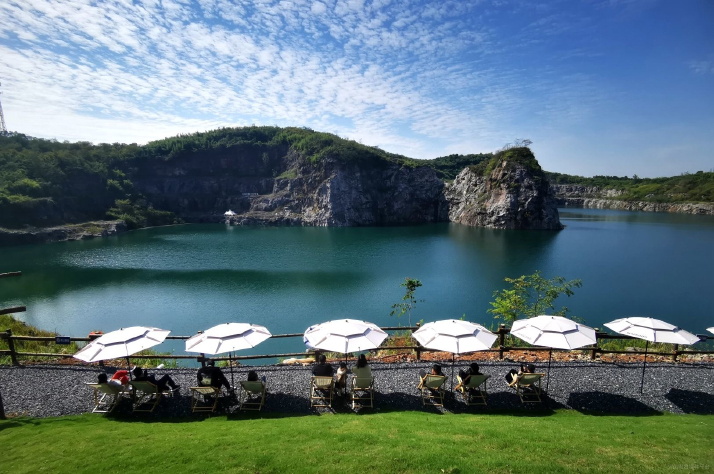 People relax at Deep Blue in Anji County, Huzhou City in Zhejiang Province, during the National Day holiday on October 1-7 in 2022
(COURTESY PHOTO)
Situated beside a heart-shaped blue lake surrounded by rocky landscape, Deep Blue, a coffeehouse in Anji, a small county in the eastern province of Zhejiang, is known as a "miniature Iceland" on Chinese social media. Many people queue for around an hour just to take a photo at one of its windows, which provide the perfect backdrop.
Located in Hongmiao Village, the lake beside the coffeehouse, formed from a discarded quarry pit, has been transformed into a scenic spot. Now, with one ticket, sold for 68 yuan ($9.3), one can access the lakeside to take walks and get a cup of coffee at Deep Blue. Although the price for a cup of coffee is higher than that in many coffeehouses in China, Deep Blue, popular on social media platforms, still draws a growing number of visitors.
Since it opened for business in May 2022, Deep Blue has received over 350,000 tourists. It sold 5,120 cups of coffee on May 1 alone this year, the first day of the International Workers' Day holiday. For comparison, a coffeehouse in Sanlitun, one of Beijing's busiest commercial areas, sells around 500 cups of coffee on an average day.
From tea to coffee
Anji, with a permanent population of about 580,000, has traditionally been known for its production of a type of minimally processed tea known as white tea. However, in recent years, the county has also become well-known for coffee, with strong growth in the number of coffeehouses and in coffee-related tourism. As of August this year, there were around 300 coffee shops in Anji, surpassing Shanghai in terms of coffeehouses per capita. The boom of coffeehouses has attracted many tourists, and local people to return from other cities to start their own businesses.
Shen Jinlong, a native to Dazhuyuan Village in Anji, is one of the owners of Beetle Coffee. After quitting his job in a real estate company in Hangzhou, Zhejiang's capital, in 2021, he returned to his hometown and opened Beetle, which was among the first batch of rural coffeehouses in the county.
"Last year, coffeehouses started booming in Anji. The coffee industry is accessible for many entrepreneurs and coffee businesses are easy to promote. That is one of the reasons for the boom of coffeehouses here," Shen told Beijing Review.
Hu Jian, the owner of Cozy Coffee, another coffeehouse in Dazhuyuan, has also felt the rising tide of coffee in the county. Hu said Anji has been attracting tourists with its beautiful scenery and that many people today look for a place to relax instead of tiring themselves with travel. Deep Blue, where tourists can enjoy both coffee and scenery, caters to their need for a relaxed vibe.
Coffee culture is popular among China's young people and coffee consumption is growing. For many of them, a cup of coffee is the button to start their day. Moreover, nowadays for young people, coffeehouses are more than just a place to sip the beverage; they are also on-trend locations for snapping social media photos.
"Young people are becoming major coffee consumers, and coffeehouses in Anji have ridden the tide. From white tea to coffee, it is all about meeting market demands," Song Xiangqing, Vice President of the Academy of Government at Beijing Normal University, told Beijing Business Today.
As an increase in the number of tourists has brought about the boom in coffeehouses, so too has the increased number of coffeehouses attracted even more tourists. Beetle is known for the beautiful rice paddies outside its windows. During peak seasons, its monthly turnover reaches around 150,000 yuan ($20,580). "Tourists from other regions account for around 60 percent of our customers," Shen said.
According to Shen, many villagers previously thought coffeehouses were only suitable businesses for cities and that rural coffeehouses would be unprofitable. But Beetle changed their minds and some of them began investing in coffeehouses.
Cozy Coffee, with its chill, French-inspired style, has seen around 6,000 visitors per month during peak periods, Hu told Beijing Review. Now it is a landmark in the village. "Many local villagers invite their friends and relatives from other regions to our coffeehouse, many of whom later stayed to work here," she said.
Green gains
In June 2003, Zhejiang launched the Green Rural Revival Program, planning to rejuvenate about 10,000 incorporated villages and transform around 1,000 central villages into examples of moderate prosperity in all respects. Anji, the birthplace of the idea "clear waters and green mountains are as valuable as gold and silver," has been promoting ecological protection, and has therefore attracted growing numbers of tourists.
Quarrying used to be a major industry in Hongmiao. To make use of the discarded mining pit, the villagers' committee chose to collaborate with a group of creative college students, establishing a travel company and opening Deep Blue last year.
Cheng Shuoqin, in his 30s, is one of the operators of Deep Blue. According to Cheng, the deep mining pit had been used by the villagers as a garbage dump. His team cleaned out the rubbish, filled the pit with water and added amenities and the coffeehouse, while maintaining the original natural landscape in the vicinity.
At one point, the team tried introducing activities such as camping and boating, but felt they didn't possess the necessary professional skills to undertake the expansion. "We then realized that beautiful scenery is a major appeal for tourists today. Many young people post photos of such places on social media to show that they have visited some impressive places. We have seized the opportunities and made it," Cheng told Beijing Review.
The insight about social media photos has been taken into consideration for the design of Deep Blue. Of all of the coffeehouse's windows, one is clearly the most popular for taking photos. Beyond the window, the blue water is caught in the frame as if in a picture. The team designed the window meticulously for a good view. The coffeehouse even provides photography services for visitors.
Deep Blue has generated more than 6 million yuan ($820,000) in revenue for the village since it began operating. Today 29 percent of its shares are held by local villagers, and 20 percent is owned by the village collective. Villagers have also earned money through working at the coffeehouse.
Deep Blue now has around 30 staff members, with half of them native to Anji. The company now plans to promote its business model in other mining pits in the village, offering chances for university graduates to start their businesses in the village.
As coffeehouses bring urban lifestyles to rural areas, Anji is also embracing digital nomads, who use technology to work remotely. Digital nomads generally stay longer than tourists, giving them more time to enjoy the rural atmosphere. The success of Deep Blue is being replicated. In Hengshan Village, also in Anji, a discarded factory has been adapted into China's first zone for digital nomads—Digital Nomad Anji. Last year, it attracted 473 residents, who stayed for an average of 47 days.
The way ahead
While coffeehouses continue to mushroom in Anji, coffeehouse owners are beginning to consider whether the market has become saturated. "Some coffeehouses don't focus on improving the quality of drinks, which will affect reputation of the whole market," Hu said.
According to Hu, in order to diversify its business, Cozy Coffee launched a second establishment close to the center of Dazhuyuan this year, which serves both coffee and distinctive Anji dishes.
"We have developed an online community for our customers, and will continue to improve the café's environment to retain and attract customers," Shen said.
Cheng's team is considering expanding their businesses beyond coffeehouses by organizing music festivals and fairs. "The boom of rural coffeehouses is a nice trend. Since every village has different natural conditions, making the most of the natural resources is key to boosting rural tourism," he said.
(Print Edition Title: Aroma Appeal)
Copyedited by G.P. Wilson
Comments to lixiaoyang@cicgamericas.com