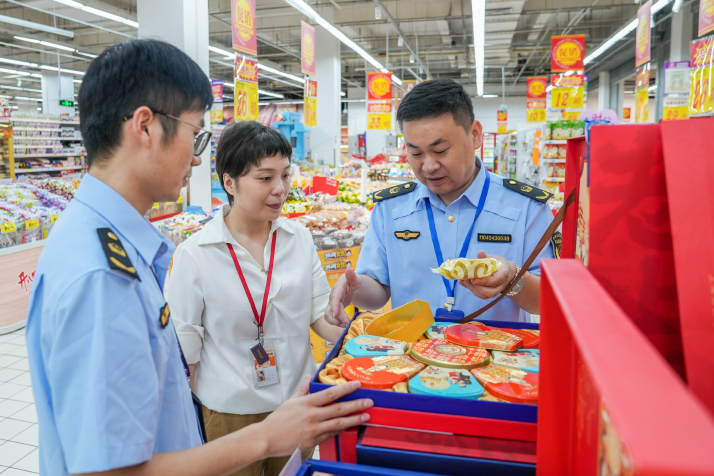 Staff of the bureau for market regulation in Changxing County of Huzhou City in Zhejiang Province check the packaging of mooncakes in a supermarket on September 6 (CNSPHOTO)
Along with the approach of Mid-Autumn Festival comes a mindfulness about excessive packaging for mooncakes, the food traditionally consumed during the festival. The pastry is usually sold with multiple layers of wrappers, and packed in exquisitely crafted boxes.
Mooncake makers have racked their brains over the years to create elaborate packaging to raise the price of their products. Decorative packaging has a particularly strong bearing on the perceived value of mooncakes as they are frequently given as gifts during the festival. But as the national standards on the packaging of food and cosmetics became fully effective on September 1 to reign in excessive packaging, mooncake makers must now be careful not to violate the new limitations.
The standards, released in August 2021, place limitations on layers of wrappers, packaging cost, "inter-space ratio," the ratio of unnecessary space inside a package to the total volume of its contents, and other metrics. The standards are applicable to 16 categories of cosmetics and 31 categories of food, including tea, wine and cakes. Authorities granted a two-year interim period for producers to adapt before full enforcement began this month.
Moreover, to further curb excessive packaging, in May 2022, the regulators revised these standards published in August 2021, specifically the part relating to mooncakes and zongzi, sticky rice dumplings wrapped in bamboo leaves that are traditionally consumed during the Dragon Boat Festival. The revised requirements placed stricter rules on these two festive foods, such as further reducing the layers of packaging from four to three.
Slimming down packages
"The excessive packaging of festive foods has created great burden for our environment and led to resource wastage," Wu Lieshan, a professor at the School of Resources, Environment and Materials of Guangxi University, told Nanfang Metropolis Daily.
According to Wu, packaging materials include paper, plastic, metal, glass and other composite materials. To prevent product damage in transportation, many packages also contain a large amount of cushioning materials and fillers that are hard to biodegrade, such as foam plastic.
Information from the State Administration for Market Regulation (SAMR) shows that as of 2021, packaging waste accounted for about 30 to 40 percent of urban household garbage in China.
Some manufacturers have even used luxurious materials, including rare wood, in the packaging of the once homely snack and place pricey items such as watches, gold bars and jewelry in the package to add value. The exorbitant cost of these mooncakes has also sparked speculation that they would likely be purchased to bribe their recipients.
The new regulation stipulates mooncakes must not be packed with other goods, zongzi must not be packed with goods that exceed the value of the zongzi, and the cost of the packaging should not exceed 20 percent of the sales price of the product.
This provision has brought down the prices of festival food gift packages. "We only sell mooncake packages that only contain mooncakes," a salesperson at high-end supermarket BGH told Beijing Daily. "In the past, it was common to include other items in a package, including tea, and the packages could sell at thousands of yuan (hundreds of dollars), but since last year, all the moon cake packages we sell do not exceed the 500-yuan ($68) price tag."
Greener and healthier
Another product that has commonly been decorated with excessive packaging is tea, as many consumers buy tea as gifts and, just as with mooncakes and zongzi, elaborate packaging increases the perceived value. "Before the new standards were implemented, a package of tea priced at 150 yuan ($20) may have been wrapped in 100 yuan ($14) in packaging," Xu Rongbing, owner of a tea company in Hangzhou, Zhejiang Province, told Beijing Youth Daily.
Chen Ruihong, owner of a tea company in Hangzhou, believes that curbing excessive packaging greatly benefits the high-quality development of the industry, as it allows companies to shift their attention back to the quality of tea, rather than relying on packaging to attract consumers.
In terms of packaging, producers are now endeavoring not only to slimdown the packaging but also to create better and greener designs.
The China Packaging Federation in recent years has adopted various methods to encourage greener practices in food packaging, including granting awards for more innovative and environmentally friendly packaging with renewable, biodegradable and recyclable materials.
A reduction in packaging costs has in turn led to a drop in overall product prices. Chen gave the example of Jingshan Tea, a local tea from Hangzhou. The package once cost approximately 60 yuan ($8), but has now been reduced to about 20 yuan ($3).
As for products sold on e-commerce platforms, the Beijing Municipal Administration for Market Regulation has guided online platforms such as retailer JD.com and Douyin, China's TikTok and a popular platform for livestreaming commerce, to strengthen audits of product packaging.
The Zhejiang Provincial Administration for Market Regulation has been keeping an eye on excessive packaging of tea products, monitoring 30 e-commerce platforms covering a total of 163,000 products in 13,000 online stores.
The new standards are expected to be further revised, with the second amendment draft currently soliciting public opinions. The proposed changes include reducing the maximum number of packaging layers from fewer than four to fewer than three and lowering the maximum packaging cost from 20 percent of the sales price to 15 percent.
Wei Hong, an official with the SAMR, said these adjustments were based on careful market research.
"The majority of tea products on the market are packaged with two or three layers, and therefore, three layers of packaging is sufficient to meet the demand for transportation, display and storage of tea products," Wei said. He added that research also showed that in nearly 90 percent of cases, the packaging cost for tea products is below 15 percent of the total cost and the average is 7.9 percent.
However, the implementation of the new standards still faces challenges, according to Wei. Consumers can still access excessively packaged tea products from small workshops or farmers. Some tea sellers still use luxurious packaging and supply specific consumers under the table. "More measures will follow on how to manage these loopholes," Wei said.
(Print Edition Title: Fewer Wrappers)
Copyedited by G.P. Wilson
Comments to yuanyuan@cicgamericas.com