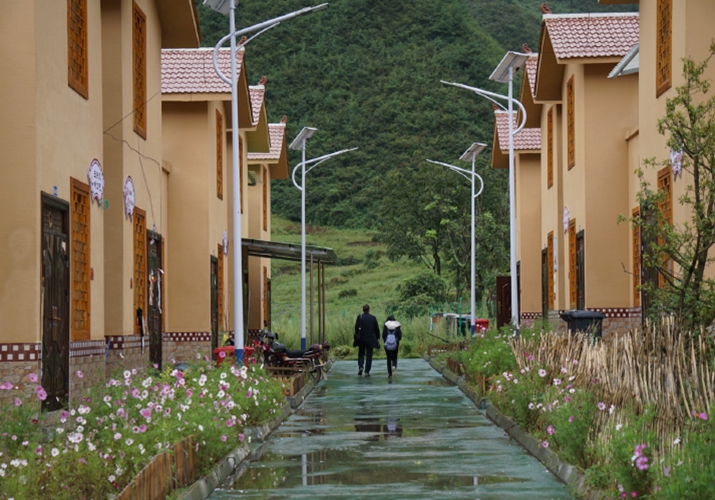 Anyone who visits the new home of Jize Munai is greeted with a welcoming ritual. Once comfortably seated, the guest is shown a large photo of his old house that hangs proudly on a wall. Jize, 48, believes this photo tells the story of how his family has transitioned from a very difficult past to a modern life.
The photo shows him with his wife and three children in front of a dilapidated bungalow, which has a wooden roof and mud walls. The ramshackle yard was home to the family livestock.
Nestled on a mountain about 2,000 meters above sea level, Xujiashan Village, in Ganluo County, Liangshan Yi Autonomous Prefecture, was home to Jize, his community and his ancestors. The prefecture with a sizeable population of Yi people is also one of the country's most impoverished areas. Seven counties in Liangshan are among the 52 still to shake off their impoverished status. And as China moves to eradicate extreme poverty by the end of 2020, the prefecture is one of the main battlegrounds in the fight against poverty. Because most of Liangshan's population resided on mountains, the construction of safe housing and supporting facilities was an important part of its poverty alleviation program so that they could move to areas with more hospitable conditions.
Modern housing
Many residents have moved into modern houses adjacent to lush forests. Recalling the tough time in the past, Zhang Guiqing, Secretary of the Communist Party of China Xujiashan Village Branch, said, "In the past, villagers trekked across dirt roads littered with animal dung… And when rainstorms hit, floodwater rushed down from the mountains, damaging their fields." Surrounded by mountains, the village of over 300 residents had endured isolation and poverty for generations. The transformation took place in 2016, when road construction began. A 4.1-km-long road connecting the village to the outside world was completed a year later, changing the way villagers move about. In 2019 villagers moved into 65 modern steel structure houses, which have spacious rooms with basic furniture, and are close to facilities, in sharp contrast to the old mud-walled dwellings a few hundred meters away.