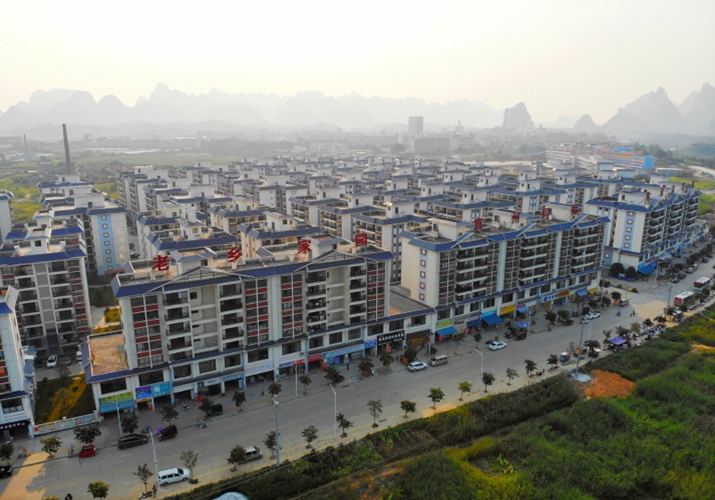 The truck, laden with farm produce and baskets of raw silk cocoons, was ready to leave. The driver started the engine and Qin Yongfu, standing in front of his two-story house, waved goodbye to him. Soon the truck vanished on the new concrete road, leaving the village of Zhadong behind.
The mountainous village, located in the city of Hechi in Guangxi Zhuang Autonomous Region, south China, is an important silkworm base today. It has a history of planting mulberry and raising silkworms for over 470 years.
Qin has been in this industry for 17 years. Before the concrete road came up, selling the silkworm cocoons used to be challenging.Finding a way
Zhadong is a picturesque village but living there was tough in the past. Surrounded by mountains, it had no proper road, making mechanical transport impossible. Even as recently as 2016, six of the 14 smaller villages that make up Zhadong had no highway, only narrow mountain paths. People lived in scattered communities, there was little arable land and life was hard.
"I had to walk all the way to the city carrying the cocoons in baskets slung from a pole over my shoulders. It meant an eight-hour journey one way. I couldn't carry more than 40 kg at a time and could make only 400 yuan ($58.9) per trip," Qin said.
The lack of roads also meant he could see his children only during the weekend. Even the nearest primary school was too far away for daily commute, so they had to live in the school dormitory on school days.
The villagers longed for roads, especially highways that would link them to other parts of Guangxi and the rest of the country.
Things finally started looking up in 2016 after a military vet from Hechi came to work in Zhadong. Appointed as first secretary of the Communist Party of China (CPC) Zhadong Village Branch, Xie Wanju faced a grueling trek to reach the village, and decided to make infrastructure construction a priority.
Not long after his arrival, he began raising money to build roads. However, there were not many contributors as most of the young people had left the village to work elsewhere. He and other villagers' committee officials then contacted enterprises for donations.