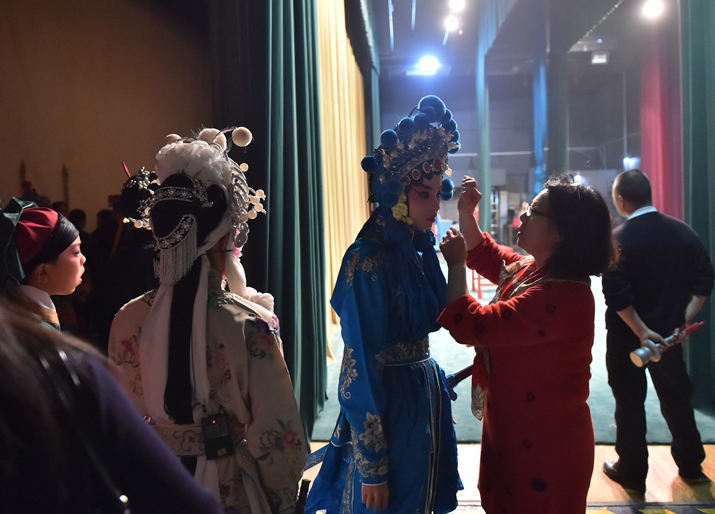 Peking Opera educator Yu Shumin helps her students prepare for a performance before entering the stage on November 15, 2015 (XINHUA)
Only once in a blue moon were traditional operas set against real scenery featuring ancient Chinese-style pavilions, terraces and tortuous corridors besides a lake, even to 56-year-old Shen Shouyuan, a staunch opera fan in Beijing.
Upon learning that the Beijing Opera Culture Week would be held in the Beijing Garden Expo Park from April 30 to May 8, Shen could hardly wait. The repertoire would include more than 40 classical operas to be staged by troupes from across the country and the chance for visitors to try on colorful theater costumes and make-up.
One Saturday, Shen travelled across town to the celebration, accompanied by his wife and son. Listening to records, mimicking the tunes and attending performances constitute the lifestyle of many opera fans. Shen's love of opera has been a family tradition, passed down from generation to generation.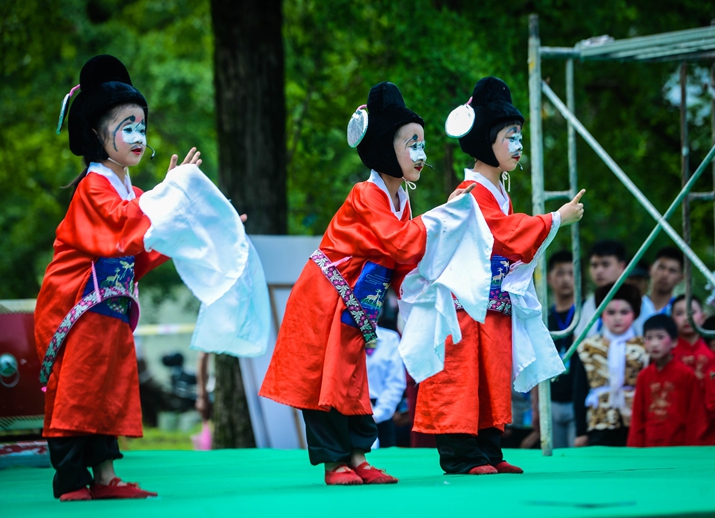 Children in Xiaopu Township in Changxing County of Zhejiang Province perform Peking Opera on May 6 (XINHUA)
Rejuvenation
Shen is relieved that a revival for traditional operas is currently underway. "The value of tradition and intangible cultural heritage has been rediscovered by society, and the government and opera troupes are attaching more and more importance to resurrecting traditional operas," he told Beijing Review.
According to the Beijing Expo Garden Park, during the three-day May Day holiday, 51,000 visitors toured the park, and many participated in the cultural week activities.
Shen was once depressed that traditional operas faced diminishing audiences, particularly after the late 1980s. He recalled a time about 10 years ago, where he went to the theater, only to find the performers onstage outnumbered the crowd offstage. He couldn't hold back his tears. Since then, he rarely attends the theater. Instead he quenches his thirst for operas by inviting a few pals to stage their own performances in local parks.
There is a plethora of diverse local operas in China with more than 360 types on record. Peking Opera, also regarded as the official one, is Shen's favorite.
Traditional Chinese operas are reputed as one of the world's three major ancient operas, alongside Greek tragedy and comedy and India's Sanskrit Opera. They are laden with the country's traditional culture and contain many art forms, including poetry, music, dancing, painting, fashion and martial arts.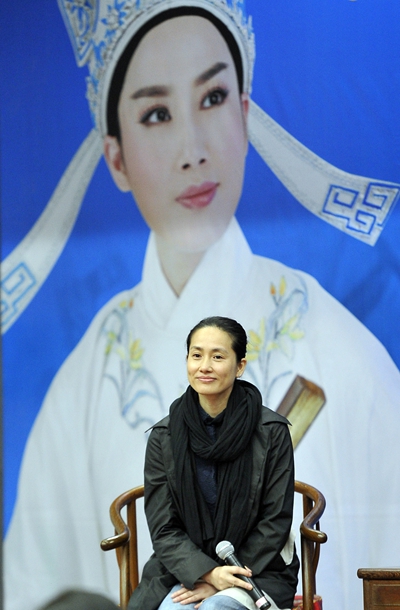 Yueju Opera actress Wang Jun'an meets fans in Fujian, Fuzhou Province, on December 6, 2014 (CFP)
Continuing a lifestyle
Shen became infatuated with opera as a child, having attended the theater with his grandmother, a native of east China's Zhejiang Province, the origin of Yueju Opera. After she got married and moved to Beijing, she fell in love with the Peking variant.
Traditionally, Chinese operas tend to have simple settings, such as a desk and two chairs. Despite the art form boring many other children, Shen was transfixed. He remembered secretly longing for power cuts as a child in his grandmother's home, for it was when his grandmother would bring out a hand-cranking phonograph to play operas sung by famous artists. "I relished such moments!" Shen exclaimed.
In the Internet era, it has been more straightforward for him to indulge in his hobby by downloading arias as well as visiting online portals featuring Peking Opera. "Traditional Chinese operas have given me much more than just singing," he said. Through them he has learned about history, philosophy and ancestral minds.
He agreed with remarks on Chinese operas made by famous writer and former Shanghai Theater Academy President Yu Qiuyu, who asserted that the charm of traditional operas lay in that they are the choice made by generations of common people, so they reflect the emotions of our ancestors and the moral and aesthetic standards of Chinese society.
Government incentives
The rapid development of the market economy and globalization have brought about drastic changes in social life and peoples' mentality, subjecting traditional operas to fresh challenges that threaten their authenticity and even survival.
"Some local operas are losing their uniqueness. Previously distinct genres have tended to blur into something more and more similar. Their vitality is dissipating and their audience shrinking, which severely threatens their survival," said Liu Jingliang, a famous opera critic and a research fellow at the Henan Culture and Art Research Institute.
According to Wang Kui, President of the Research Institute of Chinese Opera under the Chinese National Academy of Arts, traditional operas have been on the decline since the 1980s, owing partially to modern trends and partially to the lack in government's support.
But in recent years, things have changed. On July 11 last year, the State Council released a document supporting the protection and transmission of traditional operas, including measures to support the development of opera troupes, improve training, boost publicity and retain talented opera artists.
"Many industry insiders claim that if measures are not taken in time, the decline will accelerate," wrote Liu Qibao, head of the Publicity Department of the Communist Party of China Central Committee, in an article in People's Daily. He asserted that rejuvenating traditional operas is "very important for passing down traditional culture from generation to generation."
Since the turn of the century and especially in recent years, there has been a growing social consensus to respect and cherish traditional culture, which has extended to action, claimed Fu Jin, President of the Chinese Literary Critics Association.
"Traditional arts and modern times are like two persons tangoing together. Sometimes, they are close, and sometimes distant, yet the tension is always there," he said. Fu added that we should make good use of the opportunities that time affords us and explore new boundaries for traditional arts.
For decades Fu has been researching operas. He foresaw a bright future for the industry 10 years ago, going as far to claim there would be more than 100 theaters in Beijing alone. Colleagues disagreed and people laughed off his predictions, yet today there are indeed more than 100 theaters in the capital. According to him, the crisis in opera was not rooted in opera itself, but was a result of the wider environment.
"Nowadays, traditional Chinese operas can be broadly categorized into three types. Firstly, some of them such as Kunqu Opera, Peking Opera, Qinqiang Opera and Jinju Opera, are classified as cultural heritage with a long history and are protected by the government," explained Liu Wenfeng, a researcher at the Chinese National Academy of Arts. He suggested local governments should cover most of the expenditure, while national and provincial governments should foot the remainder of the bill.
"Secondly are operas with long traditions and artistic value, yet minimal repertoires and audience appeal such as Nuoxi Opera. These operas will soon fade away, owing to a lack of interest from modern generations; nonetheless they have some cultural value worth preserving."
Thirdly are developing or emerging opera genres such as Yueju Opera, Huangmei Opera and Yuju Opera. "The government should create conditions for them to enter the performing-art market and though such troupes should mainly be financed by performing income, the government can give them appropriate assistance," said Liu Wenfeng.
Promoting the development and passing down of traditional operas has been listed in China's 13th Five-Year Plan (2016-20). A plan to popularize 1,000 typical opera programs will be carried out and more social resources will be invested into opera development in an attempt to alleviate the necessity of government funding in the long-term. Private investment is expected to invigorate the market.
Many famous opera performers are now passing down their skills and expertise to the youth of today.
Ma Lan, one of the most celebrated Huangmei Opera performers, now teaches at the Shanghai Theater Academy. In her heyday she won numerous accolades, including a lifetime achievement award for the most outstanding Asian artist in 2008, granted jointly by the New York Department of Cultural Affairs, the Lincoln Center for the Performing Arts and the Organization of Chinese Americans. Now, the 54-year-old has left the stage and dedicated herself to cultivating next-generation Huangmei Opera artists.
"Many people claim traditional Chinese operas are in fact musical dramas. The blend of traditional Chinese operas and musical dramas that were originally created in China is very promising, yet it requires a dedicated effort from various people," said Ma.
Like Ma, Wang Jun'an, a famous Yueju Opera artist, is also driven to preserve and expand Chinese operas. She not only performs across China, but has also introduced the art form to other countries, with fans ranging from teenagers to octogenarians.
Among traditional Chinese variants, Yueju Opera's popularity is second only to that of Peking Opera. Wang is one of the most popular performers in the country, with a fan base to rival that of a famous pop star. She won the coveted Plum Performance Award, the most prestigious accolade for traditional opera performers in China.
Wang is a native of Shengzhou City in Zhejiang Province, the birthplace of Yueju Opera. She joined a famous troupe in 1980 at the age of 11 and was assigned to play male roles because her facial features were deemed suitable for them. This is common in Yueju Opera, while the reverse is often true in Peking Opera.
During that time, Wang became a favorite student of her mentor, Yin Guifang, a renowned opera master and then troupe leader, to whom she was very grateful.
Traditionally operas have usually been taught through one-to-one instruction in performing troupes, however students are now being admitted to art academies in greater numbers. Since 2008, Peking Opera has been part of the curriculum for primary and middle school students in Beijing.
While practicing traditional operas, children will not only learn the tunes but also traditional values, said Chen Jingquan, an education expert with Fengtai District Commission of Education.
Copyedited by Dominic James Madar
Comments to liuyunyun@bjreview.com