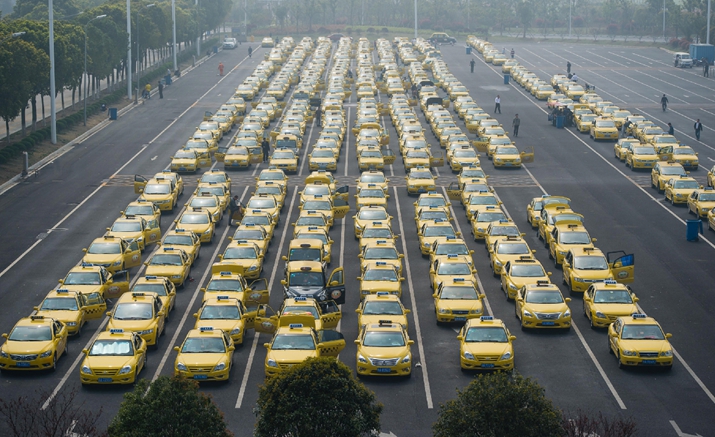 Taxis wait for customers at an airport in Nanjing, east China's Jiangsu Province, in April 2015 (XINHUA)
China's ride-hailing market is cruising toward growth, driven by large flows of capital as companies such as Didi Chuxing and Uber race to attract more users.
The competition is burning up as Uber Technologies Inc. recently raised $3.5 billion from Saudi Arabia's Public Investment Fund in June. Uber China's Senior Vice President Liu Zhen told Chinese media that "the $3.5 billion will support the global business expansion of Uber, including the Chinese market." Last September, Uber stated that it had raised $1.2 billion in funding, led by Chinese technology company Baidu Inc.
Previously, Apple announced a $1-billion investment into Didi in May, underscoring the company's focus on China's potential. According to a statement by Didi President Liu Qing on June 1, the company's own fundraising round has topped $3.5 billion. E-commerce giant Alibaba and its finance arm Ant Financial contributed by adding $400 million into their investment in the company on May 26. Didi is mostly centered on the Chinese market, though it has joined a global alliance with Uber's rivals—Lyft in the United States, Ola in India and Grab in Southeast Asia.
According to statistics from Beijing-based consultancy Analysys International, Didi has had 37.044 million active users since April. Uber, on the other hand, had 7.832 million active users, though there are some who may use the two services concurrently.
Didi's stake in the ride-sharing market in China accounts for 84.2 percent of the whole, while Uber's is 17.4 percent.
While these companies have racked up impressive numbers, this surge in activity is demonstrative of the effect that a sharing economy—a concept that is gaining currency in China against the backdrop of slowing economic growth—has had on the nation's auto market.
Also, although the explosive growth behind this industry is being fueled by a drive for innovation and a demand for utility, these services are operating in a legal gray area, which may put both users and drivers at risk. How will these companies navigate the challenges without crashing into future obstacles?
On the fast track
Changing consumer behavior and attitudes are factors that are influencing the popularity of these apps. A survey by McKinsey China published in April has found that the average number of days that Chinese car owners drive per week almost dropped by one full day, from 4.04 days per week to 3.26, after they began using mobility services. Apple's high-profile investment into Didi therefore comes as no surprise, according to analysts.
Zhang Xu, an analyst from Analysys International, told Beijing Review that Didi is rapidly developing in China. "Apple has recognized this, and investing in Didi will bring Apple considerable rewards." Zhang claimed that Apple's investment will promote the future development of Didi's businesses, especially in terms of increasing the company's market penetration and fostering user activity.
The Internet's ability to integrate a variety of services has led to changes in China's traditional economy, including the transportation sector. In 2015, China proposed an "Internet Plus" strategy to link information technology with conventional industries in an attempt to stimulate business innovation. Apple has planted the seed for the future integration of its products in China's fertile ride-hailing market.
"Didi exemplifies the innovation taking place in the iOS developer community in China," said Tim Cook, Apple's CEO, in a statement on May 13. "We are extremely impressed by the business they've built and their excellent leadership team, and we look forward to supporting them as they grow."
Zhang said that Apple's maps may be added to Didi's platform, along with the implementation of its nascent Chinese Apple Pay system. In the future, Apple's development of its secretive car project may also come into play with the help of Didi.
"Apple's intelligent cars are highly likely to be electric ones," Zhang predicted. "As China's charging station network is underdeveloped, special cars traveling short distances within a city may provide a viable market for [Apple's new vehicles]."
Even so, not all experts agree on the impact that the injection of $1 billion may have had on both players. Jeffrey Towson, a professor at Peking University's Guanghua School of Management, told Beijing Review that there isn't anything in this deal that has an immediate effect on Didi. "It's the start of a relationship between Apple and Didi. And it could lead to a bigger deal," said Towson, adding that "this is how big companies start dating."
Towson cautioned that while the arrangement looks good on paper, it's worth noting that Apple isn't in the transportation business yet and has never sold a car.
Didi has a larger number of users than Uber in China and is used in more cities. Didi operates in over 400 cities across the country, whereas Uber is currently available in just 45. By the end of this year, Uber plans to reach 100 cities throughout China.
Didi has cooperated with the government and traditional companies in many cities, enabling a balance between profits and losses in multiple cities. Zhang said that this has guaranteed an adequate cash flow for the company. "Therefore, in the short term, its market share and status in the car pooling industry can hardly be surpassed by Uber China."
The San Francisco-based company has been struggling in China, which is one of its largest international marketplaces. In February, Uber CEO Travis Kalanick told Betakit.com, "We're profitable in the United States, but we're losing over $1 billion a year in China."
Kalanick claimed that Uber's competitors in China are unprofitable in every city they exist in, but that they're buying up portions of the market. "If I don't participate in the fundraising bonanza, I'll get squeezed out by others buying market share," he said.
The company, which is currently valued at $62 billion, still sees potential in the world's second largest economy, though dividends on its investments may take time to return. "I'm not yet sure how much…investment it will take to get to profitability in China, but I'm optimistic that within the next couple of years we're going to start seeing Chinese cities start to prop up [our business] and be profitable," Kalanick told CNBC in March.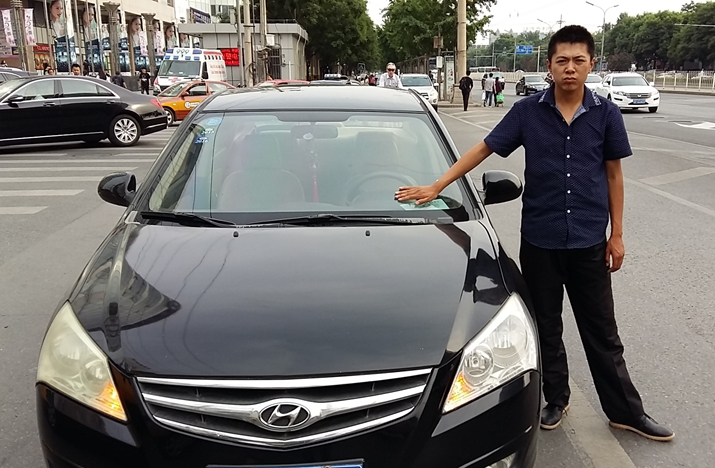 Uber driver Zhao Jianchang in Beijing on May 22 (BRYAN MICHAEL GALVAN)
Roadblocks in sight
Both Uber and Didi are burning through large sums of money by giving subsidies to drivers as well as discounts to users in an attempt to pump fuel into their business. However, according to current laws and regulations, it's illegal for drivers without the relevant license to operate paid car services and pick up passengers for profit. This means that drivers and users are often operating at their own risk when they set out to use these apps.
Yang Chuantang, Minister of Transport, said at a press conference on March 14 that private car owners providing car rides for profit should be regulated by laws and regulations because such activities belong to the realm of public services and concern passengers' safety.
"Private car owners can only carry out paid riding services after registering their vehicles for commercial purposes through relevant procedures," said Yang. The Chinese Government has yet to reveal a specific date for the release of any new rules on the matter.
The murky legal status of this industry is something which both Didi and Uber are facing in China, whose population of 1.3 billion provides an ample playing field which has yet to be adequately regulated. Governments around the world are struggling with the impact that companies such as Uber and Didi are having on local systems of transportation, and China is no different.
The industry's effects on the car market and the environment are also issues that Chinese authorities are attempting to contend with, though many observers believe these companies may have an overall positive influence.
"Local governments seem to be concerned with transportation safety and the impact on taxi services," Towson said, adding that they may nonetheless like the potential side effects on congestion and pollution.
Car-pooling and free ride practices during holidays or rush hours which are not done for profit—but for the purpose of mutual assistance—can ease traffic congestion and reduce pollution and will be encouraged in the reform, said Yang. Despite the fact that emphasis was placed on the pro bono nature of the activity, should the for-profit ride-sharing market increase, the collateral effects on traffic and pollution will still be present.
Provincial governments may support the evolving transportation landscape, though they may also have concerns about the impact on auto demand, added Towson. "Urban transportation is a politically sensitive market. It's health, safety, pollution, congestion, etc. This is not selling soda. The reputation and behavior of any dominant transportation app company are going to matter to the government," he said.
Analysts have nonetheless been on the fence over how ride-sharing may affect the demand for cars. From 2010-15, sales of vehicles in China increased by more than 12 percent per year. But an auto consumer report from McKinsey in April projected that by 2020, the growth will shrink to 5 percent.
Headwinds from a slowing economy and changing consumer attitudes are likely to be among the causes for the trend. Nearly half of those surveyed by McKinsey viewed purchasing a car as a necessity, while 37 percent said that owning a car seems less important due to the transportation options available. This effect is magnified for residents in high-tier cities.
Zhang claimed that it is unlikely that Uber and Didi will have a large effect on the car manufacturing market. "The car-pooling service market is far from being saturated, and the sharing economy cannot penetrate all kinds of car services. The appearance of the sharing economy has also brought opportunities for the popularization of intelligent vehicles and new-energy cars," said Zhang.
Towson disagreed with that assessment, stating that in a sharing economy, people simply don't need most personal cars. "Ask anyone how many hours a day they use their car," he said. "They will say 3-4 hours—the other 20 hours a day it sits unused. If all the offices of Beijing were vacant 70 percent of the time, would anyone think we don't have excess supply?"
A highway to sales
As Didi and Uber develop innovative services to attract more customers and drivers, their backers are already gearing up for the next challenge—self-driving cars.
Google and Baidu, both of which have invested in Uber, are already developing artificial intelligence technology to put autonomous cars and buses on the road in the future. In addition, Uber started testing self-driving cars in the United States in May, and Apple is also working on its own auto project, of which specific details have yet to be disclosed. How will the changing market influence the livelihoods of drivers and consumer habits?
An Uber driver named Zhao Jianchang, 25, told Beijing Review that he used to work in the steel business but has worked full time as a driver in Beijing ever since the Chinese New Year in February. The Uber driver was skeptical about the possible success of driver-less cars, saying that such cars would depend on computer systems to drive, which would be very different from human brains.
Zhao, who works 11 hours a day and takes 20 orders on average, said that he can make up to 5,000 yuan ($759) a month, part of which is subsidized by Uber. According to figures from the Beijing Municipal Government, the average salary in Beijing was 6,463 yuan ($982) per month in 2014, with employees in the private sector earning an average of 4,400 yuan ($668). If his income was to decrease, though, Zhao declared that he would quit being a driver.
Zhao believes that due to changing trends caused by the Internet, car-hailing services can become sustainable in the future, but that such apps will certainly have a negative influence on taxis. "Young people prefer to use Uber and Didi, while old people are more accustomed to taxi drivers," he claimed.
A taxi driver who has worked in Beijing for over 16 years told Beijing Review that the car-hailing apps have a big influence on taxi businesses. The 55-year-old driver, who preferred to remain anonymous, said that the apps were initially developed to reduce the ratio of unoccupied taxis, a strategy which has backfired as more and more private car owners are trying out the apps.
"Before the apps came out, I was getting paid better as a taxi driver than I was in my previous job as a private company chauffeur," he said. "Now it's becoming increasingly difficult to be a taxi driver—I don't know what the government will do to reform taxi businesses, but we are all waiting for them to make their move."
Regardless of the effect on taxis, the future of car-sharing is likely to be integrated with intelligent driving and new-energy cars, according to analysts. "Technology is colliding not with just automobiles and taxis, but also with transportation and logistics overall," said Towson. "I think transportation apps are just the beginning of this."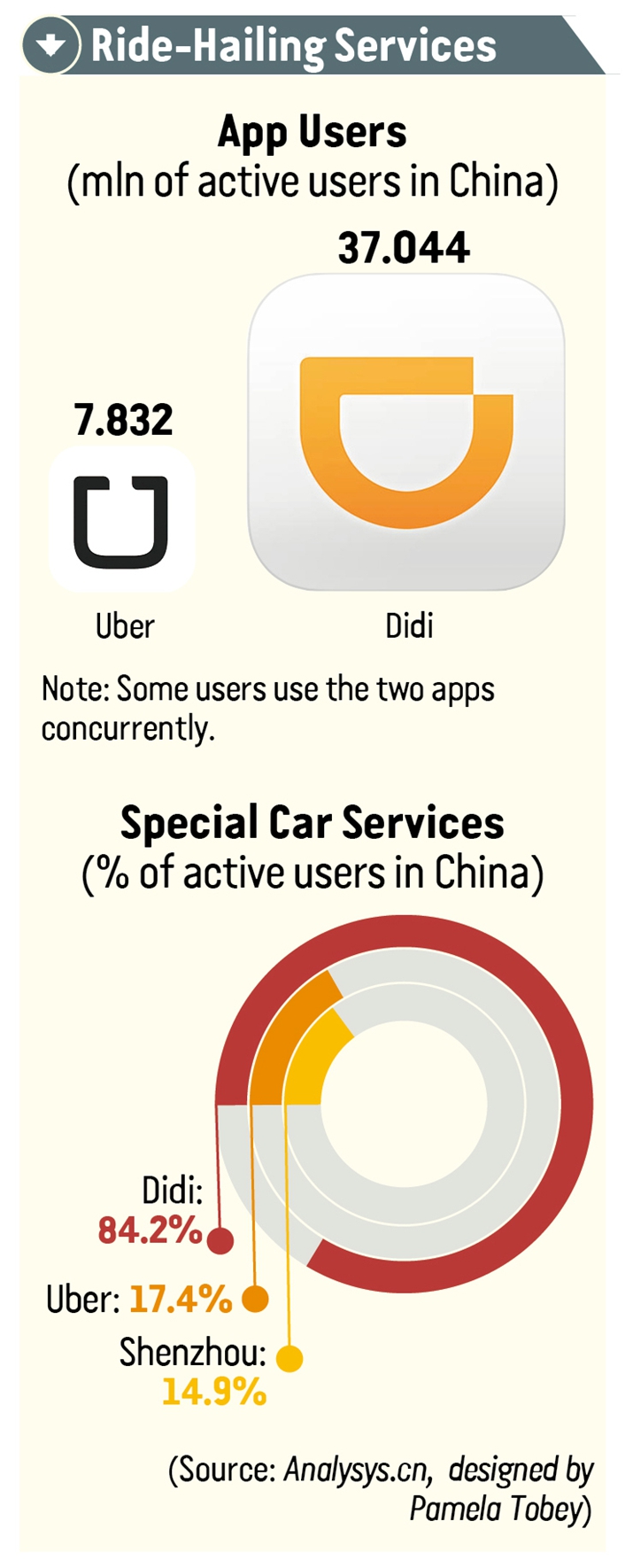 Copyedited by Chris Surtees
Comments to yanwei@bjreview.com