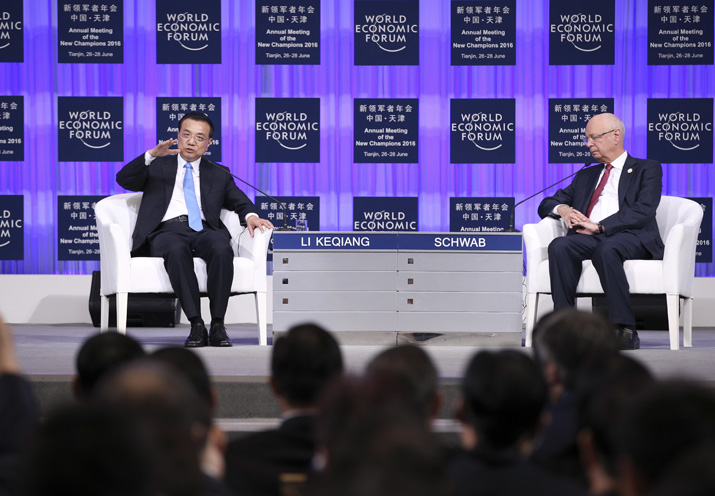 Staff members of Chinese intelligent speech technology company iFLYTEK Co. Ltd. introduce a visitor to their company's product—a voice assistant software for automobiles—at the Summer Davos Forum in Tianjin on June 27 (XINHUA)
In the past decade, China has demonstrated that it has the capability to work miracles, as shown by the fact that its GDP as well as resident income have more than doubled from past figures. However, as labor costs climb, environmental issues rise and traditional growth engines falter, the country now hopes to cool down and shift gears through supply-side reform. These were some of the central topics that were on the table for discussion at the World Economic Forum's Annual Meeting of the New Champions, also known as the Summer Davos Forum, held in Tianjin from June 26 to 28.
Under the theme of the Fourth Industrial Revolution and Its Transformational Impact, the 10th Summer Davos Forum attracted more than 1,700 economists, entrepreneurs and government officials from over 90 countries and regions. During over 200 sessions held at the forum, discussions ranged from globalization to the UK's referendum on whether to leave the European Union, from hi-tech development to the sharing economy, and from the fragile global recovery to China's prospects as the world's second largest economy.
"In the stage of transition, short-term fluctuations of economic growth are hardly avoidable, but the Chinese economy will not head for a 'hard landing'," said Chinese Premier Li Keqiang at the opening ceremony. Li pointed out that the expected bumper harvest of summer grain production, steadily rising corporate profits, a rapidly growing services industry, constantly expanding market sales and dwindling emissions of major pollutants bode well for the country's economic development.
In particular, the employment situation is stable. In the first five months, 5.77 million new urban jobs were created, completing 58 percent of the annual employment target; in May, the surveyed unemployment rate of 31 major cities stood at 5.02 percent.
At present, roughly one third of global growth comes from China, which is not likely to change in the long run, said Li Daokui, Director of Tsinghua University's Center for China in the World Economy, at the forum.
Despite that, to build a moderately prosperous society by 2020, China has to maintain its economic growth above 6.5 percent, according to Xu Shaoshi, Minister of the National Development and Reform Commission, who gave reasons to the ongoing structural reform on the supply side.
"As policies designed to tackle problems on the demand side only dealt with symptoms in the past few decades, the supply-side reform now targets the root causes," said Huang Jianhui, head of China Minsheng Bank's research branch, pointing out that China is trying to blaze a path for healthy development by addressing both the supply and demand sides.
Even so, such a transformation is easier said than done, said Chairman of Royal DSM from the Netherlands Feike Sijbesma, who nevertheless expressed confidence in China's policymakers and the economy, citing its strong fundamentals such as a huge market, robust infrastructure construction, ongoing urbanization, an expanding middle class and the supply of over 7 million university graduates each year.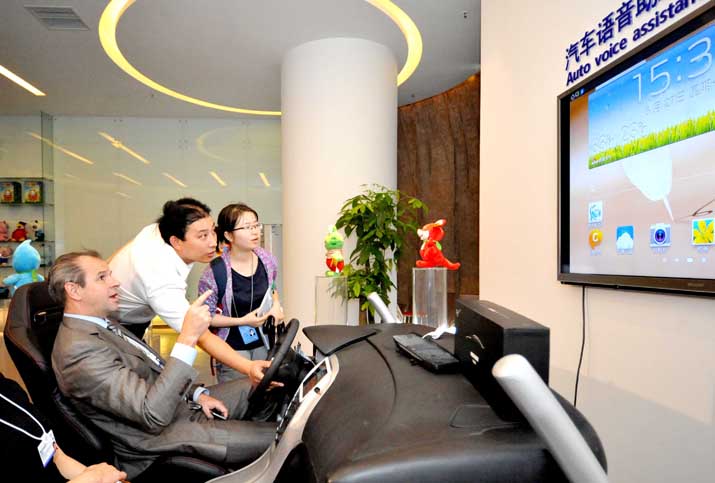 Chinese Premier Li Keqiang and Klaus Schwab, founder and Executive Chairman of the World Economic Forum, at the Summer Davos Forum in Tianjin (XINHUA)
De-capacity process
"Structural reform is a painstaking process, which encompasses industrial integration, the upgrading of producer and consumer services and so on. Among them, cutting overcapacity is the most urgent," said Xu Shaoshi.
In the short term, reducing overcapacity may come into conflict with efforts to maintain GDP growth. However, if China can manage to cut excess production capacity, eliminate "zombie companies" and lift its resource use efficiency while maintaining sustainable growth, reducing overcapacity would benefit the country's economy in the long term, said Huang Yiping, a professor at the National School of Development of Peking University.
According to the document issued by the State Council on February 1, de-capacity measures will start with the coal, and steel and iron sectors. In the next five years, efforts will be made to slash 100-150 million tons of steel and iron production capacity as well as 500 million tons of coal production capacity.
"The related government departments have communicated with involved state-owned enterprises (SOEs), and targets have been set for this year," said Xu Shaoshi. As far as the coal sector is concerned, the target is 280 million tons, and 700,000 employees will be affected. For steel and iron, the figure is 45 million tons, and 180,000 employees will need to get reemployed.
"On the one hand, it's an arduous task. De-capacity involves the replacement of laid-off employees, asset disposal, bonds, debts, mergers and acquisitions, transformation and upgrading. In particular, special consideration should be given to moulding the next industrial pattern. On the other hand, from the Central Government to local governments, work related to these goals is being carried out in an orderly and robust way," said Xu.
Deleveraging efforts
As Li Yang, an academician at the Chinese Academy of Social Sciences, suggested, by the end of 2015, the leverage rate for household, financial, government and non-financial sectors had reached 40, 21, 57 and 131 percent, respectively. According to statistics from the Bank for International Settlements, by the end of 2015, the leverage rate of China's corporate sector stood at 170.8 percent, 80 percentage points higher than the average rate of developed countries and 66 percentage points higher than that of emerging economies.
Obviously, debts tend to pool around the corporate sector. "More specifically, SOEs are the ones that should be blamed for the high leverage rates," said Huang Yiping, who also noted that the government's balance sheet is still capable of digesting the existing leverage for SOEs, but that in the second half of the year, SOE reform will have to be accelerated.
As a matter of fact, before 2008, SOEs were on par with private enterprises in terms of debt. Yet, since 2008, SOEs have consumed enormous amounts of leverage while private enterprises have seen their debts reduced.
What's behind this? First of all, financial institutions prefer SOEs to private enterprises when allocating loans. Second, those that engage in resource-dependent heavy industries are mostly SOEs, while private enterprises tend to engage in light industries or shift to the services industry. Lastly, banking credit usually takes a fancy to large companies, which is also known as scale discrimination, Huang analyzed.
"The return on equity (ROE) of SOEs averages roughly 4 percent. In stark contrast, the ROE of private ones is about 12 percent," said Gregory D Gibb, CEO of Shanghai Lujiazui International Financial Asset Exchange Co. Ltd., who believes transferring more resources from SOEs to small and medium-sized enterprises or non-SOEs can help reduce risks.
Jia Kang, President of China Academy of New Supply-side Economics, held that amidst the deleveraging initiative, some kinds of leverage should be boosted. That's to say, endeavors should be made to assist companies in adjusting their financing structure and expand direct financing.
According to Xu Shaoshi, the government is mulling over how to lower the leverage rate of the corporate sector, and related measures are expected to be unveiled in the near future.
Innovation spirit"
Innovation and entrepreneurship are not just a form of behavior, but a spirit, a culture," said Xu Jinghong, Chairman of Tsinghua Holding Co. Ltd., at the forum. "These days, in the eyes of many people, its conception is narrowed down to the establishment of a company. However, in fact, everyone in his or her position can carry out innovation and give play to the entrepreneurial spirit."
Xu Jinghong believes that excellent start-ups are those that blaze a way on their own, and those that depend on burning through large sums money to work are not qualified to be called entrepreneurial firms.
"In the initial stage of a company, what really motivates people is its dream and vision. Besides that, the more a company can let others benefit from its existence, the longer its technological and commercial civilization innovation can last," said Yuan Hui, President of Shanghai Zhizhen Network Technology Co. Ltd., who stressed the role of altruism.
Compared with two decades ago when he had just set out to start his company, China's entrepreneurial environment has changed a lot, as reflected in policy support, public opinion guidance, large numbers of company incubators and the popularization of mobile Internet, said Lei Jun, founder of Chinese smartphone maker Xiaomi Inc.
"These changes have created a favorable growth environment for Chinese entrepreneurs and brought them the opportunities to go global," said Lei.
Dan DiFilippo, PwC's global and U.S. data and analytics leader, found that Chinese companies have taken a lead in terms of data utilization. According to a survey by PwC, while nearly 40 percent of the respondent institutions worldwide make strategic decisions by analyzing data, the indicator has exceeded 50 percent in China.
In the long run, that will evolve into an advantage that Chinese companies have over their overseas counterparts, according to DiFilippo.
The 13th Five-Year Plan (2016-20) released earlier this year, outlines China's development path for the next five years, with growth driven by innovative, coordinative, green, open and shared development. And among the five principles, innovation is the most important to the process of the fourth industrial revolution, said Klaus Schwab, founder and Executive Chairman of the World Economic Forum.
"I think China can play a leading role in shaping the fourth industrial revolution," Schwab said.
Highlights of Premier Li Keqiang's Keynote Speech
- To promote a steady recovery of the world economy, we must actively carry out structural reform and speed up economic transformation and upgrading, and we will need efficient and orderly global governance.
- Given the complex and challenging international environment and the deep-seated domestic problems accumulated over the years, the foundation underpinning stable performance of the Chinese economy is yet to be strengthened. The driving effect of external demand on growth is waning. Private and manufacturing investments are sluggish. Latent risks still exist in finance and other sectors. In some industries with serious overcapacity and regions with monotonous economic structures, there have been relatively more problems. Downward economic pressure remains, and the difficulties are not to be underestimated.
- The fundamentals of the Chinese economy have remained unchanged, and our macro policies will maintain continuity and stability. In the meantime, we will continue to innovate means of macro control, implement the proactive fiscal policy with greater intensity and efficiency, and carry out the prudent monetary policy in a flexible and appropriate fashion.
- The Chinese economy is at a crucial stage of transition from old to new growth drivers and a stage of economic transformation and upgrading. We will ensure that the government's macro policies are stable, industrial policies are well-targeted, micro policies are flexible, reform policies are solid and social policies meet people's basic needs. While appropriately expanding aggregate demand, we will steadfastly advance supply-side structural reform, concentrating on cutting overcapacity, reducing inventory, deleveraging, lowering costs and strengthening weak links, so that China's development could be less reliant on natural resources and be more driven by human resources and innovation.
- We will guide economic transformation and upgrading through innovation.
- We will accelerate the development of the new economy and cultivate new growth drivers. The new vision of development that we advocate is also about developing a sharing economy. The sharing economy is something that everyone can take part in and benefit from. It could unleash everyone's potential, facilitate reasonable income distribution, expand the middle income group, allow more people, in particular the young, to fulfill their dreams through hard work, and promote social equity and justice.
- We will enhance economic transformation and upgrading by comprehensively deepening reform.
- We need to advance structural reform, in particular that on the supply side. A major task for us is to phase out outdated production capacity and address overcapacity, especially in steel, coal and other sectors that face difficulty in operation. The biggest challenge is how to address possible layoffs in this process. Businesses need to take multiple measures to ensure that their employees will get reemployed. Both the central and local governments should provide necessary support to take care of the affected employees. Overcapacity is a global challenge. The fact that we have taken the initiative to cut overcapacity demonstrates that China is indeed a responsible country.
- We also need to further streamline administration, delegate power, strengthen regulation and improve services.
- We will promote in a coordinated way reforms in the fiscal, taxation, finance, investment and other key areas.
- We will transform and upgrade the economy through opening-up.
- Facing the current complexities and fluctuations in the international financial markets, China will adhere to a managed, floating exchange rate regime based on market supply and demand, with reference to a basket of currencies.
Copyedited by Bryan Michael Galvan
Comments to dengyaqing@bjreview.com