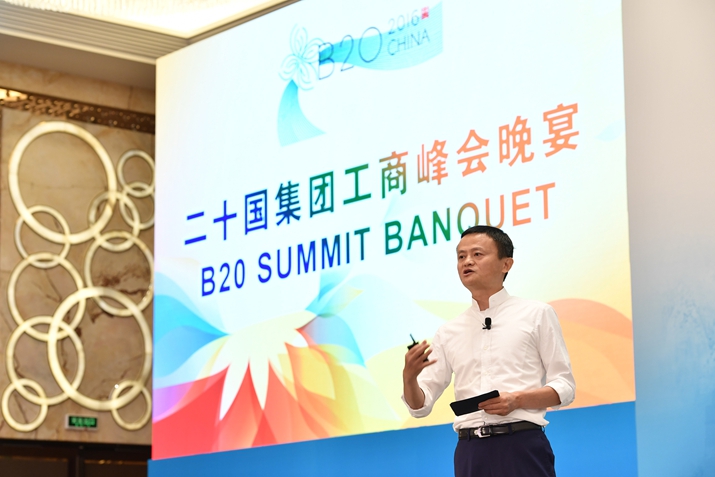 Jack Ma, founder of the Alibaba Group, speaks at a banquet for attendees of the B20 Summit of global business leaders in Hangzhou, China, on September 3(XINHUA)
As the world comes to grips with a languishing economic environment, leaders of some economies around the globe have pointed their fingers in blame at each other, pushing forward protectionist policies. What can government and business leaders do to push global public sentiment and the economy out of the doldrums?
At the G20 Summit which took place on September 4 to 5 in China's eastern city of Hangzhou, representatives of the world's top economies convened to discuss the challenges they face in terms of global economic governance and various other issues. At the event's conclusion, Chinese President Xi Jinping stressed the need for future G20 summits to converge on medium- and long-term growth and cooperation rather than merely focusing on short-term crisis management.
"We agreed to improve G20 trade and investment mechanisms, endorse the G20 strategy for global trade growth and move toward inclusive and coordinated global value chains. We support the multilateral trading regime and oppose protectionism, so as to release the potential of global business cooperation and reverse the decline of global trade growth," Xi said.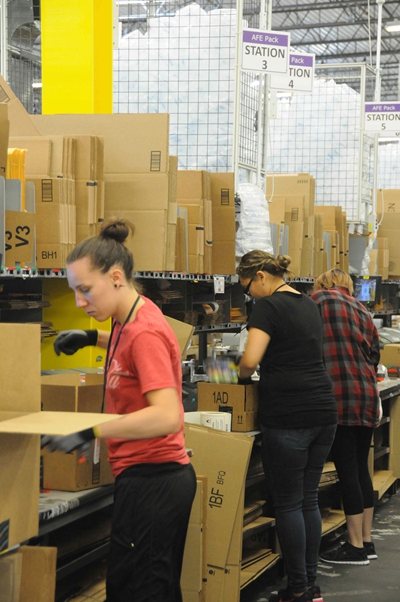 Workers package commodities to be delivered to buyers at a fillment center of U.S. online retailer Amazon.com in Tracy, California, the United States, on July 19, 2015 (XINHUA)
Trading urgency
Vedio: Experts on Trade Protectionism and e-WTP
In order to mitigate the negative impact of a lackluster global economic environment, experts at the G20 told Beijing Review that international trade and investment must be revitalized rather than be used as scapegoats for national problems.
Angel Gurria, head of the Organization for Economic Cooperation and Development (OECD), explained on September 4 that during a crisis, people and governments tend to be protective, declaring that there have been "1,400 instances of trade protectionism since the [2008 financial] crisis started."
Using the United States as an example, Gurria claimed that a lot of talk of trade protectionism has been spurred by the upcoming presidential election. "Basically this is worsening. It may be popular for a short period [to talk about protectionism] for campaigns and for constituencies, but we know that free trade will increase the wellbeing of society," he said.
This sentiment was reflected by Roberto Azevêdo, Director General of the World Trade Organization (WTO). In an exclusive interview with Beijing Review, Azevêdo said that the Chinese Government's determination to focus on trade and investment in the G20 conversation in Hangzhou is extremely helpful and important.
Azevêdo claimed that in many areas of the world, talk about international trade is not helpful because it is misinformed--equating trade to unemployment. Azevêdo said that mentality is "plainly wrong--trade is not causing unemployment."
On the contrary, "what causes unemployment is innovation, it is high productivity and nobody is against innovation and high productivity," he said.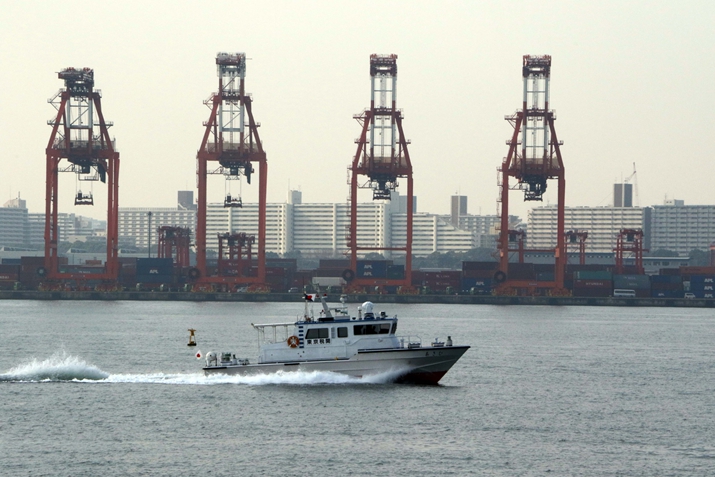 A Japanese customs office's boat cruises in front of the international cargo terminal at Tokyo's port on January 26, 2015 (XINHUA/AFP)
One of the main outcomes of the summit was the G20 Blueprint on Innovative Growth which supports the use of innovation to usher in the Fourth Industrial Revolution and the digital economy.
In order to counter the misconceptions on trade, Azevêdo said that there needs to be an informed conversation on the causes for unemployment around the world. "To address [unemployment] you need to retrain the workforce. They have to be given an education, and trained with new skills. Today's economy requires skilled workers," he said.
However, rising public skepticism of the benefits of trade may not exist on a global or an aggregate sense, but on an individual level as it impacts the livelihood of people negatively affected by trade.
Ken Ash, Director of the OECD Trade and Agriculture Directorate, told Beijing Review in an exclusive interview that people focus on whether trade is good for them as individuals. "Here there is a growing concern that maybe it isn't, all the time. So I think that's the fundamental public perception problem that ministers and leaders have focused attention on," he said.
Another factor which influences opinions on trade is its effect on businesses both large and small as a result of government action, regardless of the intended outcome.
According to Ash, the OECD's most important proposal at this year's G20 Summit was for governments to focus more on reducing trade costs that they sometimes unintentionally impose on businesses.
"So if I have a regulation in place that requires you to do something that may or may not be necessary, we would argue that government regulations need to look at the unintended impacts," he said. "It's very important that regulatory and domestic policies are efficient, effective and don't impose any unnecessary costs on businesses."
For example, some costs on businesses can appear in the form of requirements for local participation in the boardroom, or local ownership. "We think that imposes costs. It reduces investment and opportunities and it can hinder competition in the marketplace," claimed Ash, who added that although the intention is understood, the impact it has is more negative than most governments realize.
"We do not question for one moment, the right of any government to regulate. That is a sacrosanct responsibility, and certainly a right of governments. But we should question whether or not the costs that result from regulations are necessary and efficient," Ash said.
The OECD estimates that if "unnecessary costs" and administrative inefficiencies were removed, it would save about 15 percent of total trade costs globally--a significant amount for business purses.
Despite proposals by international institutions and world leaders at the summit, the global economic outlook still remains morose.
"As an economic governance scholar, I'll tell you that trade is one of the most depressing challenges that the world faces at the moment," said Tristram Sainsbury, a project director at the G20 Studies Centre of Australia's Lowy Institute for International Policy.
Over the past 70 years, the multilateral trade and liberalization agenda under the WTO has boosted globalization and the flow of goods, services, etc. But Sainsbury said that this trend has slowed over the last two decades.
Sainsbury told Beijing Review that the system has fragmented and that countries are looking for mega-regional trade rather than multi-lateral trade. "And even these agreements, particularly the Trans-Pacific Partnership as well as the Trans-Atlantic Trade and Investment Partnership are looking increasingly unlikely to deliver outcomes--so what we're looking at is two decades of glacial progress, probably going to become three decades of glacial progress."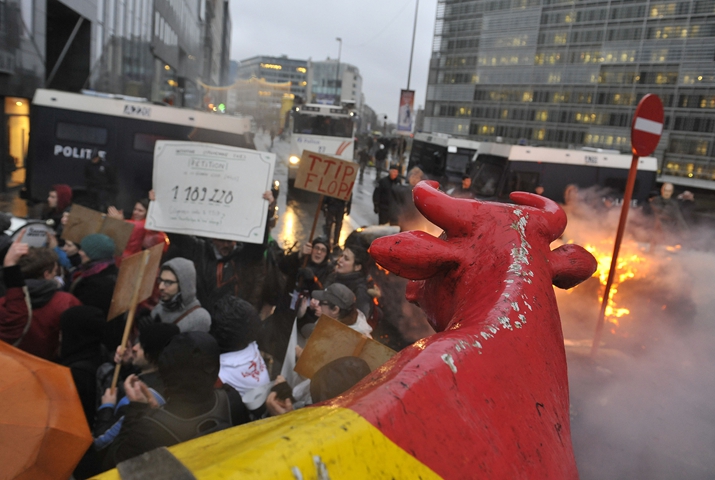 Dairy farmers demonstrate in protest of the EU's austerity measures and the bloc's negotiation of the Trans-Atlantic Trade and Investment Agreement with the United States in Brussels, Belgium, on December 19, 2014 (XINHUA)
Global free trade
Vedio: Michael Evans Introduces e-WTP
One proposal which stood out at the G20 Summit was a business leader's attempt to bolster global trade through e-commerce. Jack Ma, founder of China's e-commerce giant Alibaba Group, told the B20 Summit of global business leaders on September 3 that trade is not a weapon--trade should be used to solve business rather than political problems.
The so-called Electronic World Trade Platform (eWTP) is Ma's brainchild which aims to provide cross-border trading free of tax and customs procedures for small and medium-sized enterprises (SMEs) looking to sell their wares abroad.
The idea was welcomed by participants of the G20 Summit. "We welcome the B20's interest to strengthen digital trade and other work and take note of its initiative on the eWTP," said the communique of the meeting.
At Alibaba's headquarters in Hangzhou, Michael Evans, President of Alibaba Group, talked on September 2 about the company's internationalization and globalization goals. "Alibaba plans to connect tens of millions of profitable merchants and consumers," said Evans, who wanted the eWTP to empower small business and consumers around the world to sell and buy at any time globally.
Although the specifics of such a proposal have yet to be released to the public, Ma has used the G20 Summit as an opportunity to lobby support for his idea from top government and business leaders.
Nonetheless, how can such a mechanism be accepted by governments amidst increasing trade protectionism?
Evans told Beijing Review that the e-WTP faces several challenges because it aims to allow products to move seamlessly from one country to another. "So we are going to be piloting this project in a couple of countries which are set up today in a way that allows both products to move both ways in bilateral trade," said Evans, who declined to disclose which countries would be involved.
The project is apt to create a lot of concerns amongst a number of people, should it come to fruition. What sort of policies would have to be brought about to enable free trade amongst SMEs and how would it disrupt the global market in its current iteration?
"I think the EU, for example, has too many rules and laws. So our idea is that is it possible to have a special trade zone specifically for small businesses only, because we cannot follow the traditional free trade zone. Today in business, trade treaties become so thick, like a Shakespeare book--the thicker it is, the more complicated it is and nobody can follow. What we want to do is just very simple to move things ahead," said Ma, who added that Alibaba wants to initiate the project in two or three countries in the next 12 to 24 months.
Such an undertaking may not be easy to carry out though, as Alibaba would have to surmount numerous obstacles such as localization, marketing, logistics and lobbying in each country Alibaba would like to set up its eWTP shop in.
Jeffrey Towson, a professor of investment at Peking University's Guanghua School of Management, told Beijing Review that goods move around the world fairly easily, therefore the eWTP could be a nice boost to an existing system.
"However, most business is actually local and requires local operations. Marketing, distribution, and so on require all local operations--regardless of the product. Apple needs Apple stores in China. You're not going to do that well long-term just selling into China without a China operational presence," he said.
Alibaba's biggest strength is its popularity amongst Chinese consumers, especially through its use of social media and the creation of local online ecosystems to support its user base. Towson therefore claimed that offering Chinese consumers new products from SMEs around the world is not a stretch.
"However, offering American consumers Chinese goods is a different story, and I think the language and social media factors are weaknesses for Alibaba in that situation. I expect Amazon to do far better in the West and with Western consumers. And they are doing quite well in China-U.S. cross-border e-commerce these days," he said, adding that customizing services or online platforms for local cultures is a challenge.
Peter Zhang, CEO of Shanghai-based online logistics firm Yunmanman, told Beijing Review at the B20 summit that although China does have sufficient technology, ideas and experience in platform construction, more is needed for the eWTP to succeed.
"At present, cross-border e-commerce is doing very well in China and it is relatively easy to achieve the eWTP for tangible products. But to build up the same level of e-commerce in other countries, trade barriers must be resolved--that is extremely hard in terms of trading electronic and services products on the eWTP."
A student from the Hunan Industry Polytechnic school explains the operation of numerically controlled machine tools to a worker from the No.3 Machine-Building Factory in Changsha, Hunan Province, on May 14, 2015, as part of a program initiated by the factory to improve its workers' skills (XINHUA)
Thinking forward
One area which needs to be reworked to allow progress on free trade agreements and business proposals such as the eWTP is the reworking of the WTO. "The institution as a whole is still very good," said Sainsbury.
"We have one coherent global structure, admittedly, one which is facing challenges. What we need to do is recognize where the world is at. Governments of the world need to recognize this situation, recognize the importance of trade to the future economic growth, recognize the importance of investment to economic growth and pledge to reform the WTO. There needs to be a discussion at the highest level of government about what to do to actually fix the architecture, the economic architecture so we can deliver a better future for trade."
From a businessman's point of view, Ma was adamant that proposals such as the eWTP are necessary to shake up the moribund world economy, especially systems centered on the use of Internet technology.
Ma predicted that in the years to come, a lot of things that people think are good are going to be replaced, and that he expects that the technological revolution will be threatening to a lot of people if they still live in the yesterday.
"Whether you like it or not--if you don't change yourself, you will be changed by the technology. Do you want to give up yesterday and embrace tomorrow? Or do you want to give up tomorrow and embrace yesterday?"
(Reporting contributed by Liu Yunyun and Chen Ran)
Comments to liuyunyun@bjreview.com