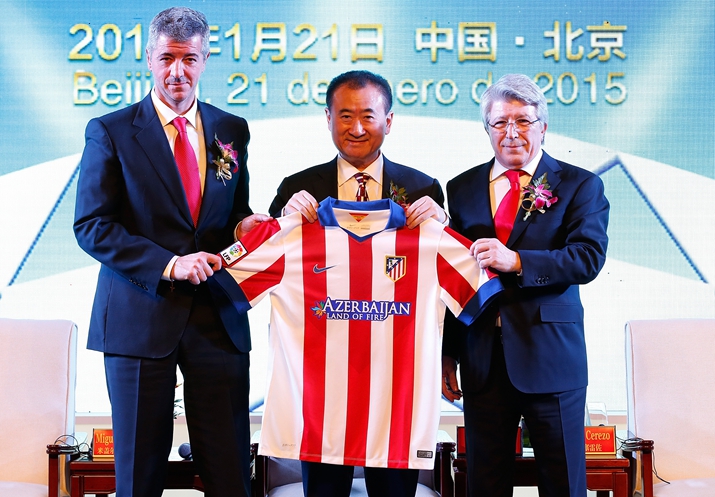 Wang Jianlin (center), Board Chairman of Wanda Group, receives a jersey of Atletico Madrid from officials of the Spanish football club at a ceremony in Beijing on January 21, 2015, after he purchased a 20-percent stake in the club (XINHUA)
Stepping back a couple of millennia into ancient China's Han Dynasty (202 B.C.-A.D. 220), one could observe a round ball stuffed with feathers being kicked about eagerly. The game of cuju, played by aristocrats and peasants alike, spanned several Chinese dynasties. Around the 9th or 10th century, professional teams were established across many Chinese cities, and tales spread of legendary matches featuring thousands of spectators. According to the Fédération Internationale de Football Association (FIFA), football's international governing body, cuju was the world's earliest form of soccer.
However, for the birthplace of modern football, fast-forward to 19th-century Victorian Britain. On the playing fields of England's most prestigious private schools, various sets of rules were drawn up, gradually harmonizing and evolving into a single and universally accepted code. Over the last 100 years, soccer has become truly global, mesmerizing legions of fans from every corner and galvanizing entire nations. Football has amassed an unrivaled number of followers: "The beautiful game" is the undisputed sport of the world.
Its popularity can be attributed to a range of factors, including its fast-tempo, high-action nature, the lack of equipment needed (other than a ball) for a casual kick-about, and its inclusiveness as a team game in which players come in all sizes and are lauded for different attributes.
However, for all its global appeal, football at the elite level remains remarkably concentrated within its traditional powerhouses. In terms of the players, an overwhelming majority of world-class operators continue to reign from South America and Europe. The annual FIFA World Player of the Year award has only been claimed once by a player from a different continent—George Weah of Liberia in 1995—since being established in 1991.
The World Cup, international football's biggest prize, has been won by eight nations (three from South America and five from Europe). The rest of the world has never produced a finalist, and only two nations from elsewhere have ever reached the semi-finals: the United States at the inaugural 1930 World Cup and South Korea as co-hosts in 2002.
South America churns out great players and international teams, but the uppermost echelons of club football are exclusively European and almost entirely contained within the big four leagues of Spain, Italy, England and Germany. A combination of financial muscle and rich tradition helps to entrench the dominance of super-clubs such as Barcelona of Spain, Bayern Munich of Germany and Manchester United of England, ensuring they are able to attract (and pay) the best talent and thus consistently challenge for domestic and European trophies.
Aston Villa's new owner, Tony Xia (left) from China, new Manager, Roberto Di Matteo (center) and new Chief Executive, Keith Wyness pose for a picture at Villa Park in Birmingham, England, on June 15, after Xia's Recon Group bought the English club outright for 76.5 million pounds (CFP)
Joining the Euro club
Europe may be in the midst of a debt crisis, with many southern countries in particular having a torrid time imposing austerity on their fragile economies. Yet, in this era of economic uncertainty, elite club football shows no sign of feeling the strain, as China enters the fray. Cash-rich Chinese investors are now circling the sport's preeminent continent.
Considering the money that has already poured in from the United States, the Middle East and Russia, Chinese involvement to some extent felt more like a question of "when" rather than "if." It all kicked off in earnest back in January 2015. That month saw Chinese real estate giant Wanda Group buy a 20-percent stake in the then Spanish football champions, Atletico Madrid, for 45 million euros ($51 million) and United Vansen, a Chinese marketing company, purchase 98 percent of Dutch club ADO Den Haag for a reported 8 million euros ($9 million).
Over the last 20 months, the acquisitions have come thick and fast. In England alone, Aston Villa, West Bromwich Albion (West Brom) and Wolverhampton Wanderers (Wolves) have been snapped up by Chinese investors, while a consortium headed by China Media Capital Holdings and CITIC Capital purchased a 13-percent stake in Manchester City's parent company, City Football Group (CFG), for $400 million in December 2015.
China's Recon Group bought Aston Villa outright for 76.5 million pounds ($102 million) this May, while Chinese conglomerate Foshun International paid 45 million pounds ($60 million) for the Wolves in July. Though both teams currently ply their trade in England's second division, the owners have targeted the top flight. Foshun employee and new Wolves board member Jeff Shi cited this as the key objective, "Our goal is crystal clear: We will do our very best to help take the Wolves back to the Premier League as soon as possible and to stay there," adding that he believes the club and its fans belong in the top division.
On August 5, West Brom confirmed that Yunyi Guokai (Shanghai) Sports Development Ltd., fronted by football fanatic and entrepreneur Lai Guochuan, had agreed to buy the club in June for 150 million-200 million pounds ($200 million-$266 million), subject to approval from the UK's Financial Conduct Authority and the Premier League. Lai referenced the club's history and its link with China—it was one of the first European teams to tour the country in 1978—and said that he hoped West Brom "could make the top half of the league in the near future." At the time of writing, Premier League club Hull City is also in the midst of a Chinese takeover attempt, though there is a risk the venture may fall through.
In France, Sochaux became the first European club under complete Chinese ownership, following its 7-million-euro ($7.86 million) purchase by Tech Pro Technology Development, an electrical components manufacturing giant, in July last year. Subsequently, an 80-percent stake in OGC Nice was bought for 21 million euros ($23.58 million) by a consortium in June, and an announcement was made in August by a Chinese company that plans to pay 7 million euros for a 59.95-percent stake in AJ Auxerre. Last year, in September and November respectively, majority stakes were also acquired by Chinese investors in Czech club SK Slavia Praha and Spain's Espanyol. Across European football, the domino effect from Chinese investment has been clear, though the most eye-catching activity has arguably occurred in Serie A, Italy's premier division.
One of the most striking deals is the capture of heavyweights Inter Milan by the Suning Holdings Group, a retail colossus headquartered in Nanjing, east China's Jiangsu Province, which announced a 270-million-euro ($303 million) deal for a 68.55-percent stake on June 6. Suning's Chairman, Zhang Jindong, posting on the club's website, said that the deal "gives Inter an opportunity to experience unprecedented growth in China," and that "Suning's investments and resources will help Inter return to their glory days... attracting the stars of world football." Few clubs can match the pedigree of Inter Milan, a team that, despite relatively poor performances on the pitch over the last few seasons, unquestionably belongs to Europe's elite band of football royalty.
In the same city and sharing the same historic San Siro stadium, Inter's equally illustrious rival, AC Milan, looks to be heading in the same direction. Only last month, the news broke that Milan's parent company, owned by former Italian Prime Minister Silvio Berlusconi, had signed a preliminary agreement to sell a 99.93-percent stake to a Chinese consortium for a whopping 740 million euros ($830 million).
What has catalyzed this recent avalanche of investment? According to Mark Dreyer, a Beijing-based sports reporter and founder of news website China Sports Insider, a few factors underpin the surge. He told Beijing Review, "The [Chinese] Government has been looking for other drivers of growth, they are trying to re-balance the economy away from manufacturing and toward domestic consumption... they have targeted the sports industry." He cited the much bigger percentage of GDP that developed nations spend on sports compared to China, and the government's objective to increase growth in the sector substantially by 2025.
Dreyer, acknowledging football's popularity (alongside basketball) as one of the top two spectator sports in China, went on to say, "The 50-point plan announced in March last year kind of set it all in motion," in reference to the plan published by the Chinese Football Association whose ultimate goal is for China to become a football superpower by 2050.
It is politically smart, with the backing of the state policy; "and it's financially smart, because that's where we're going to see the next big growth story in China," summarized Dreyer on China's movement into European soccer.
He also emphasized the difficulties in generalizing ownership traits by country, especially considering the range of industries that Chinese investors have come from and the variation in American and Middle Eastern investors, for example. "There have been good and bad owners [of European football clubs] from all of these different countries. There have been some horrific English owners and some very good ones." He added, "It sort of frustrates me when fans think this big Chinese billionaire is coming in, and he's going to save our club. Well, why really should he? He's not a philanthropist."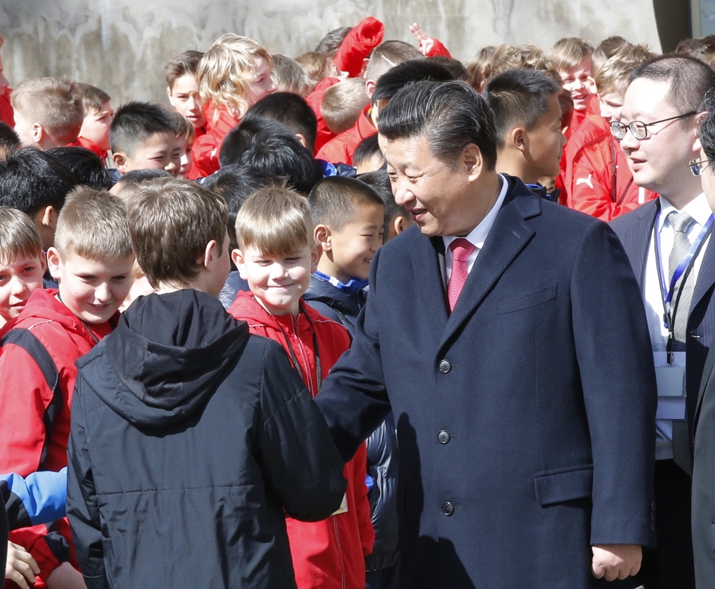 President Xi Jinping meets with young Czech and Chinese footballers in Prague on March 29 during a visit to the Czech Republic (XINHUA)
Leveling the playing field
For all the Eastern money gushing into Europe, can these investments really help China to bridge a gaping chasm in their football ability? The Chinese men's national team currently ranks 78th in the world and has only qualified for the World Cup once, in 2002, when they lost all their games and failed to score a single goal. The club game also faces a huge challenge to dethrone Europe from its position of football dominance. Noting the improvement in the United States, Dreyer told Beijing Review, "The U.S. league has got a lot stronger over the last 10-15 years, and it's pretty decent, but it's still second tier."
Ultimately, the message hammered home is one of a long-term grind with no shortcuts. The investment, according to Dreyer, will have some benefit on Chinese football, with the opportunity to bring expertise back to China. Commenting on the recent influx of international players to the Chinese league, he said that "The eye-watering amounts spent on foreigners for the transfer fees and the salaries" should help domestic footballers in giving them the chance to train with better players.
Xu Zhihao, President of China Media Capital Holdings—the group that bought a stake in the parent company of Manchester City—said in an interview with China Business Daily, "We chose CFG because we think its platform and system can be copied to China's football industry. For this to progress, much more is needed besides diligent training."
Xu stated, "But for now, there's still much fundamental work to be done. China's sports industry is to a great extent underpinned by government support. The market is not yet mature, open or fully competitive. Many companies are growing, and development takes time. Undoubtedly, with such a large population, China has a potentially huge sports market."
However, playing catch-up football is extremely tough. "If it's curling, you could throw hundreds of millions of dollars or yuan [at it] and become globally competitive within four or five years, but it's football, it's too competitive. There's hundreds of millions of very good youngsters all around the world," Dreyer said. The gulf in class was underlined by Zhang Xizhe, an established member of the Chinese men's national team and a key player at Beijing Guoan FC, who was unable to get a single minute on the pitch in a brief stint at German club Wolfsburg from December 2014 to July 2015.
Charlie Edwards, an amateur player and football fan from the UK, told Beijing Review, "I think the main difference [between Europe and China] would be skill level... there are of course very good Chinese players, but the average person playing football hasn't really got a technique that has been built over years and years." Dreyer echoed this sentiment, asserting that effective training from a very young age and creating a wide player base would be fundamental to improvement.
"China's economic growth has been so much faster than most other countries, and the Chinese people are used to speeding things up... But there's no shortcut. My worry is that it's such a big country, it can install reforms but the implementation is very tricky," said Dreyer, adding that, "China has been very successful in the Olympic sports culture, in diving, table tennis, gymnastics... I think the people in charge know this won't work for football for two main reasons: For one, it's a team sport; secondly, you have to be creative—if everyone knows what you're going to do with the ball, clearly it's not going to work."
Assessing the prospects of the national team, Dreyer reckoned that becoming a top 30 nation by 2050 is certainly achievable, but anything higher would be difficult. "I've gone on record in saying, before, I don't think I'll see China win the World Cup in my lifetime, but then I probably won't see England win the World Cup! It's a very elite group that does that... Could they become the best team in Asia? Definitely, I think this has to be their first goal."
For all of the aforementioned obstacles, China's scale and rapid development give it a unique edge. Edwards told Beijing Review, "I've been here for five years, but there's definitely been a radical shift in football culture, especially with more and more interest in the Premier League, evidenced by big [former] players like David Beckham and Michael Owen coming over here very often to promote football." He also mentioned that the presence of players such as Senegalese striker Demba Ba and Brazilian forward Robinho in China gives "Chinese fans what they want in terms of football celebrities."
Dreyer praised the steady improvement of the Chinese league and reiterated the importance of the basic levels, "Really, the only way is to start with training 5-year-old kids and training them for 20 years," he said.
Chinese football has come a long way, though it has a lot further to go. Will China ever produce a player comparable to the likes of Cristiano Ronaldo and Lionel Messi? Ronaldo, a furious blend of pace, power, technique and skill, tore the opposition to shreds in a brief cameo, when Chinese Super League champions Guangzhou Evergrande hosted Real Madrid in a 2011 pre-season friendly. However, China's foray into some of Europe's most famous clubs and leagues may prove to be a significant stepping stone in its quest to become competitive in the global game. After all, anything is possible in football.
Copyedited by Chris Surtees
Comments to yushujun@bjreview.com