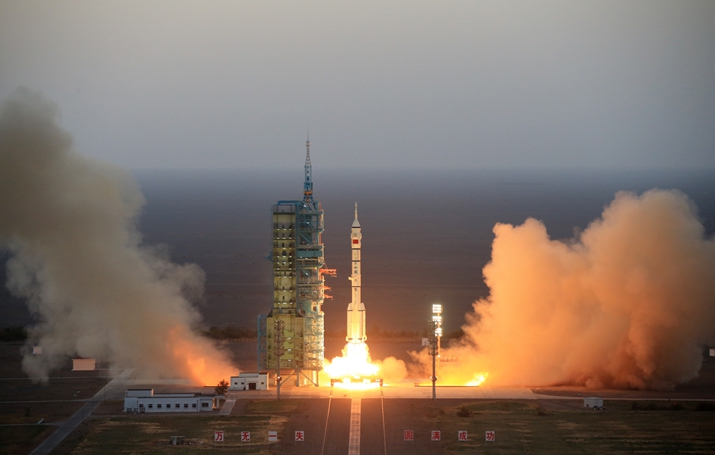 The Long March-2F carrier rocket carrying Shenzhou-11 spacecraft blasts off from the launch pad at the Jiuquan Satellite Launch Center in the morning of October 17 (XINHUA)
The moment that the carrier rocket shed its fairing, a protective shell, Chen Dong caught his first glimpse of space. "It is very beautiful! So beautiful! Cool!" He exclaimed.
Chen shared his amazement with fellow astronaut Jing Haipeng while on board the Shenzhou-11 spacecraft, which was hurtling toward its destination after blasting off from the Jiuquan Satellite Launch Center earlier the same day, October 17.
The two astronauts are the crew members of China's sixth manned space mission. The mission's objectives are to test spacecraft docking and return technologies, the space laboratory's capabilities of supporting the life, work and health of astronauts, and the ability of astronauts to carry out flight missions, said Wu Ping, Deputy Director of China's Manned Space Engineering Office, at a press conference on October 16.
She said that other objectives include conducting aerospace medical experiments, space science experiments and in-orbit maintenance, as well as carrying out activities to popularize scientific knowledge.
At dawn (Beijing Time) on October 19, after cruising for two days, Shenzhou-11 docked with the space laboratory Tiangong-2, which was launched on September 15.
Following orders from the ground command center, Jing and Chen unfastened their seat belts, slowly rose from their seats and changed into lighter work attire. After Jing opened the door of Tiangong-2, they floated into the space lab to begin their 30-day stay.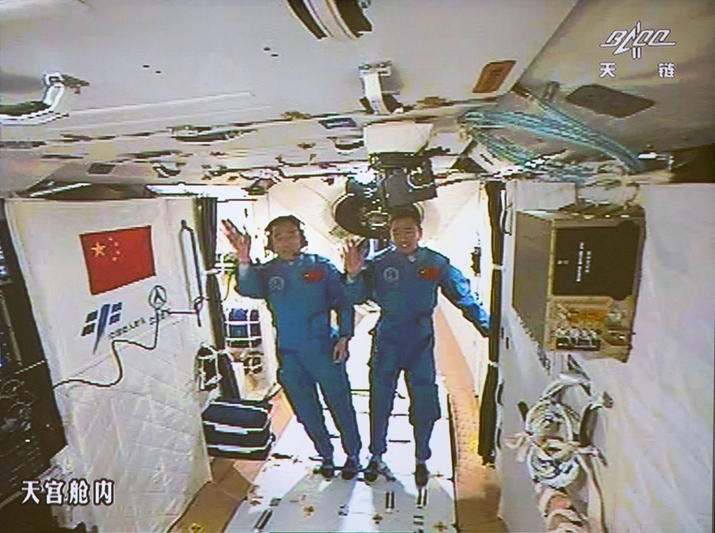 Jiang Haipeng (right) and Chen Dong wave to the crowds at the Juquan Satellite Launch Center before the launch of the Shenzhou 11 manned spacecraft on October (XINHUA)
Chasing dreams
Riding a rocket into space has long been Chen's dream. Born in 1978 into a worker's family in Luoyang, Henan Province, he began learning to be a pilot in 1997 after graduation from high school.
In 2003, at the age of 25, he was assigned to the air force. Back then, he piloted fighter jets, mostly at low altitudes. "I wanted to fly higher and higher, out of the atmosphere, to see what it looks like up there," Chen recalled. One day that year, he watched a live TV broadcast of astronaut Yang Liwei's historic space trip, China's first manned mission.
"He (Yang) looked so magnificent in the spacesuit. It was very exciting. He is a real hero!" Chen told 81.cn, a military Web portal in China, during a recent interview. Later, when Chen learned that Yang used to be a fighter pilot just like himself, he could not help imagining that maybe someday he could become an astronaut. The opportunity arose in 2009 when China began, for only the second time, to recruit astronauts. Chen applied.
Candidates must meet basic requirements that include standing between 1.6 meters and 1.72 meters tall, being aged between 25 and 35, and weighing between 55kg and 70kg. They must have at least 600 hours' flying experience and have completed at least two years of college education. They also need to undergo rigorous physical and psychological examinations and background checks.
Back then, Chen was serving as an air squadron commander, and had already flown over 1,500 hours. He passed the examinations and became an astronaut in 2010. That year, only seven astronauts, two women and five men, were recruited.
Over the past six years, Chen has undergone grueling training in hundreds of subjects, though he was able to pass the evaluations with flying colors. Shenzhou-11 is Chen's maiden space voyage and Jing's third. Jing's first space journey was made in 2008 on board Shenzhou-7, followed by his exploits in 2012 aboard Shenzhou-9.
Jing has not ceased to dream. "After a dream comes true, there must be another one," he recently told 81.cn.
Jing's space ambitions were not born until he realized a number of dreams, some small and some big. He was born in 1966 to a poor farmer's family in Yuncheng, Shanxi Province. His parents cultivated the fields during the day and in the evening made brooms to sell in order to support three children.
His first dream, back in grade 5 of primary school, was to become a regular player on the school's basketball team. Because he was short, he was selected as a reserve and could not get a chance to play in competitions. He felt sad, but did not give up. He borrowed a basketball from a neighbor, drew a basket on the wall, and practiced shooting hoops daily.
During a competition an injury to a key player, gave Jing his opportunity. He scored several times, helping his team catch up and win. Thereafter, he became a major player, not only at primary school, but also in middle school and air force teams.
In 1985, he was admitted into a flight academy, and 13 years later he was selected to be an astronaut, standing out from thousands of talented candidates across the country.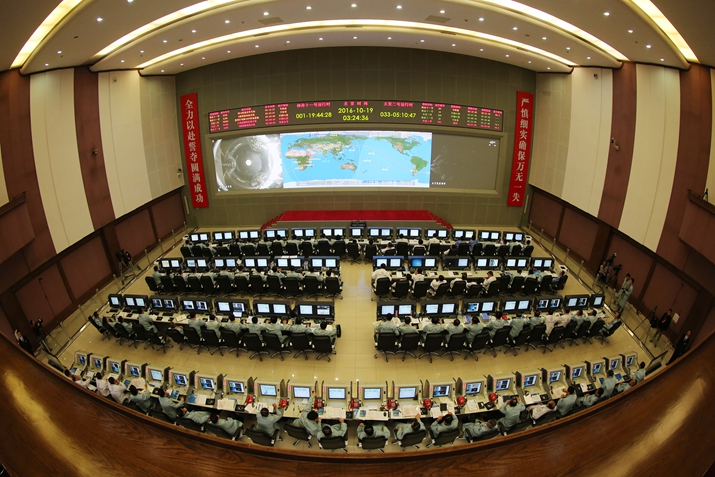 The hall of the Beijing Aerospace Control Center in the wee hours of October 19. The Shenzhou-11 manned spacecraft successfully completed its automated docking with the orbiting Tiangong-2 space lab on that day (XINHUA)
Getting ready
"For every task, I will start from zero, and devote my best self to it," he said at a press conference one day before boarding Shenzhou-11.
He cited his 18-year professional experience as an astronaut and two space journeys as making him more mature, confident, resolute and audacious, and his mindset more optimistic, adding that such changes have occurred not only to him, but also to the Chinese astronaut team.
Astronauts are required to study multiple subjects such as aerospace engineering, aerospace medicine, geography, astronomy, advanced mathematics, mechanics, computer science, automation and electronics, as well as English, political theories and art. Jing and Chen told the press that in the past year, they had been preparing for the mission almost every single day.
Chen said that in addition to the routine physical, psychological, technical and teamwork training, they have also received special training for this particular mission on emergency responses, first aid skills and experiment methods.
In the space lab, they will perform several experiments. "On the ground, we have made sufficient rehearsals," said Chen.
The astronauts will also grow rice and rock cress in a special greenhouse and then harvest seeds and bring them back to Earth. This is the first time that a plant's full lifecycle will be tested in space, said Zheng Huiqiong, a researcher with the Institute of Plant Physiology and Ecology of the Shanghai Institute for Biological Sciences.
Chinese astronauts have been venturing deeper into space and staying there longer. Jing paid tribute to the scientists and researchers—the unsung heroes and the others involved for enabling them to achieve such feats. "For every mission, we get support from many people. Behind us are the motherland, families, colleagues, in the space industry and all other Chinese citizens," he noted.
In recent years, China's manned space program, has advanced steadily. The first Chinese astronaut was sent into space in 2003. Now manned spaceships have successfully docked with space labs, where astronauts can conduct experiments on a temporary basis. The next step is to build a permanent space station by 2020. Compared with Tiangong-1, Tiangong-2 has better interior living quarters and life support systems to accommodate astronauts for longer periods.
"I will cherish every moment in space, observing spectacular views from the window and seeing my beautiful country and the Earth from space. I will also try to do things that I cannot accomplish on the ground," Chen said before the mission. "I will work meticulously and live healthily."
Copyedited by Dominic James Madar
Comments to wanghairong@bjreview.com