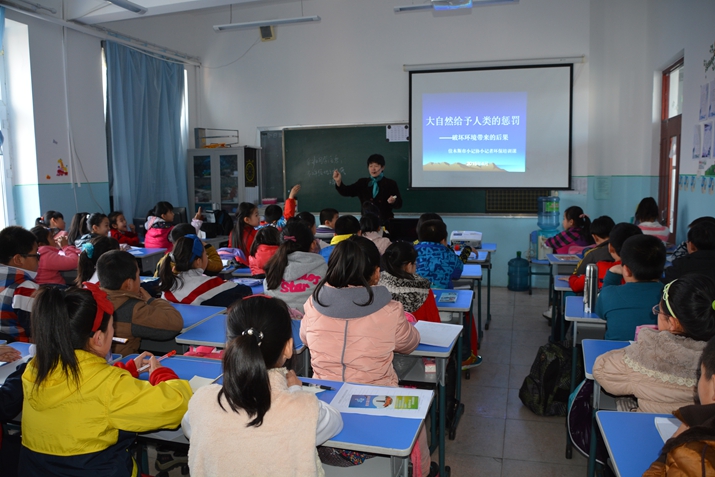 A teacher from the student journalists' association of Jiamusi gives a class on climate change (COURTESY OF WANG SHUHUA)
A video of two middle school students having a heated debate has won a special prize at a national competition. The students, from the No. 3 Middle School in Jiamusi, northeast China's Heilongjiang Province, were fighting because one of them had violated a "green travel" contract when his father drove him to school. The short movie of the incident won accolades at the competition aimed at improving awareness of climate change and environmental protection, organized by the Beijing-based China Association for Non-Governmental Organization Cooperation (CANGO).
The contract in question was signed by all of the school's students and parents during an environmental protection education campaign carried out by a local student journalists' association. The association conducts classes aimed at improving students' overall civic capabilities in schools across the city.
Chen Zhengxun, one of the actors in the video, told Beijing Review that he used to live in a town near Jiamusi where there were few cars and therefore little pollution. "Winter was extremely cold back then and the air was always fresh," he said. "However, after I relocated to Jiamusi to attend primary school, I found that there were an increasing number of cars on the streets causing heavy pollution--the air was not so clean."
After learning about the seriousness of global warming and pollution, Chen, 14, decided to walk to and from school instead of riding in his father's car. "A single trip from home to school takes only 10 to 15 minutes, and as I'm old enough to walk alone, my parents aren't worried about my safety," he said.
Chen's raised awareness of environmental protection has also had a positive influence on his parents. "I now walk to work and my wife, whose workplace is more distant, takes the bus every day," said Chen Zhiguo, the adolescent's father and a local public servant.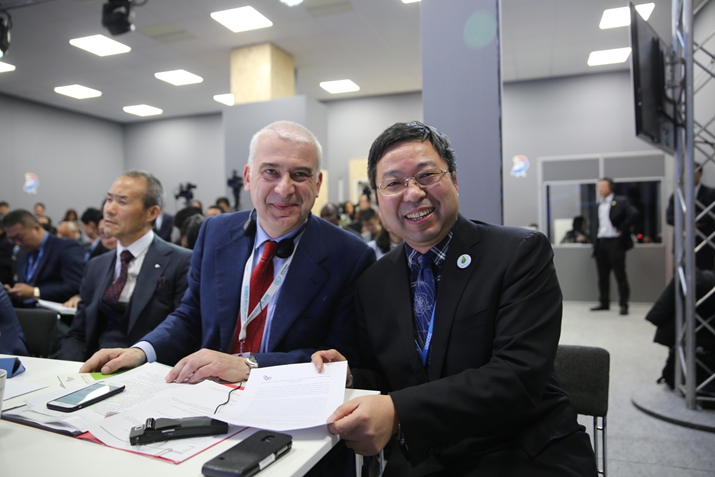 CANGO Executive Director Huang Haoming (right) submits a statement signed by 22 members of the China Civil Climate Action Network to Daniele Violetti, Chief of Staff of the Secretariat of the UN Framework Convention on Climate Change, in Paris on December 3 (COURTESY OF CANGO)
Awareness campaign
The classes that the younger Chen attended were part of a program called Climate Change Education for Middle Schools carried out by CANGO from 2012 to 2015 in 15 cities across China. As of August this year, when the program finished, over 800 teachers had received CANGO training. They have in turn trained more than 7,000 other teachers and students.
Wang Shuhua, a teacher in Jiamusi, took a three-day training course on the topic of climate change from CANGO this March. "I did not know much about this issue previously. Throughout the training, I learned about the Kyoto Protocol and the urgency of environmental protection," she said.
Wang and her colleagues have helped familiarize over 500 students with the pressing need to address climate change since then. They've made use of PowerPoint and videos to show students scenes of tsunamis, smog, earthquakes and plagues which are correlated to global warming. Their goal is to raise the students' awareness of environmental protection and the perilous realities of natural disasters that may befall them, if no action is taken.
They also used a globe to point out the island countries that would be in danger of submersion, should global warming worsen. Indeed, there have already been reports of citizens of the small Pacific island nation of Kiribati seeking asylum in New Zealand. They are leaving their country due to the worsening effects of climate change such as flooding and contamination, some of which has already ruined their houses and taken their livelihoods. These effects will only spread to other countries and get worse in time, should no steps be taken to cope with it.
Wang said a change in people's daily habits may help slow global warming. For example, because garbage releases a large amount of greenhouse gases such as carbon dioxide and methane while rotting, waste classification can help reduce emissions. She would put waste batteries and paper into separate boxes for disposal and recycling. As for the skins of vegetables and fruits, she puts them into a bottle and waits for them to ferment to be used as fertilizer for plants.
CANGO has compiled textbooks on climate change for both teachers and students. Wang Xiangyi, head of the International Department of CANGO, told Beijing Review that teachers like Wang Shuhua will play a key role in spreading knowledge on climate change.
Think globally, act locally
While advocating a shift toward a low-carbon way of life at home, Chinese environmental NGOs are making themselves better heard on the world stage. During the recent UN climate change conference in Paris, CANGO Executive Director Huang Haoming submitted a position statement signed by 22 Chinese NGOs to the Secretariat of the UN Framework Convention on Climate Change.
The document said that NGOs, as a bridge between governments and the people, are essential in the efforts to combat climate change and should be encouraged to participate in the formulation and implementation of climate policies.
All the signatories are members of the China Civil Climate Action Network (CCAN), including CANGO, Xiamen Green Cross Association and Friends of Nature. Established in 2007, CCAN is a national "node" of the Climate Action Network International, a worldwide network of over 950 NGOs in more than 110 countries.
When the Paris conference ended on December 13, Chinese NGOs issued a statement applauding the Paris agreement, which vows to hold the global average rise in temperature below 2 degrees Celsius above pre-industrial levels, and preferably below 1.5 degrees.
CANGO has taken part in the UN climate change conference every year since 2007.
"In the first few years, we went to the conference to learn about climate change. However, in recent years, we have organized events to warn the international community of the urgency of environmental protection and established partnerships with other NGOs throughout the world," said Wang Xiangyi, who attended this year's conference in Paris.
During the Paris conference, CANGO signed a joint statement with its South Korean and Japanese counterparts on curbing coal use.
Indeed, changes in everyone's daily lives are crucial to make the global vision a reality. Apart from the education program, CANGO has helped promote low-carbon behavior among the public through the use of the Green Commuting Fund, which teaches about carbon neutrality and how to reduce emissions from day to day.
The fund has developed a carbon calculator, which can derive the amount emitted during travel after inputting the start and end point of your trip and calculating that against the mode of transportation chosen to reach your destination.
"The calculator will give users suggestions on how to mitigate the effect of carbon pollution... by buying carbon credits or planting trees," she said.
CANGO has also applied the low-carbon concept to its own daily activities--it even held a "green meeting" this year. It used software developed by Carbonstop, a Beijing-based company providing carbon management software and consulting services. The program is designed to calculate the net carbon emissions of a meeting by taking into account participants' mode of transportation, accommodation, food eaten, amount of paper used during the meeting and thereby give suggestions on how to neutralize emissions.
"Our practice is aimed at enabling the public's awareness--we want people to know that any kind of daily activity can leave a carbon footprint, and they should therefore do their utmost to reduce their negative impact on the environment," Wang Xiangyi added.
Copyedited by Bryan Michael Galvan
Comments to jijing@bjreview.com