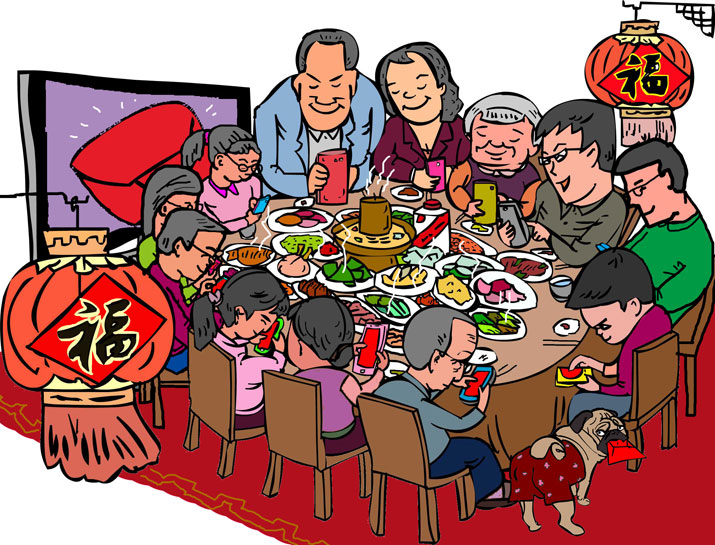 (LI SHIGONG)
Giving hongbaos ---red envelopes filled with money--to junior family members as a Spring Festival gift has long been a tradition in China. In recent years, sending digital hongbaos via mobile platforms such as WeChat and Alipay has become a popular way of celebrating the Chinese Lunar New Year.
WeChat, an instant messaging platform owned by the Chinese Internet giant Tencent, launched its digital hongbao feature during the 2014 Spring Festival. WeChat users can bind their bank accounts to the platform and send out hongbaos to an individual or a group of friends. The senders type in the amount of money they want to send as well as the number of packets they want to distribute the money in. On the recipients' chat window, an image of a red envelope is displayed, on which an "open" button can be pressed to access the money inside, the amount of which can be randomized. Besides the digital red envelopes sent by individuals, companies can also send out hongbaos to customers in the form of cash or coupons.
When WeChat first launched its red envelope service in 2014, 5 million people used the feature. The number increased this year to 516 million. According to Tencent, the number of red envelopes sent and received from February 7 to 12 reached 32.1 billion, a 10-fold year-on-year increase.
Online payment services such as Alibaba's Alipay and Baidu's Baidu Wallet then followed suit and launched their own red envelope services during the 2015 Spring Festival and 2016 New Year's Eve, respectively.
Over 100 million Alipay users shared the 800 million yuan ($123 million) worth of electronic red envelopes offered by Alipay during the China Central Television's Spring Festival Gala this year, an over-four-hour annual program broadcast live on the eve of the Lunar New Year. This year, Alipay spent 268.8 million yuan ($41 million) in sponsoring the event, which attracted over 1 billion viewers.
Digital red envelopes have revolutionized the hongbao tradition in China. Previously, only the senior members of one's family gave red envelopes to their juniors. Now, digital red envelopes can be sent and received by anyone, including friends, family and strangers.
The craze for the new online activity has stirred controversy. Some commentators have applauded the new feature for adding to the fun of the Spring Festival, while others are worried that it is diluting China's traditions.
Embracing new technologies
Jiang Qiping (People's Daily ): The popularity of digital hongbaos can be attributed to traditional Chinese culture. Compared with other Internet products that first gained popularity in the United States before being introduced to China, digital red envelopes are popular only in China because the Chinese attach great cultural importance to them.
Electronic red envelopes have digitized the hongbao culture, though that may not necessarily alienate one's family members. On the contrary, digital hongbaos have enabled more frequent interpersonal communication. People of different ages are able to communicate with each other in a friendly manner through the sending of digital red envelopes.
Through WeChat, a digital networking platform, getting to know strangers through one's social circles is a frequent occurrence. Such a network not only influences people's lives but also promotes entrepreneurship. A lot of business opportunities will be created through such a large number of users.
Lian Jun (www.cnr.cn): It has taken just two years for digital hongbaos to pervade people's lives. During the Spring Festival, not only young people but also middle-aged and senior citizens took part in the carnival of grabbing red envelopes online. The new invention has contributed to the festival's fun.
However, some are worried that the practice of scrambling for digital red envelopes may erode original Spring Festival traditions. Such concerns need not be heeded, since the Spring Festival is a tradition that has lasted several thousand years--it's questionable whether the current digital fad will last.
People are actually more concerned with the changes brought about to their lives by the Internet. It's natural for traditional festivals to adapt to China's increasingly Internet-permeated society. The public is advised to accommodate their lifestyle to welcome new technologies rather than resisting them.
Preventing adverse impacts
Lu Li (Gdzh.wenming.cn): Is it really worth applauding that so many people are engaged in grabbing up electronic hongbaos ?
The Spring Festival is meant for family reunions--if family members are all focused on obtaining red envelopes through their phones, there will be little communication between them. If this form of entertainment becomes the primary aspect of celebrating the festival, the tradition will lose its original meaning.
We should not allow these digital hongbaos to occupy too much of our time. To preserve Spring Festival traditions, we should spend more time with our families and less time in receiving electronic red envelopes.
Ren Xiaolan (The Mirror ): Safety risks concerning digital hongbaos are worth considering.
Ensuring the safety of the money being sent through red envelopes online is of vital importance as the popularity of the activity increases. Online payment users may suffer huge financial losses due to the loss of their phones, online fraud, or theft of their personal information.
According to the Law on the Protection of the Rights and Interests of Consumers, companies should take technical and other necessary measures to protect the safety of consumers' information and prevent it from getting leaked or lost.
Since WeChat and other online platform users have to bind their bank accounts to the applications in order to use the digital red envelope service, the organizations behind the platforms should guarantee their users' information security.
Moreover, as money is transacted through the help of third-party payment platforms such as Alipay when people send and receive hongbaos , a large pool of capital flows through these organizations. According to the law, the interest generated by this pool of capital belongs to users of the hongbao function. However, in reality, the users receive no profits from the interest.
I recommend that the interest accrued through these transactions be used to establish a risk fund so as to cover the potential losses posed by digital hongbao activities.
Cui Wenjia (Beijing Daily ): For many users, obtaining digital hongbaos is only a game. However, for operators of online payment platforms, digital red envelopes can bring them tangible profits. Digital hongbaos have increased active users' reliance on online payment platforms while also attracting new users to these services. As users befriend each other on online payment applications, these platforms have the potential to transform into social networking arenas.
Nonetheless, the business opportunities brought by digital red envelopes aside, they have also opened up new avenues for illicit activities such as bribery and corruption. The technology itself is innocuous. Even so, we should use it properly in order to avoid incurring negative impacts.
Copyedited by Bryan Michael Galvan
Comments to yanwei@bjreview.com