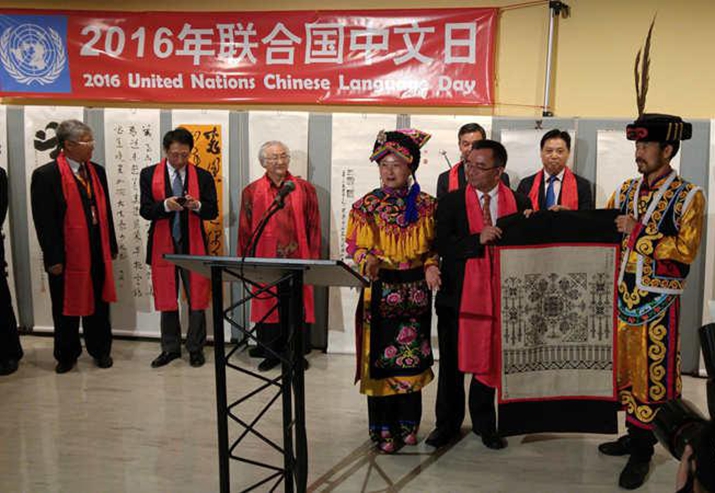 Chinese craftspeople present classic woodblock printing techniques at a ceremony celebrating the seventh Chinese Language Day at the UN headquarters in New York City on April 19 (PEOPLE.COM.CN)
The United Nations marked the seventh Chinese Language Day in New York with a series of performances to showcase the unique and diversified beauty of traditional Chinese culture.
At the UN headquarters, Chinese craftsmen presented classic tea-making and woodblock printing techniques, which attracted dozens of UN staff members and diplomats.
The crowd also watched a performance of martial arts and a "Long Spout Teapot" performance, a popular tea-serving show in China's provinces of Sichuan and Zhejiang.
The Chinese Language Day has been celebrated annually on April 20 since 2010. The celebration is held around the same time in April each year on Guyu, which literally means "grain rain," referring the sixth of the 24 solar terms created by ancient Chinese to carry out agricultural activities.
Chinese is one of the six official languages of the United Nations. The other five official languages of the world body are French, Spanish, Russian, English and Arabic.
The Chinese language is now spoken by more than a billion people, which means one in seven people communicate using Chinese in the world.
(Xinhua News Agency April 19, 2016)