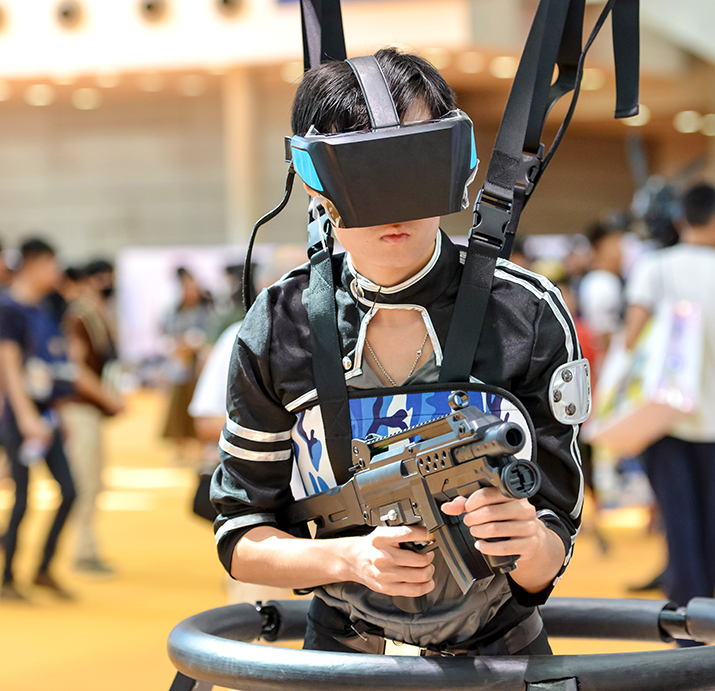 A young man plays VR games in Shenzhen, south China's Guangdong Province, at the Shenzhen Cartoon Animation Festival on July 22 (CFP)
Roaming atop idyllic snow-capped mountains framed against a clean azure sky, cattle soak up sunshine while grazing on rich green pasture. Suddenly, torrential rain pours down from dark and ominous clouds. The forest shudders under the deluge, as a group of people trek through the uninhabited mountainous area in silence. When night comes, they meditate, hold concerts or bonfire parties. These were the scenes that entertained tens of millions of viewers worldwide during the Power to Go 2016 live-stream event, which ran from August 16 to 23.
The non-profit Power to Go project aims to help participants find inner peace through trekking and other spirituality-building exercises according to Chen Kun, the project sponsor. Singer-turned-actor Chen started the endeavor in 2011 and now has more than 80 million followers on the microblogging platform Sina Weibo, China's counterpart to Twitter. Over the past five years, Chen and his team have worked their way through west China in areas such as Tibet, Qinghai, Gansu and Yunnan.
This year, folk musician He Guofeng and 20 volunteers from around the nation joined Chen—also a UNICEF Ambassador in China—to trek through uninhabited areas. The route they took through Sichuan and Tibet had an average altitude of 4,200 meters above sea level.
What set this trek apart from your run-of-the-mill hike in the woods was the use of LeCloud Computing Co. Ltd.'s visual technology on the trip to make the journey accessible to anyone around the world. LeCloud boasted about the event as being "the first ever live-stream from uninhabited areas in Internet history."
The trip was filmed through four unique perspectives—from the trekkers' point of view, 360-degree virtual reality (VR) headsets, a bird's-eye view from drones, and live GPS tracking from an all-terrain vehicle.
"I just love the live-stream. I really enjoyed viewing the world from different angles," wrote Chuancangyuwan, a Weibo user. "This is the first time I watch a live-stream. Wonderful!" echoed Huixuanran in another Weibo post.
"VR should be in every household so that everyone can enjoy it," claimed Wu Yazhou, CEO of LeCloud, while broadcasting the company's real-time stream of the Power To Go trip at the company's annual product release event on August 18 in Beijing. Wearing a black T-shirt, blue jeans, and a pair of sports shoes, the 40-year-old proudly presented his team's cloud services and products to over 2,000 people.
Since 2015, LeCloud, the cloud computing platform of LeEco, has been in partnerships with Microsoft, Zenlayer and Intel to improve and commercialize visual technology including VR live-streaming from the cloud.
Founded and headquartered in Beijing by Jia Yueting as LeTV in 2004, but now renamed as LeEco, the company has transformed from being China's counterpart to YouTube to a tech empire with a myriad of businesses. Its latest announcement of a $2-billion acquisition of Vizio, an American TV manufacturer, helped it gain a foothold in the U.S. market following its growing presence in India.
In an interview with Beijing Review, Wu talked about the company's investment in VR and its hopes for the future: "I think VR is a rosy industry with potentially high revenues. We'd like to let partners know that what we are offering now is totally free. We are trying our best to connect the dots and make the industry grow in an ecological way."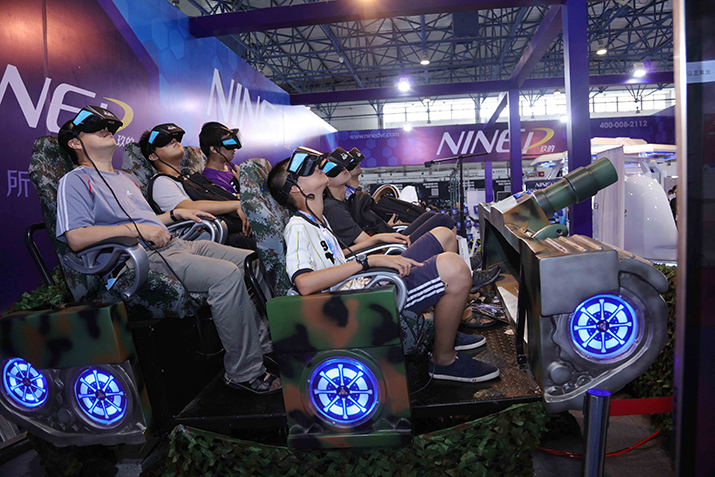 Visitors play VR tank war at the China International VR Industry Show in Beijing on August 5 (CFP)
Weighing in
Of course, LeEco is not the only company to try its hand at the nascent VR industry. The term VR did not attract widespread attention until March 2014 when Facebook CEO Mark Zuckerberg announced the company's $2-billion acquisition of a startup pioneer Oculus. Nonetheless, the core concept of VR could be traced back to science fiction novels from the 1930s. Global anticipation for the VR industry has now begun to grow, and Chinese companies have jumped on the bandwagon.
Tencent, which offers instant messaging software QQ and social media app WeChat —amassing active monthly users of 899 million and 806 million respectively—became the first Chinese company to unveil its plan for VR on December 21, 2015. Tencent's strategy focuses on hardware infrastructure and platform building. Their ultimate goal is to integrate its key resources into gaming, video, social networking, live-streaming and maps to create a VR service platform which might be similar to the Android or iOS system for smartphones.
Tencent VR products similar to devices such as the Oculus Rift, HTC Vive, Sony PSVR and Samsung Gear VR would hit the market in three phases by 2017, according to the company's plan.
In fact, Tencent's ambitions became apparent through its two-round investment in the California-based AltspaceVR, a social platform for VR technology, in September 2014 and July 2015, respectively. It also showed its hand by forging a deal with ZANADU—dubbed as China's first VR travel studio—in December 2015.
"As a service provider and integrator, we hope we can help set up some criteria and examples for the industry, and make ordinary people have more hands-on VR experiences," said Pony Ma, founder and chairman of Tencent.
LeEco was fast on the heels of Tencent after unveiling its own VR roadmap only two days after the latter's announcement. "The second-generation VR headset, which has over 1,000 optimized programs designed for smartphones, has been shipped since August 9," said Chris Shen, Marketing Manager of LeVR, the VR division under LeEco. Shen told Beijing Review that an all-in-one hardware is scheduled for release in October. LeEco's latest team-up with Nokia demonstrates its confidence in the industry as it attempts to deploy the Finnish company's OZO—an eight-lens VR camera designed for professional content creators.
Since 2016, more Chinese companies including Xiaomi, Alibaba and Huawei have rushed in and stepped up their presence in the VR industry by setting up labs, releasing smartphone-based headsets as well as funding startups.
Baidu, the country's largest search engine, launched its online VR community in May, although founder Robin Li denied rumors that the company would release any VR products within the year.
JD.com, the largest competitor to e-commerce shopping giant Tmall.com, also unleashed a teaser at the first anniversary of its Perception Cognitive Lab press conference in July. Besides presenting its latest apps for facial recognition systems and image searching, the lab also announced that "JD VR is on the way," due to its dramatic 23,498.21-percent growth in VR headset sales during its June shopping festival.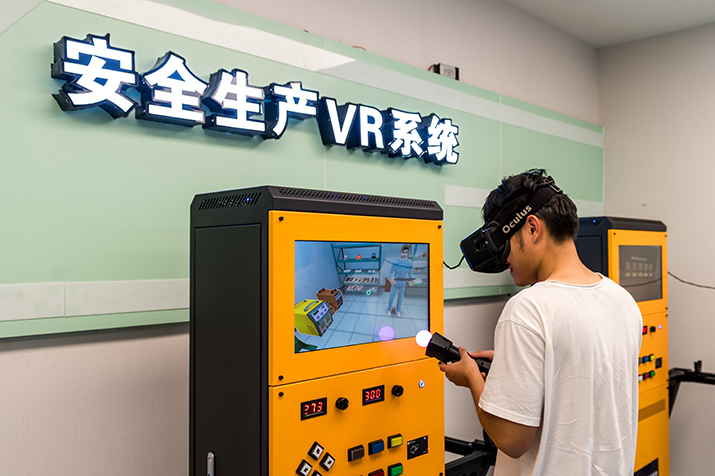 A man tries to learn how to operate a VR system for safety production at the VR Experience Center in Fuzhou, southeast China's Fujian Province, on July 28 (CFP)
Game on
The global market of the VR industry is expected to hit nearly $6.7 billion this year while the Chinese market could reach 5.56 billion yuan ($855 million), up from 1.54 billion yuan ($237 million) in 2015. These statistics, from the White Paper on Virtual Reality Industry Development issued in April by the China Electronics Standardization Institute under the Ministry of Industry and Information Technology, denote a huge amount of potential. The Chinese market is projected to surpass 55 billion yuan ($8.46 billion) by 2020, almost a 10-fold increase from current figures.
However, a shared concern that VR professionals face worldwide is the absence of standardization protocols. In response, the Audio and Video Coding Standard Workgroup of China has initiated a standard-setting process in cooperation with top universities and tech companies, according to the white paper.
China has 656 million people who access the Internet via smartphones. About 74.7 percent of the country's users are aged between 10 and 39, according to the China Internet Network Information Center. It therefore comes as no surprise that targeting youths into casual gaming and 360-degree video is a compelling business strategy for the Chinese VR industry.
"I think that VR becomes more accessible to ordinary people through the mobile end," said Cui Haiqing, a business partner of Baofeng Mojing and producer of China's only VR social networking platform, the Paradise Kingdom.
Cui has a better understanding of China's VR landscape than anyone else. With his 16-year career in gaming, he started to research VR by launching a website named 87870.com in 2013. He posted news, exchanged views with developers, and also shared VR demo games. Unfortunately, few friends and investors supported his idea since VR was a little-known industry at the time.
"I thought the VR industry would boom and had much more room for creativity and development than robotics, so it was worth a try," Cui recalled. "The current situation is far better than it was three years ago. It feels like we are creating a new world rather than running a startup."
Given that all the existing social networking apps are based on Web 2.0 guidelines, a VR social networking platform could, in Cui's eyes, attract users as well as reshape people's lives through virtual experiences.
Cui's team has less than 20 staff members, half of whom have been in the gaming industry for more than 10 years. "Technological experience won't help here because we are all rookies in the VR industry. It is more important to gain experience from solving new problems," Cui asserted.
Their hard work may be paying off. The Paradise Kingdom VR platform was officially launched on October 24, 2015. Besides social networking, it also offers gaming, video and shopping in a VR world. Baofeng Mojing, the hardware that the Paradise Kingdom runs on, releases new products every four months. Today, the Paradise Kingdom has over 80,000 registered users, a number of which are aged between 16 and 20, and spend an average of 25 minutes per day on the site.
VR film is Baofeng Mojing's next goal. According to Cui, the company would fund projects in partnership with the Beijing Film Academy.
"Previously, we talked too much about technology designed to avoid nausea and motion sickness. What really matters to users is the experience. The VR industry itself is an innovation, and that's why developers and startups like us could seize opportunities," Cui stated.
Qiu Jiaqiu, Director of Caixin Video, could not agree more on this. "The spirit of VR technology is in line with the goal of documentary filming—to seek objectivity and truth," he said. "VR journalism needs to focus on the pitch itself—can it evoke interest and empathy among audiences?"
Qiu and his team shot China's first ever VR documentary titled Kindergarten in Mountain Villages in 2015 in partnership with the United Nations and the China Development Research Foundation. It explored relationships among left-behind children, their migrant worker parents and volunteer teachers, and also discussed the challenges faced by different groups during the urbanization process. So far, Qiu's team has produced some 40 VR works, covering topics such as environmental protection, e-commerce, and lifestyle.
"The storytelling approach is totally different from traditional video reporting. We are trying to present subjects that relate to China in an innovative way with VR technology. And technology aside, we are eager to produce more quality VR content in partnership with media counterparts around the world to have our voice heard," Qiu told Beijing Review.
Experience matters
Immersion and interaction are the two features that best describe what VR offers. But despite the technology's appeal, the price tag remains a large obstacle for widespread adoption. The lowest price, for instance, of an HTC Vive headset is set at 7,888 yuan ($1,195), targeting high-end consumers. In this regard, experience centers—analogous to Internet cafes—are widely considered as an ideal medium for mass VR adoption. Therefore, HTC has opened 50 experience centers across the country, with a focus on second-tier cities alongside metropolises like Beijing and Shanghai.
"To be honest, I shut my eyes the first time I used it because I was too scared to look around," Zeng Xiao, 20, a college student from Kramay, northwest China's Xinjiang Uygur Autonomous Region, told Beijing Review after trying a roller-coaster VR game at the China Wantong VR Experience Center.
Opened in May this year, the center, dubbed as the country's largest VR experience center, covers an area of 3,000 square meters in the compound surrounding the Beijing National Stadium, also known as the Bird's Nest. It has 17 games spanning from skiing, shooting, car racing to aviation, skydiving and space walking. Each game costs 60 yuan ($9) to try, though a discount package is available for two or three games.
"I think it is fun to try VR games. But I don't think I would buy hardware such as a headset at a lower price. Experience and quality are my priorities," Zeng said.
Currently, there are more than 10 VR experience centers in Beijing alone. The figure could hit 3,000 to 4,000 nationwide by the end of this year.
Scan the QR Code for a video related to the article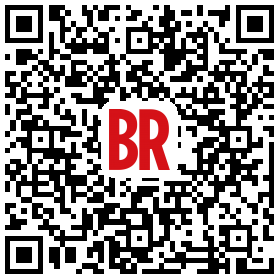 Copyedited by Bryan Michael Galvan
Comments to chenran@bjreview.com