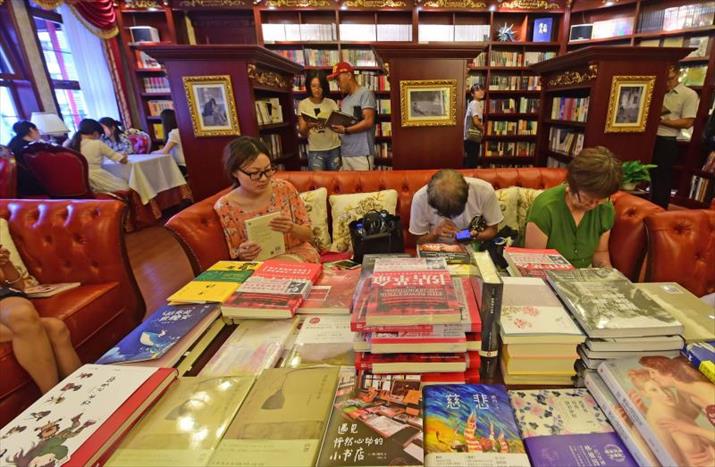 People enjoy reading at a bookstore in Shenyang, northeast China's Liaoning Province, on August 18, 2016 (XINHUA)
Major Jake Nanden is a driven man. His sole purpose in life is to bring to justice the man who sent his friend to his death 10 years ago. To attain his resolute goal, Nanden is forced to kill, again and again.
And now this formidable character has been let loose in China.
Too Bright the Sun, a sci-fi novel by British author Lazlo Ferran with Nanden as its central figure, is now available in Chinese, sold on Amazon.cn, Douban.com and other Chinese online booksellers.
"I am particularly honored to be included in this 'new wave'," Ferran told Beijing Review.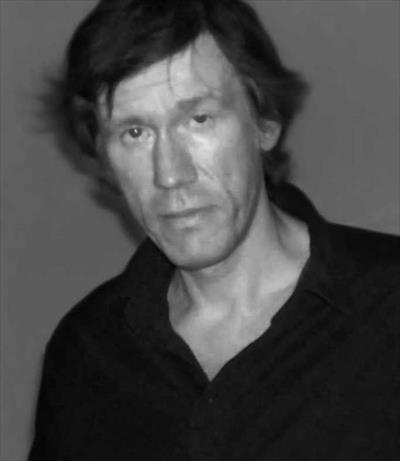 British author Lazlo Ferran
A rolling-stone life
An aeronautical engineering graduate, Ferran has had an adventurous life, having worked as a dispatch rider, a Web designer and a street musician with two albums. Now a full-time writer, his colorful experiences are the fountain of his literary inspiration. His books cover a wide range of genres—sci-fi, occult, historical and literary fiction as well as romance.
Ferran said he has always had an interest in Asia, which he sees as a mysterious land. Talking about his bond with the continent, he mentions that his wedding was held in Kyrgyzstan. "Asia has always been and will always be part of my life," he said.
Ferran regards China as a huge and dimly understood sector. He has been reaching out to discover and share the Chinese perspective, and his characters include Chinese, such as the opium lady in Lotus, his reincarnation tale.
And now he is reaching out to China with his books, three of which have been translated into Chinese—Ordo Lupus and the Temple Gate, a Gothic novel which weaves in the concepts of lycanthropy, witchcraft and espionage, The Devil's Own Dice, a paranormal thriller, and Too Bright the Sun, which was first published as an e-book in 2011.
The Chinese translations have been done in collaboration with Fiberead, a Beijing-based startup that links foreign writers with its pool of registered translators and gets the new version ready for the Chinese market much faster than a traditional publisher world.
The company was founded in 2011 by an ambitious entrepreneurial duo who realized that authors need an efficient way to get published in foreign markets and languages and that its online platform can give authors global visibility.
Fiberead shot into prominence when its Chinese version of Sugar & Spice by British author Saffina Desforges, a psycho-thriller based on the life and crimes of a British serial killer, became a bestseller on Amazon's Chinese Kindle e-booklist in 2014. Till now Fiberead has produced more than 400 titles, and has about 1,000 registered foreign authors and 10,000 translators.
Runa Jiang, co-founder of Fiberead, told Beijing Review that they are also considering expanding business by translating Chinese books into foreign languages so as to enable Chinese literature to go global.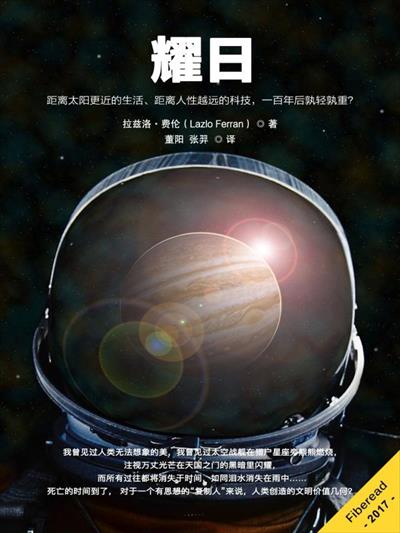 The Chinese version of Too Bright the Sun, published as an e-book in February (COURTESY PHOTO FROM FIBEREAD)
The Chinese experience
"My experience has been that Chinese translators are very open-minded and accurate and very keen to get the work technically correct," Ferran said. "I take my hat off to them!"
Dong Yang, who translated Too Bright the Sun into Chinese, became a fan while reading the work. "The book will be perfect for sci-fi fans, as the concept about the universe is so large," Dong said. "It can also capture the hearts of arts students like myself because the protagonist's emotions are described so exquisitely."
Ferran said the reason he chose China as a place to publish his books was because he wanted them to reach as many people as possible. He hopes to inspire people to think that they can make a difference to the world. If they should go out and try, he would find it rewarding.
"I can see from my Chinese reviews that Chinese get it when they read my books. I have never had the same strength of feeling from the United States or Europe," he said. "I don't know why this should be, but I am very grateful for the opportunity to interact with a culture that so understands what I am trying to do."
To get more feedback from Chinese readers, Ferran, who has a large number of followers on Facebook and knows the power of social media, has set foot on Sina Weibo, the Twitter-like Chinese microblogging platform. He discovered Weibo when he wanted to promote his first book translated into Chinese, Ordo Lupus and the Temple Gate. Although restricted by the language barrier, he still has Weibo followers who can understand him and want to interact with him.
"I love using Weibo because the Chinese are so friendly," he said. "I would like to set up discussion groups for my friends there."
The total volume of China's business-to-consumer publication market in the fourth quarter of 2016 alone reached 6.29 billion yuan ($913 million). It was an 18.5-percent increase year on year, according to Analysys, a Chinese Internet big data analysis and service provider. With the country's online publication sector expanding fast, the vast Chinese market appeals to foreign writers.
Virtual interactions are, of course, not enough and Ferran plans to have an adventure in China. Like many other foreigners in the country, he is planning to teach English in the near future.
"I haven't yet set a book in China, but I would like to do so if I get the chance to visit and learn more," Ferran said. "I would be happy to live among people that understand my work so well."
Copyedited by Sudeshna Sarkar
Comments to luyan@bjreview.com