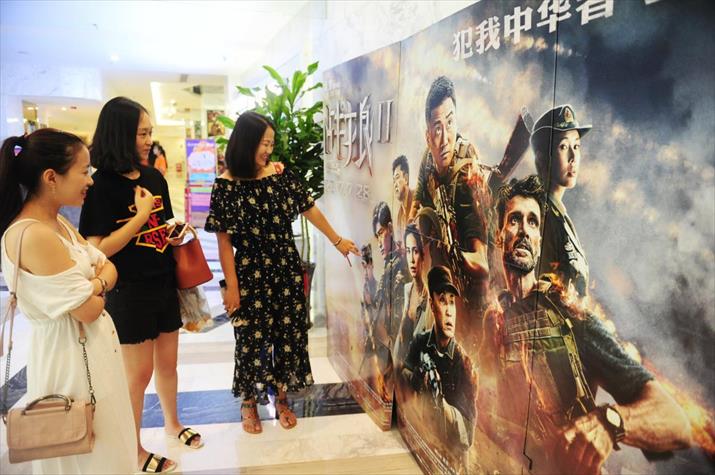 Moviegoers check out a poster of Wolf Warrior II in a cinema in east China's Anhui Province on August 8 (CNSPHOTO)
A dozen of tanks burst into a factory, colliding and careening wildly. Bullets rain down in an African war zone, but when a truck flying the Chinese flag and carrying wounded Chinese nationals and locals arrives, the hail stops to allow it safe passage.
These are some of the climactic moments in Wolf Warrior II, the latest Chinese superhit film which has earned the highest revenue ever at home.
Its director, Wu Jing, who also plays the lead, has become a household name. Before the film was released, Wu took part in a reality show to promote it and few people knew him by face. But now even non-moviegoers in their 70s are trooping into theaters to watch his film, giving him a hearty thumbs-up.
Keys to success
What's behind the stupendous success of Wolf Warrior II when China's film market recorded the biggest slowdown over the past five years? Figures from the State Administration of Press, Publication, Radio, Film and Television show that the box-office revenue in 2016 amounted to 45.71 billion yuan ($6.86 billion), edging up just a meager 3.73 percent year on year, much lower than the 49-percent surge in 2015.
Overdevelopment and bubbles, the exorbitant amounts of money demanded by actors who, though attractive, were underperforming, and diminished production budgets are regarded as the causes for the slowdown. The industry also suffered because some films, though of poor quality, still achieved box-office success because of the idolization of the actors by the younger generation of moviegoers.
"Wolf Warrior II, which treasures content and the audience, brings China's film industry back on track," Huang Huilin, Deputy Chairperson of Beijing Literature and Art Critics Association, said at a seminar in Beijing in August.
A dedicated cast, stunning audiovisual effects, a reality-based plot that also factors in patriotism, astute release timing and intensive road shows in second- and third-tier cities are the X Factor.
Wolf Warrior II's cast has become famed for their dedication. Wu, a martial artist who underwent professional military training, refused to use stuntmen, doing many daring stunts himself.
"I was deeply moved by the behind-the-scene stories," Zheng Youyuan, a 36-year-old salesman in south China's Guangdong Province, said.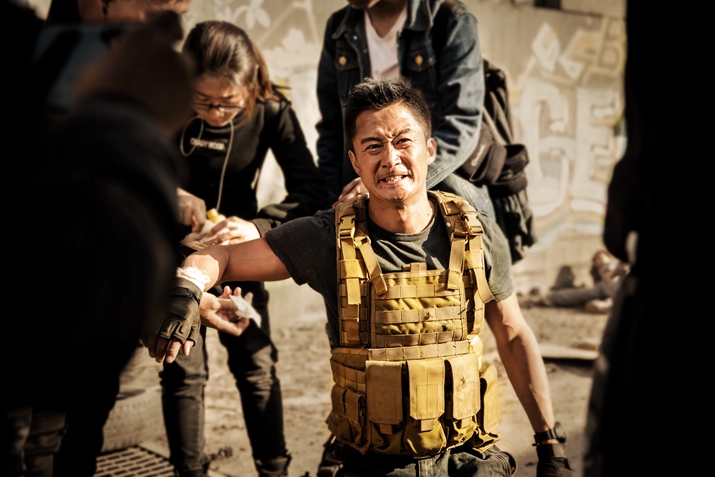 Director and leading actor Wu Jing gets hurt in shooting Wolf Warrior II (COURTESY PHOTO)
Stunning audiovisual effects have contributed to Wolf Warrior II's popularity. To create the maximum impact, Wu insisted on using actual guns and blanks instead of prop weapons, and authentic prototype tanks and helicopters instead of animation, all of which made the scenes look authentic.
Also, he used Hollywood technological expertise as well—the underwater camera crew who had shot the Walt Disney hit Pirates of the Caribbean, action directors who had guided Captain America III, and soundtracks by Hollywood composer Joseph Trapanese and New Zealand director Peter Jackson's audio effects team.
"Why does Wolf Warrior II look like a Hollywood blockbuster? For the audio effects besides the action," Zhang Miao, General Manager of the film arm of Beijing Culture, one of the distributors of Wolf Warrior II, explained.
With the tagline "Whoever invades China will be hunted down and punished, wherever they are," the film is primarily based on the evacuation of Chinese nationals from war-stricken Libya in 2011. A Chinese superhero saves the day and the Chineseness of the film is emphasized with images of the national flag and passport. It resonates with the Chinese audience, especially those who have experienced real evacuations.
Yang Li, who was project manager of China State Construction Engineering Corp. in Libya and went through the evacuation ordeal, watched the film spellbound. "Memories of my exhausting escape came into my mind when I was watching Wolf Warrior II," Yang told Beijing Review. "I watched it twice. Though my evacuation was much more difficult, still it was less dramatic than the plot in the film."
Intensive road shows in 97 theaters in 30 second- and third-tier cities also helped Wolf Warrior II draw more audiences. The promos used helicopters and live streaming. "The road shows created direct communication between the cast and the audience, which was effective in pulling crowds," Jiang Wusheng, General Manager of United Entertainment Partners, one of the distributors of Wolf Warrior II, told Beijing Review.
And finally, the release timing was impeccable. The film hit the stalls ahead of the 90th founding anniversary of the Chinese People's Liberation Army, the perfect time for a patriotic military film.
"It drew a lot of non-moviegoers into theaters," Chen Siqin, an assistant research fellow with Communication University of China, told Beijing Review. "It shows that China's movie market is inclusive and has huge untapped potential. China's filmmakers should pioneer more diverse genres in the future. "
Copyedited by Sudeshna Sarkar
Comments to linan@bjreview.com