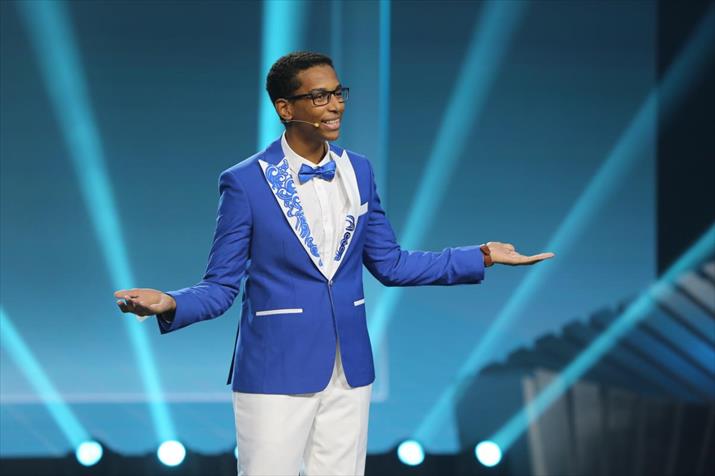 Mohammed Elmoiez is the first African to win the prestigious Chinese Bridge Competition(CRI)
It was a glorious evening for Mohammed Elmoiez, who was crowned the champion of the 16th "Chinese Bridge" Chinese Proficiency Competition for Foreign College Students on August 12 in Changsha, south China's Hunan Province. Elmoiez made history as the first African participant to win the prestigious event. The third-year Sudanese student at the Faculty of Arts of the University of Khartoum, who goes by the name Zhao Zhihang in China, impressed both the judges and the audience with his nearly perfect mastery of the Chinese language. Despite having achieved the highest ranking among 145 participants from 112 countries, the 19-year-old student remained humble.
"My family always encouraged me to learn Chinese. If it weren't for them, I wouldn't even be here tonight. They think China is a majestic country with a long history and culture," the young man told ChinAfrica, shortly after the contest ended.
Beyond showing his excellent language skills, the competition was also a chance for Elmoiez to celebrate the growing importance of Chinese in his country and make the whole of Africa proud.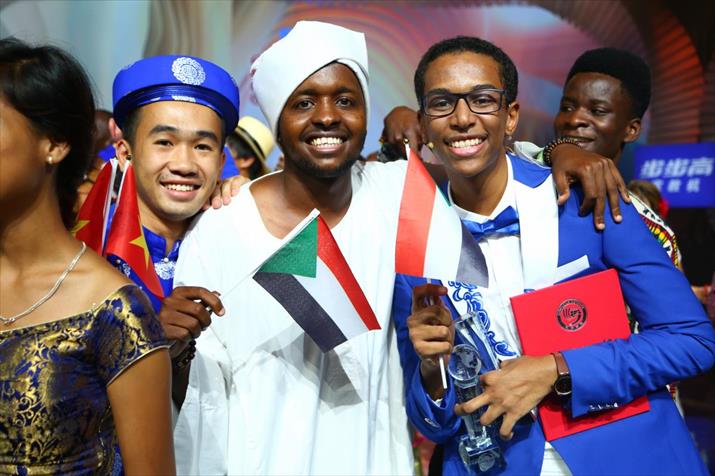 Mohammed Elmoiez (right) celebrates his victory at the 2017 Chinese Bridge Chinese Preficiency Competition with his fellow contestants(CRI)
Tried and tested
Held every year since 2002 by the Confucius Institute Headquarters and the Hunan Provincial Government, Chinese Bridge is a chance for young people from all over the world to compete while enjoying an extraordinary cultural experience for one month.
Arriving in China in early July, these young men and women went on to participate in successive elimination rounds. Throughout the competition, they chatted, laughed, sang and cried all in Chinese, effectively overcoming the language barrier. "I got to know a lot of people who came to this competition from all over the planet, and they became like my family," said Elmoiez, who was born in Dubai but raised in Khartoum. "It doesn't matter who wins or loses, because we will always remain friends."
At the end, only five finalists were left standing, each representing different regions from around the world: Zhao Zhihang (Mohammed Elmoiez) from Sudan, Sha Mier (Bin Muhamad Shahmeer) from Malaysia, Liu Siyuan (Anne-Aelis Myriam) from Australia, Mu Chenpeng (Daniel Patrick) from the United States and He Bende (Bernhard Haefner) from Germany.
On August 12, Elmoiez and the four other finalists faced off on stage in front of the cameras of Hunan Television. Facing a steady barrage of questions, they demonstrated their linguistic prowess and their love of Chinese language and culture one after the other.
Elmoiez set the bar high by breaking into a rap in fluent Chinese on the importance of "hugging," showing his positive and tongue-in-cheek attitude toward life. His relaxed yet flawless performance won the hearts of both the judges and the public. "At first, I was intimidated by the other finalists. I never thought that the level of Chinese would be that good," he told ChinAfrica.
But it was truly Elmoiez's extensive knowledge of Chinese culture that led him to victory in the third round against Sha Mier. Without a second of hesitation, he gave correct answers to a series of sharp questions that would make even expert sinologists think twice.
"I believe that Zhao won because he proved that he was not only a fluent speaker, but also that he had gained a deep knowledge of Chinese culture. Obviously, as the two are related, he really earned his victory," said audience member Huang Wei.
Elmoiez, who returned to Sudan only hours after the competition, said it is only a question of time before he comes back to China. As part of his prize, he got a full scholarship to pursue his Master's degree in one of the country's best universities.
"My friends' reaction was priceless, they were waiting for me at the airport, they were singing and dancing and it felt good. My teachers were so proud of me, they never thought I was going to be the winner," he said. "Next year I will come back to China and use the scholarship that I got from the competition to apply at Beijing Foreign Studies University," he said. "It is one of the best language universities in the world, and if I have the chance, I want to do my Ph.D. degree there as well."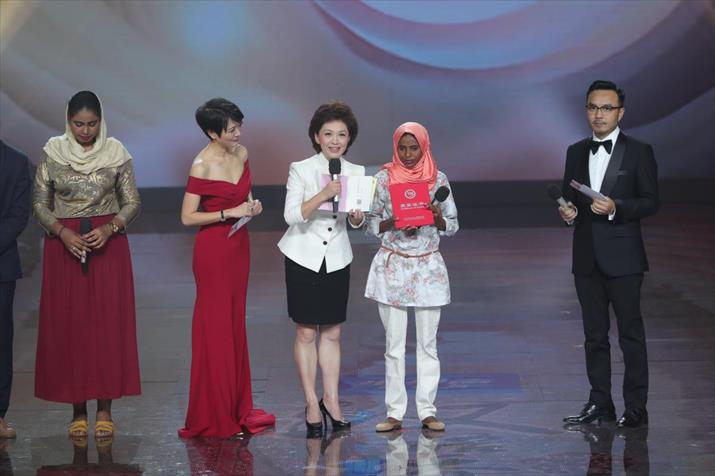 Ghofran Shamseldin (second right) receives her proficiency certificate by star news anchor Hai Xia (third right)(CRI)
Star of the show
But Elmoiez was not the only Sudanese to shine on stage that evening. For many, his Sudanese compatriot Ghofran Shamseldin, who goes by the Chinese name Li Can, stole the show. On stage, the dainty 17-year-old Sudanese girl blind from birth told the audience, in fluent Chinese, her most cherished dream: to become a Chinese language interpreter. "Many people told me it was not possible or realistic because of my blindness; many tried to discourage me from learning Chinese; but I did not listen to them," she told the audience.
Never letting her handicap slow her down, she enrolled in Chinese classes at the Confucius Institute of the University of Khartoum, where she studies four hours every day. Unable to read or write, she took to singing to perfect her knowledge of the language. She blew the audience away with a faultless performance of Angela Chang's Invisible Wings, a song that perfectly embodies her determination. In what was the evening's most emotional moment, Shamseldin was told she had passed the level-three Mandarin proficiency test, allowing her to realize her long-time dream. She was presented on the spot with a proficiency certificate by Chinese star news anchor Hai Xia.
"If you stick to your dreams, you will be able to find life's purpose. Our dreams may have different meanings for different people, but I hope that the 'Chinese Bridge' Chinese Proficiency Competition can make our world more peaceful and harmonious," said Xu Jialu, former head of the College of Chinese Language and Culture at Beijing Normal University, encouraging participants to follow the young girl's example.
Elmoiez, who is a senior classmate of Shamseldin at the University of Khartoum, said he was touched and impressed by her persistence in the face of so many hardships. "I really admire her, because she can only rely on speaking and listening to learn Chinese. In her shoes, I think a lot of people would have given up and stopped doing what they like," he said. (Photos by CRI)
The author is an editorial consultant of ChinAfrica, a monthly publication of Beijing Review
Comments to baishi@bjreview.com