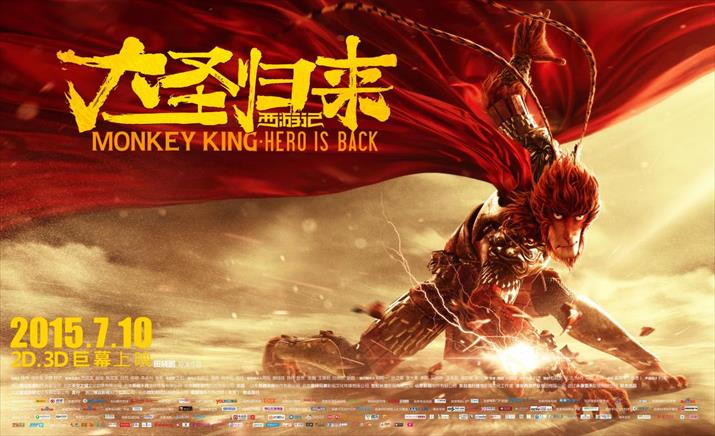 A poster for the movie Monkey King: Hero Is Back (FILE)
Showing violence, gore, and light pornographic material, Chinese-made animated film Dahufa is the first movie in China to rate itself PG-13, following the enactment of the Film Industry Promotion Law on March 1.
It is a story about a warrior named Dahufa saving his prince from a dystopian village. The villagers, which are peanut-shaped humanoids, are ruled by a fake god whom they must obey. To save the prince, Dahufa has to find ways to defeat his enemies and unveil the conspiracy.
Unlike some other animated movies based on existing concepts from ancient tales or classics, this is an original story. Dahufa, a short, triangle-shaped martial arts master in red, often talks to himself in a humorous manner, and sometimes even philosophically.
"This movie was initially not planned to be shown in cinemas," producer Shang You told Beijing Review. They struggled to get investment and ran two rounds of group funding events to collect just enough money to finish it. They even planned to release it only online but failed.
But Yi Qiao, CEO of Color Room Pictures, told media website ThePaper.cn that after watching the trailer, he was deeply impressed by the movie and decided to help get it into cinemas.
Li Dashuan, who used to work as an animator and made a documentary on this movie while it was still in production in 2015, told Beijing Review that "it is a big surprise that it finally was released in cinemas."
Do what I want
The director of the movie, Yang Zhigang, believed he was lucky to be able to indulge himself in the creation of the movie without caring about money at all, as Shang had promised to take care of that.
Yang started work on animation in the 1990s out of interest. After drawing animations for 10 years, he made his first animated video, Black Bird, with software in 2004. The work garnered a group of fans, but Yang stopped after seven episodes. "I want the pictures to be made more elegantly, which requires more advanced techniques," said Yang in a lecture on Yixi.tv, a speech and online video platform in China. Living in Lin'an, a mountainous area in eastern Zhejiang Province, Yang said he couldn't even get the movie properly dubbed, as nobody he knew could speak good mandarin.
"You could hardly see a future for this industry [at the time]," said Yang. "I could only afford to pursue it as a hobby, not a career." He nonetheless followed his passion and quit his job in the telecommunication sector in 2008. He then moved to Hangzhou, capital city of Zhejiang, which is known for hosting talented animators.
He then went on to spend six years working in the industry, learning how to make more professional animations along the way. He gradually gained some fame, but was still unhappy. "Working for clients is not what I wanted," Yang said.
Just as Yang quit his job in 2014, he met producer Shang, who encouraged him to try anything he wanted.
"I want there to be more violence in my animation," Yang said.
"Then go ahead and add more violence," Shang replied.
That is how they both started working on Dahufa, with a team of only four people.
"It is hard to find a person like Yang who has such a passion for animation," said Shang. "He is in his 40s now and his rich experience and long-time devotion to this field is something younger animators lack. I am confident in Yang's work. It might not become a blockbuster, but its strong and unique features will find a niche."
The movie ended up taking 87 million yuan ($13.2 million) at the box office. "It is a good enough result for us, as we didn't promote the movie that much," Shang said. "We recovered our costs and made some profit."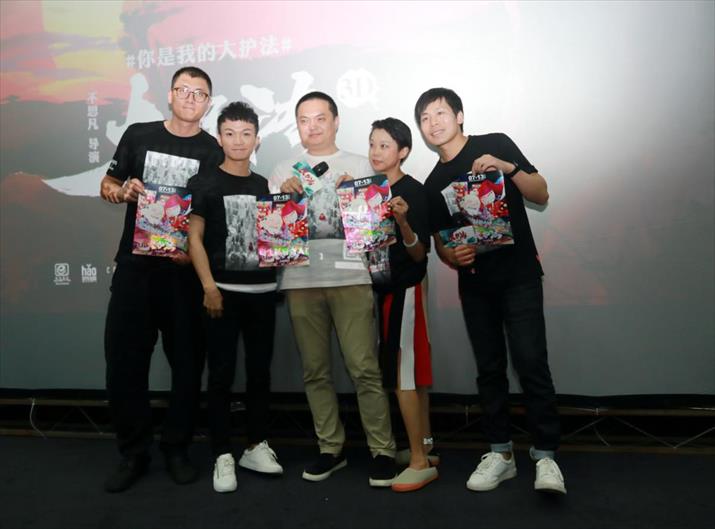 Yang Zhigang (center), director of Dahufa, and other crew members pose at a roadshow for the movie on June 12 (VCG)
Monkey King complex
Just after Dahufa finished its first round of group funding in June 2015, another animated movie—Monkey King: Hero Is Back was released on July 10, 2015. The movie was a success at the box office, earning 956 million yuan ($145 million), even surpassing Kung Fu Panda 2's revenue. It was the first time that a Chinese movie had achieved such domestic success.
"At first, I simply wanted to make an animated movie for children the same age as my son," Tian Xiaopeng, director of Monkey King: Hero Is Back and President of October Animation Studio, told China Central Television. "Every time I saw my son watching Ultraman, I felt awkward. I am an animated movie maker, while my son could only watch animation from foreign countries."
In 1999, right after graduating from college, Tian joined the animation team of Journey to the West, a Chinese legend about a monk and his three companions. One of the main characters, the Monkey King, has been popular across generations for his rebellious spirit and extraordinary skills.
Based on his experience on Journey to the West, Tian began working in 2008 to make a story about the Monkey King on his own. It took eight years and struggles with changing investors and lack of staff before he could find 11 investors willing to back up the venture. Enlight Media, a leading film company in China and one of the movie's initial investors, quit halfway through the endeavor.
Due to the lack of market demand for animated movies at the time, Tian claimed he would be satisfied if Monkey King: Hero Is Back's revenue surpassed 80 million yuan ($12 million).
But both the crew's and audiences' jaws dropped when the movie raked in over 100 million yuan ($15 million) in three days. "This was the first time that I've watched such a wonderful Chinese animated movie and it is so amazing," Huang Lei, a student from Tsinghua University, told Beijing Review. "The Monkey King is part of childhood memories for generations, and this movie has made the character even cooler."
The 956 million yuan ($144 million) it received in the end was a wake-up call to investors. Enlight Media turned to Tian's team and offered support for the following sequels. Three months later, the company founded its own animation subsidiary, Color Room Pictures. They now collaborate with 13 animation studios, mainly working on financing and marketing.
Tian is working on a sequel to the movie Havoc in Heaven and Deep Sea—an animated suspense story. "It is good to see the market for animated movies is booming," he said.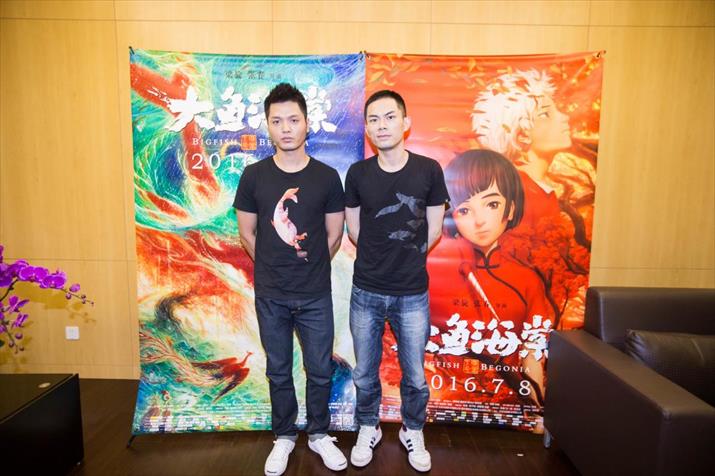 Liang Xuan (right) and Zhang Chun, directors of the movie Big Fish & Begonia, at a press conference for the movie on July 12, 2016 (CNSPHOTO)
Big fish, long wait
The popularity of Monkey King: Hero Is Back spurred the release of other animated movies such as Big Fish & Begonia.
Inspired by a myth from the ancient Chinese Taoist classic Zhuangzi, the movie tells a story of a being with magical powers living in a mystical realm that exists beneath the human world and a boy in the human world. It integrates many stories from Chinese fairy tales such as those in The Classic of Mountains and Seas.
The creation of this movie started in 2004, earlier than both Dahufa and Monkey King: Hero Is Back. But it took the longest time to come out—12 years.
Liang Xuan, one of the two directors of the movie, was still an undergraduate at Tsinghua University when he got the idea of making animated movies. Liang then quit school and formed a team with Zhang Chun, a schoolmate, to make the dream come true.
"It was a bold decision but I didn't want to continue studying thermal engineering, since I had zero interest in it," Liang said. "China hadn't had any good animated movies released in three decades, and I hoped we could break the ice."
Such a claim hardly received any positive feedback. Since they were both new to the industry, they paid a price for their lack of experience and funding. The script was finished in 2009 but had to be filed away due to a lack of money. In 2013, Liang posted on Sina Weibo, a micro-blogging platform, asking for financial help to finish the movie. After two rounds of group funding, it was Enlight Media that invested the most money for the project.
Originally planned for release in 2014, the movie was postponed until 2016, and fans heralded it as the "most-delayed" animated movie.
Liang was still changing the script right until the last moment, and most of the creation was reportedly outsourced to foreign animation companies.
But investors nonetheless rallied after the movie earned a total of 565 million yuan ($85.79 million) at the box office.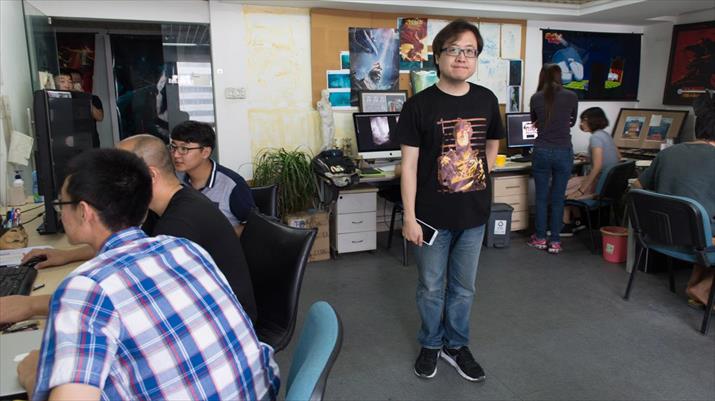 Tian Xiaopeng (standing) in his studio on July 17, 2015 (XINHUA)
The cake share
Animated movie hits have made this industry the new destination for hot money in China.
How big is this market? The 13th Five-Year Plan on cultural industries released by the Ministry of Culture this February revealed that in 2016, the output value of the animation industry was 130.5 billion yuan ($19.81 billion) in China, and the growth rate is expected to be 15 percent every year. In 2020, the output value is expected to surpass 200 billion yuan ($30.37 billion). While in 2010, this number was only 45.1 billion yuan ($6.85 billion).
Actually, the avid investors took action much earlier than this. In 2006, Thru the Moebius Strip, China's first 3D animated movie, which cost 160 million yuan ($24.29 million), had an underwhelming performance at the box office, taking a mere 3 million yuan ($455,500). Despite the involvement of more than 300 animators from both China and the United States, including Glenn Chaika, director of Mulan 2, the movie failed to capture the interest of audiences.
Although that had a negative effect on the domestic market for a while, it did not hinder Chinese animation companies from exploring international markets.
In 2015, Original Force, a Nanjing-based CG studio founded in 1999, set up a features division in Culver City, California, headed by experienced Hollywood producers Penny Finkelman Cox and Sandra Rabins. It is currently producing a movie named Duck Duck Goose which is expected to be released in 2018.
Moreover, China's leading visual effects company Base FX announced its first original animated feature Wish Dragon in 2016.
Other giants are hopping on the bandwagon. Huayi Brothers Media, a leading movie production company in China, established Wink Animation, a new animation division, in 2016. Joe Aguilar, former head of production for features and TV at Oriental Dreamworks, joined the company as its CEO.
Alibaba, the largest online B2B marketplace in China, co-financed and distributed Light Chaser Animation's debut feature Little Door Gods, a story of two guardian spirits returning to the human world.
But despite investment of 130 million yuan ($19.74 million), Little Door Gods only grossed 70 million ($10.6 million).
"I am pretty sure that 95 percent of the animation companies can't make money at all," Yi Qiao from Color Room told National Business Daily. "In the future, the market will show two extremes: The good studios will be better, while the others just get worse."
"We need to create a typical style for Chinese animation," Shang told Beijing Review. "Many Chinese animators would like to label it 'oriental aesthetics,' but this sector has long been dominated by Japanese animation. Our style should be different and distinctive."
Shang intends to distribute Dahufa internationally and is working on the pre-production of its sequel.
"We don't worry about funding for the sequel, as the first movie has a good reputation," Shang said.
This is a much better time for animation creators in Shang's eyes. When he started in the industry a decade ago, it was a "miserable" situation as most worked with low pay and high stress. "We had to find every possible way to save each penny," said Shang.
"It is good to see money flowing into this industry, but the market still needs time to become more mature," Yi said. "If we can have 10 movies like Monkey King: Hero Is Back or Big Fish & Begonia or Dahufa, I would say the best time for animated movies had arrived."
Copyedited by Bryan Michael Galvan
Comments to yuanyuan@bjreview.com