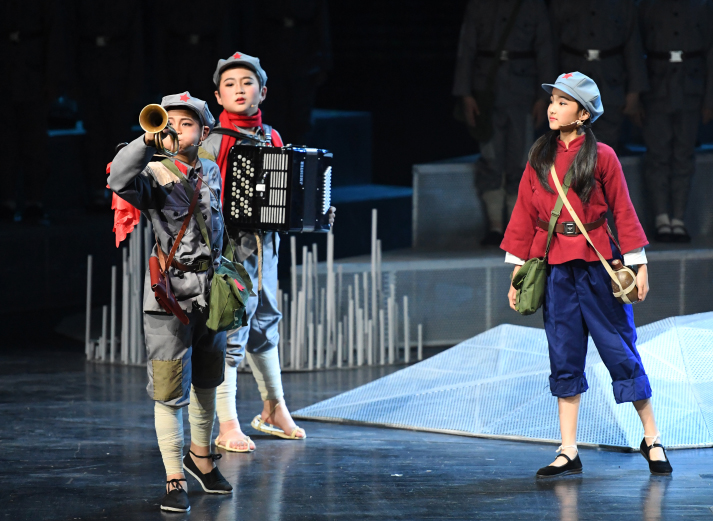 Primary school students stage an original play at the China National Theater for Children in Beijing on November 21, 2019 (XINHUA)
World class music, a futuristic stage design, an untraditional performance. These were audiences' first impression of Three Little Pigs, a musical for children imported from New York's Broadway and revamped by Mahua FunAge, a comedy theater company based in Beijing.
The version overturns the traditional image of the pigs and the wolf, endowing them with distinctive characteristics: The eldest pig is strong but naïve, the middle one pretty and kind, and the youngest smart and gentle, while the big bad wolf is tall and handsome and looks more like a leather-wearing Elvis Presley. Interactions between performers and the children in the audience won laughter and applause from the youngsters, and praise from the adults. Some audience members walked out of the theater humming the catchy tunes.
FunAge is in the forefront of children's theater in China since it shifted its focus to the market in 2014, when Three Little Pigs was initially introduced and struck box-office gold all over the country, with many watching the production more than once. The company has since launched other plays, aiming to take a bigger share of the market.
In 2019, a total of 20,000 children's productions were staged nationwide, with total box-office revenue exceeding 1 billion yuan ($144.4 million), according to the China Association of Performing Arts (CAPA). The number registered fast growth compared to 572 million yuan ($83.4 million) in 2018, said a report released by Daolue, a Beijing-based research institute on the entertainment industry, indicating that China's children's theater market is showing bright prospects and providing infinite opportunities.
A warming market
Shang Ning, General Manager of a culture and media company in Beijing, said Three Little Pigs was the first stage play her 7-year-old daughter Zhu Zhulin watched. "Through diversified methods of stage presentation, performances can enlighten children on music and stories. It is much easier for minors to learn about life and communication from them than from parental education or personal reading," Shang told Beijing Review. She also said she hopes children's theater can stimulate youngsters' interest and passion in art and tap their artistic potential. Currently, Shang takes Zhu to watch plays once every few months. She said almost all her friends have taken their children to shows.
About 80 percent of Chinese families spent 30-50 percent of their total expenditure on their children in 2019, according to the China Research Center for Children's Industry. It is estimated that in 2020, children's consumption will reach 1.45 trillion yuan ($209.3 billion).
As part of the children's industry, theater is also ushering in a period of fast growth. Grandboat, a children's theater company in Hangzhou, Zhejiang Province in east China, has gained more than 60-percent increase in turnover for three consecutive years from 2017, with its profit topping 20 million yuan ($2.9 million) in 2019, up 30 percent year on year.
Wang Zhimin, Deputy Director of the Children's Palace in Shenzhen, Guangdong Province in south China, said the amount of children's plays has increased remarkably in the past few years. "We used to account for 80-90 percent of the performances in Shenzhen, whereas recently, we have only a 40-percent share," he said.
You Xinghua, President of Grandboat, told China Central Television that the number of children's productions and their audiences has been growing for years. It's possible to watch a show every week in large cities, but in smaller cities, performances are not as frequent, which provides opportunities for future development, according to him.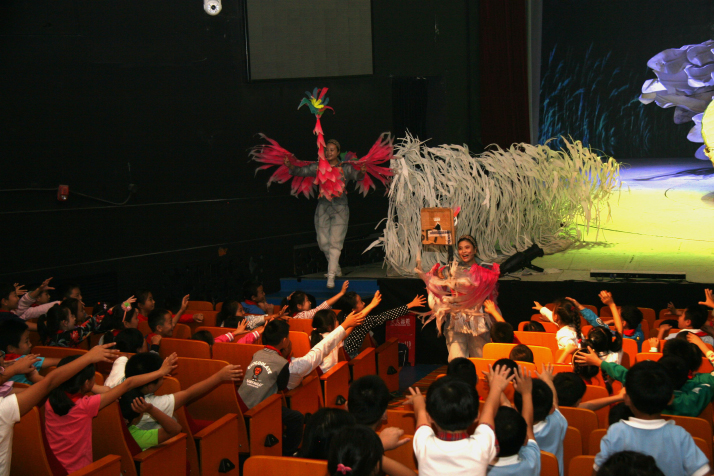 Performers interact with the audience during a show at the China Puppet Art Theater in Beijing on October 19, 2019 (COURTESY PHOTO)
Improvements needed
Zhao Yongzhuang, General Manager of China Puppet Art Theater Co. Ltd., told Beijing Review that when she joined the company 13 years ago, it had only six troupes engaged in children's performances. But currently, its affiliates have increased to nearly 160 and include performing groups, training centers and cultural companies.
"The number of people involved in children's theater has increased greatly, and shows in all categories are presented," she said. "However, challenges have emerged as well, especially the poor quality of some productions. Some people, if they do not have a good experience on their first encounter with theater, they will probably lose interest." She said it's essential to advance high-quality development of the market.
Moreover, domestic and original plays are not as popular as imported ones, raising widespread concerns since the latter usually cost a lot more.
Hu Liangzi, CEO of Shenzhen Little Orange Castle Culture Communication Co. Ltd., a company engaged in copyright buying and licensing business, said in some cases, copyright holders will ask for 10-20 percent of total earnings. Companies such as Disney will demand an even higher proportion.
Nevertheless, the high cost is not all bad for the domestic market, according to Pan Yan, Secretary General of CAPA. She said since China has increased import of overseas children's productions, it has enriched the market. More importantly, it is conducive to bringing about positive changes to the market as domestic companies can learn to improve their standards.
Shang said the current music and stage design of domestic plays are commendable, whereas the plots are relatively childish. "It's fun but if parents do not follow up and explain the meaning, the children will soon forget what they have seen," she explained.
She said companies should never underestimate children's comprehension ability to develop a theater-going habit, and it is important to improve the content and attract parents, which can draw more children to theaters. She suggested companies adapt more literary classics for the stage for children. When combined with children's theater, they can educate children through entertainment, which is also enjoyable for parents.
Zhao said when she was young, there were children's songs that everyone knew and artistic works for children that helped them form their values. Nowadays, new and exciting cultural products are still far from meeting the demand, which poses a challenge for artists and educators. She agreed that in the arts, while there can be plateaus, there should also be peaks.
"Priority should be given to inspiring children's creativity and imagination, instead of impressing them with dazzling forms," Zhao said, adding that recently, her theater has committed to creating more original productions for children and limiting imported plays to only 10 percent of its show schedule. This year, it will present six original productions, and some of them will also be performed overseas. For example, a show marking the Chinese Year of the Rat will be staged in the UK in early February to promote Chinese culture.
Copyedited by Rebeca Toledo
Comments to zhangshsh@bjreview.com