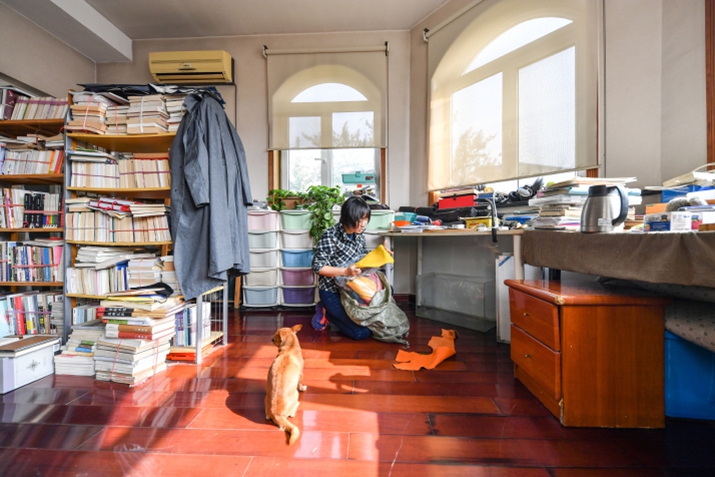 A woman living solo in Beijing at home on November 29, 2020 (WEI YAO)
A smartphone and a dog are all Lin Ran needs for a relaxed weekend at home. She spends over 10 hours a day on the phone, switching between apps, ordering food, watching TV episodes and short videos, and chatting with friends. She also makes sure to free up one hour to walk her dog around the block.
The dog is the latest addition to Lin's one-woman household since she moved into her apartment in June 2020. The move marked the beginning of a solo life for this 25-year-old. For the first 18 years of her life, she lived with her parents. Then she left them to attend college. Following graduation, she shared an apartment with two friends in Beijing for some two years. In 2020, a raise in salary and a drop in Beijing's rent due to the COVID-19 epidemic worked together to make her dream of having a whole apartment to herself come true.
"It is great to have an apartment just to myself," Lin told Beijing Review. "I don't have to share the bathroom or kitchen. I can get up at any time I want and stay up as late as I please without having to worry about disturbing any flatmates. Moreover, I can finally have a dog that can roam around freely inside the apartment."
A rising number
Figures released by the Ministry of Civil Affairs show that about 92 million adults in China live alone, 20 million of whom are aged 20 to 39 and reside in the nation's metropolises.
"There are quite a few reasons for this phenomenon," said Zhang Xiaoping, a Beijing-based psychologist. "The younger generations, mostly having grown up in one-child families, are more inclined to be self-centered and more reluctant to enter intimate relationships. The convenience brought on by the digital economy has also made living by oneself much easier."
A survey conducted by People's Daily in 2020 indicated that up to 80 percent of the young living alone had voluntarily opted for this solo lifestyle, with "freedom" as the prevalent reason for their decision.
"After spending long hours in the office, I just want to unwind and relax as much as I can in my own way," said Xie Xiaolong, a 27-year-old man living in Beijing. "I can soak in the bathtub and play music with the loudspeakers on."
"People of my parents' generation might not have had the opportunity to lead this solo lifestyle," Xie said. "They normally came from big families, got married at a fairly young age and continued life in their hometowns. But it is normal for our generation to leave the parental home to attend college and many of us eventually will settle down somewhere else. Compared with our parents, we care more about our privacy."
The booming number of people living solo has boosted what is now referred to as the "single economy." More restaurants today create services targeting single customers. But it doesn't end with the catering industry. More and more shopping malls are setting up karaoke booths just big enough to accommodate one or two persons. Dozens of online shopping platforms are banking on the "going it alone" trend to offer new gadgets that will help solo consumers kill time. China's mushrooming live-streaming platforms, too, have spotted the new opportunity by making it easier for solo youngsters to earn money online—from the convenience of their own home.
Xiong Yun, a 30-year-old live-streaming hostess, told Beijing Review that it is normal for her to stay at home without setting foot outside for an entire week. "If I want, I could stay at home for a month, or even longer, and nobody would notice," she said.
A survey conducted by China Youth Daily in December 2020 showed that over 40 percent of those aged between 18 and 35 feel they are displaying symptoms of social phobia. "I can be active online. But I get nervous talking to neighbors," Xiong said. "The longer I live alone, the less I want to talk to people face to face. So far, I don't have any plans for marriage as I can't even imagine involving another person in my life."
According to Xie, Xiong's situation is a bit on the extreme side. "I know there must a number of people living like she is," he said. "But normally more of us have coworkers and friends and we have regular gatherings. We just maintain a sense of distance when it comes to our personal lives."
Alone and lonely
The one thing that might rattle the joys of living alone is illness. Last September, Xiong needed to get surgery due to appendicitis. She had no friends to take care of her and her mother flew into Beijing from Yunnan Province in southwest China. This unpleasant experience changed her mind about solo life. "When my mom once again pushed me to find a boyfriend, I didn't object to it as firmly as I had before," she said.
"It doesn't have to be an illness, sometimes it is a strong sense of loneliness that sweeps over you all of a sudden and takes your joy away," Xie said.
Safety is another concern for lovers of solo life. During the Spring Festival holiday in 2021, a young woman living on her own in Beijing accidentally locked herself in her bathroom. She struggled to get out but could not get any help for 30 hours. Finally, her upstairs neighbor heard the intermittent tapping on the pipes, went downstairs to check and rescued her.
On February 6, five days before the holiday, a 23-year-old solo-living woman in Changsha, capital city of Hunan Province in central China, died after jumping out of a van she had rented for moving to a new apartment at night. The van driver, as police records revealed, had taken a shortcut to save time but the route he took was dark, which frightened the woman, and she chose to jump out of the passenger window.
The two incidents made waves online and ignited heated discussions on the troubles that come with living alone. "My parents called me several times, expressing their concern about my situation," Lin said. The lesson that Lin took from the incidents was to always have her smartphone within reach and make sure at least one friend has a spare key to the apartment—just in case of any mishap. "I don't want to live by myself for the rest of my life," she explained. "My plan is to get married before 30. For now, I'm just enjoying a life of solitude despite the concerns voiced by my parents."
The man who rescued the girl trapped inside her bathroom also lives by himself. After witnessing his neighbor's ordeal, he reconsidered his solo lifestyle. "You never know what might happen and people are, after all, social animals," he told China Youth Daily. "Maybe we should stay more connected with our family and friends."
(Print Edition Title: A Life of Solitude)
Copyedited by Elsbeth van Paridon
Comments to yuanyuan@bjreview.com