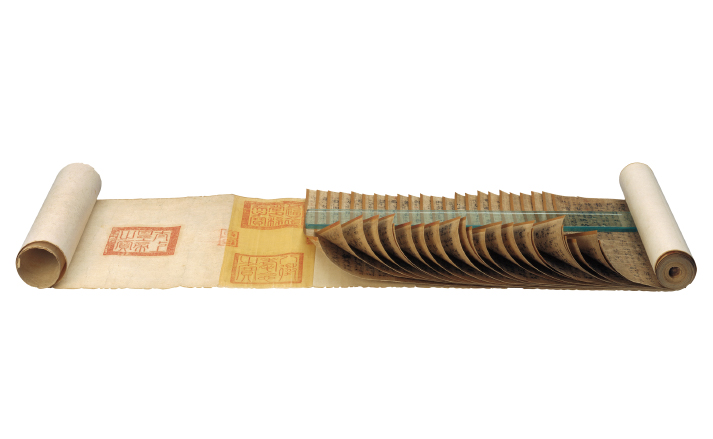 The only existing Tang Dynasty (618-907) book applying the Dragon Scale Binding technique, preserved in the Palace Museum (COURTESY PHOTO)
With a cup of pu'er tea and a burning sandalwood incense stick on the desk, Zhang Xiaodong begins a day's work at his studio in Yizhuang in the southeastern suburb of Beijing. Zhang is the inheritor of the intangible cultural heritage known as Dragon Scale Binding.
Also called Fish Scale Binding, Dragon Scale Binding is an ancient bookbinding technique that emerged during the transitional period when collected writing shifted from scrolls to books formed with leaves during the Tang Dynasty (618-907).
The binding technique not only shortened the length of a book to facilitate a more efficient reading and searching process, but also vastly improved the reading experience. However, the original exquisite and intricate technique was once lost, and the only existing ancient book using this binding technique was preserved in the Palace Museum in Beijing.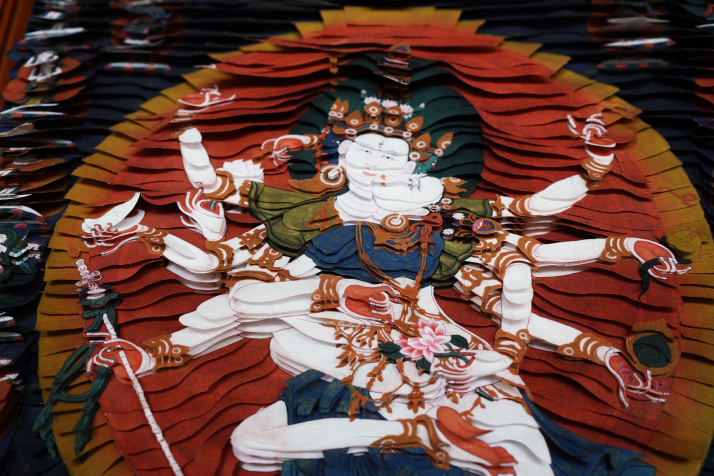 A thangka painting using the qianye technique created by Zhang Xiaodong
(QIN BIN)
Fortunately, Zhang brought it back to life.
Born in Zhangjiakou City, Hebei Province, in 1981, Zhang graduated from Shenyang Aerospace University. In 2008, he began to concentrate on book design. He studied under famous book designer Lu Jingren, Peking University Professor Xiao Dongfa, and renowned bookbinding expert Wang Huaizhu. When Zhang finally became a book design professional, the golden age of book publication had already passed with the rise of e-books and the decline of printed material.
"Back then, I thought the future of books would probably develop in two directions: e-books to meet the trend of fragmented reading in fragmented time and space, and a greater appreciation for the once-ignored functions of printed books—their physical properties, ornamental attributes, and functionality to convey emotions as a kind of tangible media, as well as their collectability," he recalled. "I believe that handmade books with the aforesaid functions represent a direction of future books."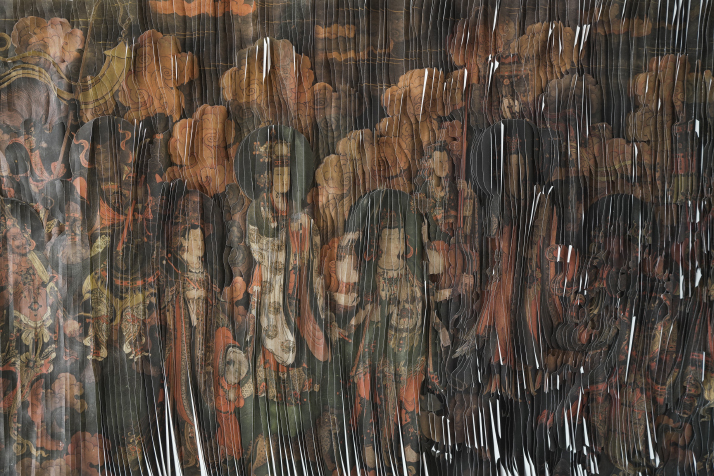 A Mural of Fahai Temple, a qianye work by Zhang Xiaodong. A new invention by Zhang, qianye (literally "Thousand Pages") is a technique to revive ancient classics through paper sculptures
(QIN BIN)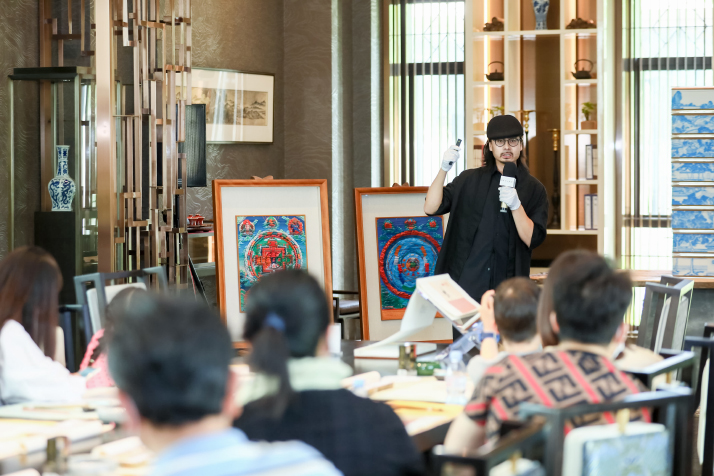 Zhang Xiaodong shares his views on book design (QIN BIN)
That sentiment sent Zhang down the road to restore the lost art of Dragon Scale Binding. He consulted scholars, ancient painting restoration specialists, and printing experts from the Palace Museum and delved into researching historical material. After numerous experiments over two and a half years, Zhang eventually completed his first handmade book using Dragon Scale Binding: The Diamond Sutra in 32 Seal Scripts.
When opened, a book bound with this technique hearkens to a colorful dragon. As the breeze blows, the leaves dance gently, the illustrations in the book seem to come to life and leap into the reader's eye. "This is an expressive technique rich with Zen flavor that causes readers to become more immersed in the Buddhist sutra," Zhang explained.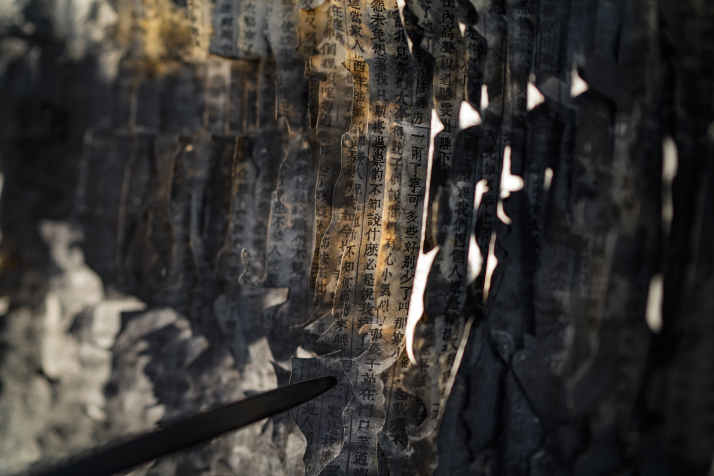 A leaf crafted by Zhang Xiaodong for the handmade book Dream of the Red Chamber
(QIN BIN)
With more than 10 years of arduous efforts, Zhang restored and improved Dragon Scale Binding from the Tang Dynasty and won over 20 patents on book design. In 2019, he was invited to participate in the Venice Biennale. After restoring the technique of Dragon Scale Binding, Zhang spent four years completing a handmade edition of Dream of the Red Chamber using an innovative binding technique integrating the advantages of Accordion Binding and Dragon Scale Binding.
"Books play a major role in maintaining the continuity of human civilization," declared Zhang. "Ancient books of the Tang, Song (960-1279), Yuan (1271-1368), Ming (1368-1644), and Qing (1644-1911) dynasties had much richer functions than today's books. They were not only the best media for men of letters to express their emotions, but also embodied the perfect combination of material and technique. For this reason, many were collected by renowned scholars and even the royal court. In fact, books as objects represent a channel for cultural inheritance." BR
(Print Edition Title: The Art of Bookbinding)
Comments to dingying@bjreview.com