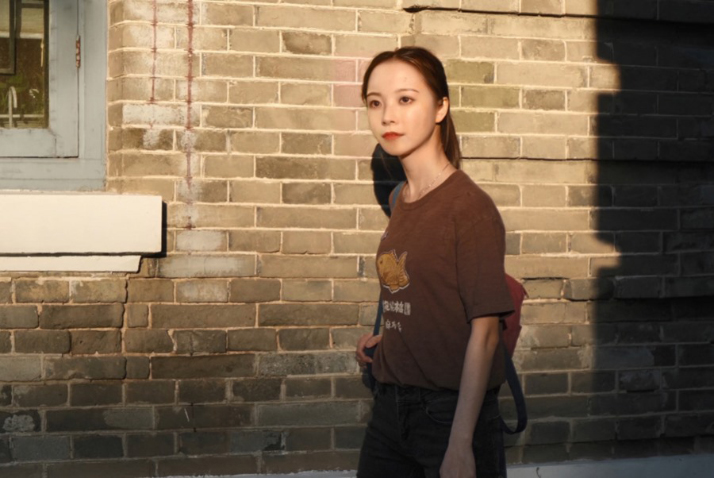 (Left) Hua Zhibing, China's first virtual student enabled by the country's largest pre-trained model, made its debut in a video on social media Axi, a virtual idol (FILE)
On June 3, a newly opened account on Weibo, China's Twitter-like social media platform, attracted close to 2,000 followers in just nine hours. In the Weibo account's first post, a student named Hua Zhibing, greeted netizens and told them that she would soon begin as a student at the computer laboratory of Tsinghua University. In the accompanying video, a young girl wanders around the campus while a female voice introduces herself.
Hua has something that sets her apart from an average college student: she is China's first virtual student to be powered by a homegrown, large-scale artificial intelligence (AI) system.
"I've been addicted to literature and art since I was born. The scientists not only gave me my appearance and my voice but also taught me to compose music," Hua said, noting that she composed the background music in the video.
The appearance of Hua soon became a hot topic on Weibo, with many people amazed by how China has advanced in the field of AI.
"Hua is based on the latest version of a China-developed deep learning model, WuDao 2.0, which literally means understanding of natural laws. WuDao 2.0 is the first trillion scale model in China and the largest in the world," said Tang Jie during a forum on AI in Beijing on June 3.
Tang is a professor at the Department of Computer Science at Tsinghua University, one of the major partners in the development of Hua.
According to Tang, Hua cannot study and live in completely the same way as ordinary students, nor will she experience the emotional issues other students face. "We hope that she will master basic skills first and then seek breakthroughs in reasoning and emotional interaction," he said.
Tang's hopes for Hua are representative of the hopes many Chinese AI developers share for the future of their industry, including the ability to create virtual idols that will be able to respond to and interact with fans online. The creation of Hua, with her potential to reason and give emotional feedback, demonstrates developers are close to reaching this goal.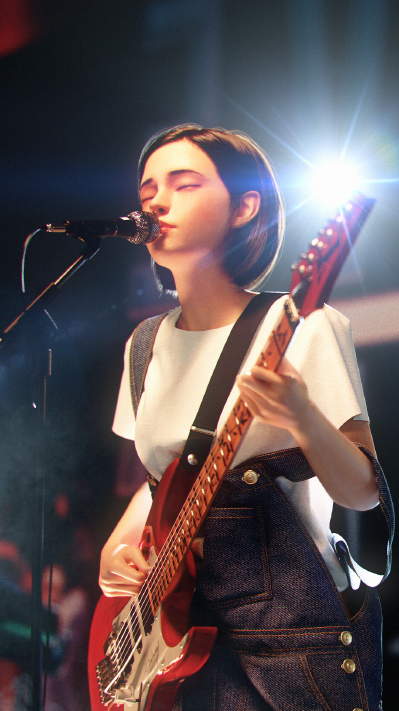 Axi, a virtual idol (COURTESY PHOTO)
Virtual, but not fake
As these fictitious characters are shaped, they are given their own personalities and temperaments. They can talk, sing, dance and even appear on reality shows through holographic projection, and accept advertising endorsements just like real celebrities. However, while the idols are fictitious, the emotional response from fans is real. Virtual idols in China are becoming more a part of real life every day.
"I'm a little bit disappointed," Yao Ye, 23, typed on the online chat forum which belonged to virtual popstar, Gu Ziyao.
Yao asked her question during an interactive Q&A session organized by the company that manages Gu's virtual boy band, LASER. The management company had organized the session to promote the release of LASER's new album and the forum was abuzz with eager fans. Fans like Yao who participate in these kinds of sessions usually consider getting a response to their questions a matter of pure chance. However, against the odds, Yao received the reply of "Who's disappointed?" typed and sent by one of the staff members behind Gu's account.
As a virtual idol, not only are Gu's responses provided by staff members, but his appearance is created by designers and artists, and his voice is provided by a voice actor. While he doesn't have a physical body, all of his particulars are listed in his profile, including his height, 1.8 meters, and his favorite color, black.
When asked about the appeal of virtual idols, Yao said she felt comforted by their flawless characters and behavior. "I can gain a sense of security and dependability from Gu and know I won't see him making mistakes like some real celebrities," Yao told Beijing Review. "I project my imagination of his goodness onto him, of course, and I do find my psychological identification through him. I think he meets some of my psychological needs."
The emerging virtual idol sector, supported by China's younger generation, has been on a fast development track in recent years.
According to iQiyi's Virtual Idol Observation Report 2019, China's virtual idol fan base rose from 310 million in 2017 to 390 million in 2019. The report shows that there are more than 400 million people in China who are paying attention to or potentially paying attention to virtual idols.
Data released by Bilibili, a Chinese video-sharing platform, show that the average monthly growth rate in the number of virtual idols hosted by the platform has been above 100 percent for the past six months.
A potential industry
Virtual idols are crossing even further into the realms of reality, with some now being paid to promote products online.
Axi, a virtual Internet celebrity, posts videos on Douyin, China's version of TikTok. Although she has only posted a few short videos to date, she already has hundreds of thousands of fans and each of her videos has more than 4 million views.
Axi's designer, computer graphics (CG) director, Zhang Yijian, is responsible for all of her characteristics, including height, weight and talents. "I hope the spiritual and emotional healing energy she gives out will attract people," Zhang told Beijing Review.
Zhang began designing Axi in June 2020, taking four months to complete the project. According to data on Douyin, 75 percent of Axi's fans are female aged 18-23.
"The character, image and good qualities of virtual idols are difficult to tarnish. They are more stable than real idols," Zhang said. Also, given that virtual idols don't age, they can be continually upgraded with the change of the times and technology.
"The virtual idol trend first began thriving in Japan as the CG industry began to mature in 2000," Zhang said. Hatsune Miku, a virtual idol pioneer, is an anime character who sings through a vocal synthesizer. "Around 2015, the domestic CG industry gradually began to mature, and virtual idols and virtual Internet celebrities slowly began to emerge in China," Zhang said.
Luo Tianyi, a teenage virtual persona developed in 2012, is considered by many to be the most successful virtual idol in China. A live-streaming program Luo hosts on the website of Taobao, China's online shopping platform owned by Alibaba, is considered a particularly successful example of promotion. The number of viewers of the program that day reached 2.7 million, and nearly 2 million people participated in the accompanying interactive activities.
In 2019, Luo shared the stage with the world's top pianist Lang Lang, marking the country's first concert by a holographic singer and real-life musician. With the aid of state-of-the-art holography, Luo took the incarnation of an exuberant pop idol. Lang expressed the hope that these kinds of innovative performances would attract more young people to classical music.
In 2020, the virtual idol talent show Cross-Dimension New Star was released online. Featuring more than 30 contestants, the show distinguished itself by creating dialogue between real celebrities and virtual idols.
Zhang believes this long-term sustainable development of virtual idols will be an uphill battle. "For the general public, virtual idols are still a new phenomenon," he said. "But as the whole industry moves forward, its robust development cannot reliably depend on freshness or novelty. We still need a plan."
Zhang believes the whole industry should be thinking about questions such as the meaning and value of virtual idols, whether that be for entertainment or some other purpose.
"Due to the limitations of technology, virtual idols still can't be featured frequently on live-streaming platforms," Zhang said. Broadcasting requires sufficient time to prepare, as well as a venue, and the operating costs are relatively high. There are very few virtual idols that can operate anytime, anywhere using only simple equipment like a computer or a phone.
(Print Edition Title: Ready Player One)
Copyedited by G.P. Wilson
Comments to taozihui@bjreview.com