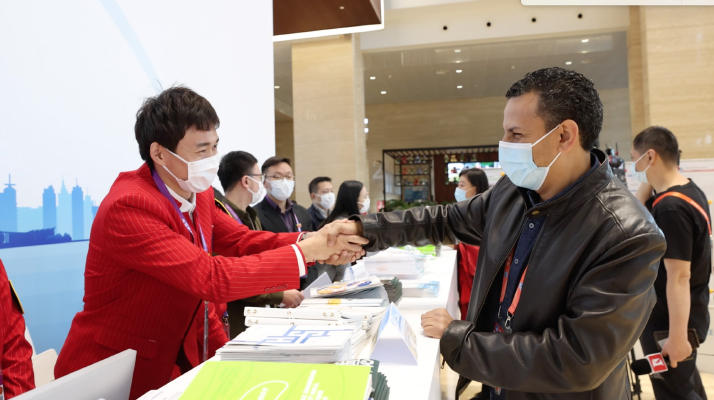 An Egyptian journalist thanks a volunteer who answered his questions in Arabic at the information center of the Third China International Import Expo in Shanghai on November 4, 2020 (XINHUA)
It's December—that time of year again. No, not Christmas; I'm talking about the UN Arabic Language Day which falls on December 18. UNESCO initially started to observe this day in 2012 to "celebrate multilingualism and cultural diversity." The self-proclaimed linguist I am, I couldn't think of a better way to celebrate this day while in Beijing than by exploring Arabic through the eyes of its Chinese apprentices.
Why would a Chinese person want to study Arabic in the first place? Religion is often cited as the primary reason. Miss Ma, a young Muslim lady from Yunnan Province, believes "Arabic is the key to Islam." When it was time for Ma, or Fatima, to choose a major, she didn't think twice. She wanted to better understand the Quran and chose Arabic to help her do just that. Others, however, opt to study Arabic for more earthbound reasons. Xing, who also goes by the less Muslim-sounding name of Tara, told me in neatly written Arabic that many people advised her to learn the Semitic language. China maintains cordial ties with most Arab countries and has a great economic interest in the Middle East. Arabic is one of the six official languages of the UN and a working language of the General Assembly. "I thought that if I studied Arabic, I would have better job opportunities after graduation," she said, before adding with a dash of confidence that "it turned out I wasn't wrong."
Arabic is notoriously difficult. It usually tops the list of hardest languages to learn—for native English speakers. Chinese speakers, however, seem to think otherwise. Unlike Chinese, Arabic has an alphabet. Twenty-eight consonant letters is all you need to learn so you can start to read and write. Fu Jingnan, or Rima, graduated with an Arabic degree from Beijing International Studies University and believes this was by far the easiest thing about learning Arabic. On the other hand, Tara, who grew up speaking Kazakh, and Fatima, who received basic Islamic education as a child, swear by how easy the Arabic pronunciation comes to them.
Nevertheless, learning Arabic doesn't come without any difficulties for Chinese students. The different regional varieties of Arabic drive them crazy, according to my conclusions. They study Fus-ha or Modern Standard Arabic (MSA) for years in university just to find out that the layperson on the streets of Cairo or Casablanca speaks dialects so different that they could be languages in their own right. MSA is the form of Arabic used in media, newspapers and magazines, as well as in official correspondence. But the hoi polloi—forgive the term—almost never use it in everyday dealings. To make things worse, convoluted Arabic grammar is a far cry from the very straightforward Chinese grammar. Rima, Fatima and Tara all agree that rules of word gender; singular, dual and plural forms along with the complicated semantics, constitute challenges to Chinese learners of Arabic.
It was Miss Zhang's father who chose her Arabic name: Sawsan. "The iris flower?" I wondered. "Well, rather the color purple," she replied. Sawsan took her Arabic learning to the next level: teaching it. "My students don't have access to the right language environment. That's why I encourage them to make friends with native Arabic speakers and communicate with them on WeChat." She also finds songs to be an important learning tool, especially those by Lebanese pop diva Nancy Ajram.
In a world dominated by one lingua franca, building more direct bridges, ones that do not necessarily pass through English, between different cultures promotes tolerance, understanding, multilingualism and cultural diversity. Happy World Arabic Language Day!
The author is an Egyptian working in Beijing
Copyedited by Elsbeth van Paridon
Comments to dingying@bjreview.com