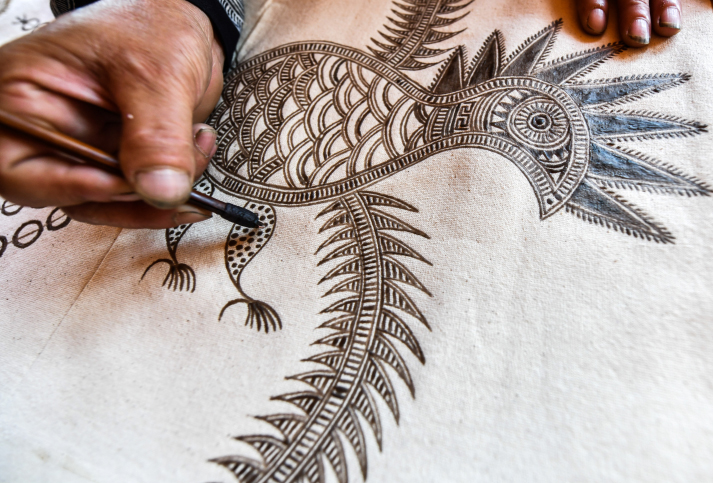 Handmade wax ink patterns as produced and used by the Miao people in Guizhou Province (XINHUA)
Though I am by no means the Secret Santa­­—'tis the season—of sustainable design, one aspect thereof, I am infatuated with—from head to toe: traditional artisanal skill-ship. A gift passed down from parents to children, teachers to pupils. Knowledge that survived generations, in some cases hundreds of years. It's fair to say that nowhere in the world has the knowledge of the past generations been preserved to the extent it has been in Asia, with my personal focus homing in on China.
I am lucky to have met some of the movers and shakers in China's realm of fashion design. As I spent time with them and got to see their work process, I realized how important their roots were to them. They may have studied in London or New York, they may have lived elsewhere in the world, but China runs through every fiber of their life and work. They dig deep into their ancestral land's rich history and they tie the traditional elements to the contemporary swirl that is the China they live in, bringing spectacular work to life.
Enter Angel Chang, who originally launched her eponymous label in 2006 renowned for its heavy usage of smart textiles and technologies—think: self-heated linings and light-up fabrics, but then made a fundamental pivot. This creator today produces seed-to-button, zero-carbon (carbon neutrality goals, anyone?) womenswear that is natural and handmade by indigenous tribes residing deep in the mountain mystique of south China. The garments are traceable to the source and use ancient techniques that follow the cycles of nature.
So what turned Chang's tide? An urban New Yorker, she had little to do with traditional Chinese craft until she discovered that the handwoven fabrics of the Chinese Miao and Dong ethnic groups were on the verge of extinction, and rushed to preserve the craft through her collections.
Arriving in China's Guizhou Province in 2009, Chang began to work closely with the weavers and embroiderers of several local mountain villages, producing entirely handwoven and hand-embellished customary fabrics. The entire routine, from cotton planting to fabric dyeing, incorporated zilch electricity or artificial elements—the cloth was dyed using native wild plants. These plants must be picked fresh and used immediately, meaning one can only collect and process them when they are available courtesy of Mother Nature—a pale yellow flower in May, black tree bark in August.
Over the following four years, Chang learned to live among the local communities following the cycles of nature and being entirely off-the-grid, producing an almost zero-carbon footprint collection. A triumph for traditional craft preservation efforts, Chang successfully collaborates with local craftspeople on producing the one-of-a-kind fabrics that normally don't make it out of a family household. Traditionally, such textiles and embroidery are used to preserve some of the history of the minorities who never used a written language to document their story. Each piece takes up to two years to complete and is worn for an average of 20 years before being handed down to children and grandchildren as heirlooms.
In 2021, Chang and her artisanal crafters took electricity-free fashion—aka ancient couture—to the next level with a line of organic cotton dresses and separates. Truly no electricity was involved, not because things proved "more sustainable" that way, but due to the fact the mountain village in question genuinely features no energy source whatsoever. This particular community is so remote and disconnected from the country's industrial cities that COVID-19 never made it there. The cotton is grown organically alongside the food before it's hand-spun, hand-knotted and hand-sewn into garments. Even the buttons are made of twisted fabric, not plastic, with no hardware to speak of.
In the end, it doesn't matter if one spends two weeks on a sleeve or two years on a jacket. These clothes will be worn for a lifetime. And it truly takes a tribe to accomplish this work of love, for life.
The author is an editorial consultant with Beijing Review
Comments to dingying@bjreview.com