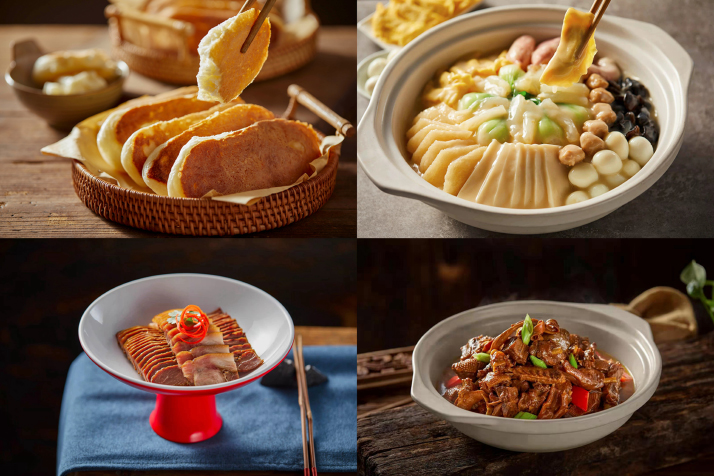 Savoring some Huaian flavors (COURTESY PHOTO)
At the age of 15, Sun Wenqiang first dipped his spoons into the world of cooking under the watchful eye of a senior chef specializing in cooking dishes of Huaian cuisine, which originated from Huaian, Jiangsu Province in east China, but is popular far beyond its birthplace.
Having been a chef for 15 years and tasted numerous palates unique to the places he has come across, Sun, now an executive chef at local restaurant chain Ancient Huaian, believes that the essence of a fine dish lies not only in its taste, but also in its history.
Thanks to its abundant culinary history, Huaian was selected as one of the new cities added to the United Nations Educational, Scientific and Cultural Organization (UNESCO) Creative Cities Network in November.
"Dishes from a city dating back thousands of years should both maintain their cultural and historical features and at the same time embrace modern society. We need to strike a balance," Sun told Beijing Review.
The historical banquet
As a vast country, China currently has eight major cuisine types divided mainly by region. The climate, ingredients, history and dining customs vary greatly from place to place, leading to differences in cooking methods and flavor preferences.
For example, Sichuan cuisine originating from the southwest is famous for its pungently piquant flavor and red color; the southern Guangdong kitchen, with its mild and fresh taste, preserves the food's natural flavors; while the Shandong gastronomy from the relatively northern part of the country tastes garden-fresh and temperately salty.
Huaian locates on the north-south divide of the country. Its geographical location endows the city with a combination of both northern and southern Chinese cooking and hence the Huaiyang kitchen—a general term for dishes from Huaian and Yangzhou, also known as one of the four major traditional Chinese cuisines. The Huaiyang menu takes fish as its main feature given both aforementioned cities are located not far from the sea in the delta region of the Yangtze River, the longest waterway in Asia and the third longest in the world. Its cooking bears a light and sweet flavor, all the while preserving the ingredients' original taste. Today, the cuisine boasts over 1,300 dishes.
The city's gourmet gusto and high gastronomic standards result from its local development since imperial days long gone. As early as the Spring and Autumn Period (770-476 B.C.), a canal was dug around Huaian. The Beijing-Hangzhou Grand Canal, the earliest and longest manmade waterway in the world and a vast channel connecting Beijing and Hangzhou, respectively in the northern and southern sections of China, made Huaian an important water transportation port. In 2014, it was listed as a UNESCO World Heritage Site.
Following the dredging of the canal and the evolution of its water transportation, Huaian flourished as a center for the shipbuilding and waterway management industries. And business was booming. As the city's cuisine drew inspirations from specialties across the country, it also spread to the more northern parts of China.
According to historic annals, emperors of the Qing Dynasty (1644–1911) were attracted to the place for its reputation as a gastronomical delight and paid regular visits to have a bite.
The very first state banquet on the night of the People's Republic of China's founding on October 1, 1949, saw a wide variety of Huaiyang dishes enjoyed by participating guests. The reason for serving guests this particular cuisine on this particular occasion was that its wide-ranging palate would cater to the taste buds of guests from different regions.
An example is the ruandou (meaning "soft pocket") eel, a very prestigious dish in the local cookbook, even dubbed the king of Huaiyang cuisine. With eel and sliced garlic as the ruling components, it tastes soft and tender.
Wensi tofu is an illustrative Huaian dish. It is a soup made of finely shredded tofu and several ingredients of different colors, including dried daylily and black fungus. Legend has it the broth was created by a Qing Dynasty monk in Jiangsu renowned for creating vegetarian dishes, particularly ones leading with tofu. Savory and brightly tinted, wensi tofu soon proved a hit with temple visitors and soon its tang became savored throughout the region. Emperor Qianlong (1711-99) even put it on the imperial menu.
These abovementioned samples reveal one of the core aspects of the local cuisine: the dish lies in the details. "When preparing wensi tofu, for example, the chef needs to make sure all tofu cuts are exactly the same shape, width and length. It can take someone years to slice up to these standards," Sun added.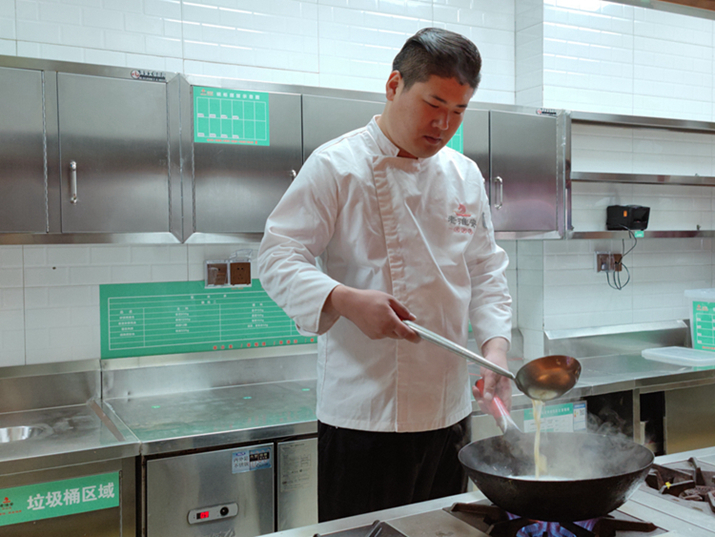 Sun Wenqiang, a senior chef specializing in Huaian cuisine, works at a restaurant in Huaian, Jiangsu Province,
on December 22 (COURTESY PHOTO)
A contemporary zest
Sun and his colleagues today are dedicated to adapting traditional Huaian cooking to the younger appetite. "Some dishes made in traditional fashion are too oily for young diners who care a lot about their health. So we are thinking about how to reduce the presence of oil and salt while retaining the full flavor," he explained.
In addition, Sun's restaurant has made several innovations in terms of bowls and plates. Working with tableware designers, they came up with a dish holder featuring horses and boats, the means of transportation most often used in ancient China. When serving customers, waiters will imitate the way the dishes were once upon a time served to the imperial family, giving patrons a taste of culture and entertainment.
"Being designated as one of the world's urban gastro hubs inspires more people in the industry to make Huaian cuisine better known nationwide—or even worldwide," Sun said.
The UNESCO Creative Cities Network project, launched in 2004, aims to promote cooperation between cities around the world whose common characteristic is the use of creativity to promote sustainable urban development. The network covers seven creative areas: handicrafts and folk arts, design, cinema, gastronomy, literature, media, and music.
The UNESCO list currently counts 295 cities across 90 countries, with 49 cities newly added in November, including Huaian. The city is the fifth Chinese one to have entered the gastronomy rankings, after Chengdu in Sichuan Province, Shunde in Guangdong, Macao Special Administrative Region, and Huaian's neighbor Yangzhou. The city poured in many an effort to upgrade its staple cuisine and related industries in the bid for UNESCO recognition. For example, Huaian Cuisine Group, a state-owned business dedicated to promoting food culture, has invested in an animation called Kung Food—starring, no surprise there, Huaian food.
In 2009, the China Huaiyang Cuisine Museum opened its doors to the public in Huaian, displaying plates and bowls embellished with traditional Chinese art, as well as themed halls showcasing various folk cultures and interactive classrooms where visitors can try their hand at cooking with the help of chefs.
The city government also promotes international exchanges through visits, exhibitions and forums. "Food culture is an important window to promote a deeper cultural understanding worldwide," Huaian's Vice Mayor Wang Xianghong said, adding that it is important to further the exchanges and cooperation between Chinese food companies and their foreign counterparts, and enhance the internationalization and innovative development of Huaiyang cuisine.
"Adopting innovation doesn't mean overthrowing tradition. Only when we are able to master all the knowledge and skills from the past, can we make improvements for the future," Sun concluded, offering some food for thought.
Copyedited by Elsbeth van Paridon
Comments to luyan@bjreview.com