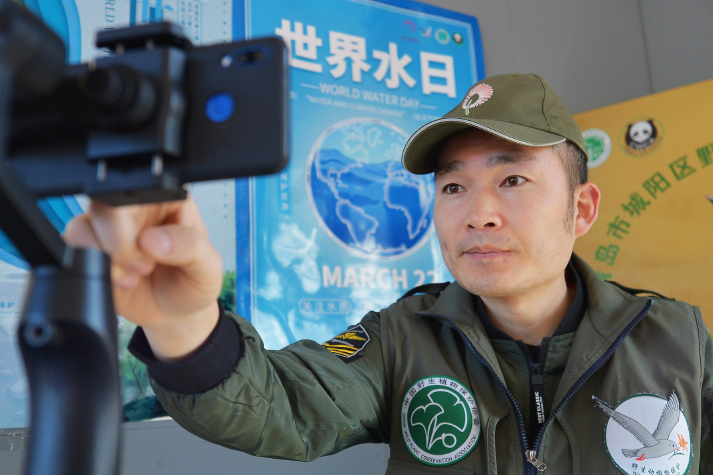 A volunteer from a wildlife conservation association in Qingdao, Shandong Province, records a popular science video about environmental protection on March 23, 2020
(VCG)
A Tibetan fox emoji package recently made its way across China's digital waves. The man featured in the emoji pack appears to be at a loss, looking at you with a sense of disbelief. The big square face, coupled with deeply set eyes in a haze-like setting, almost reflect the human reenactment of a Tibetan fox. As netizens deemed the expression simply too funny to just let go, they quickly upgraded the GIF to the next level, transforming it into a full-fledged emoticon package.
The man's name is Zhang Chenliang and his moniker is none other than Wuqiong Xiaoliang or Bowu Jun in Chinese. This is no idle boast as the popular science blogger has no less than 6 million followers on Weibo, China's Twitter equivalent, and a following of more than 6 million on short video sharing platform Bilibili.
The 31-year-old Beijing native, holding a master's degree in agricultural entomology and pest control from China Agricultural University, is a project director at Natural History magazine. In charge of managing the magazine's Weibo account, much of his daily schedule involves answering curious reader queries which can cover entomology, zoology, botany and geography. In replying to them, Zhang has adapted an online persona, turning himself into the reserved, humorous "Mr. Naturalist" with a hint of mischief to boot.
Popular science is rarely the socially acceptable definition of fun. Stereotypical science knowledge goes against the goals of stealing public attention and creating an online goldmine. Nevertheless, for Zhang, with many popular science streamers following in his footsteps, short video platforms like Bilibili and Douyin (China's version of TikTok) turned out to be a way to break the boundaries of knowledge and uncovering new paths to popular science.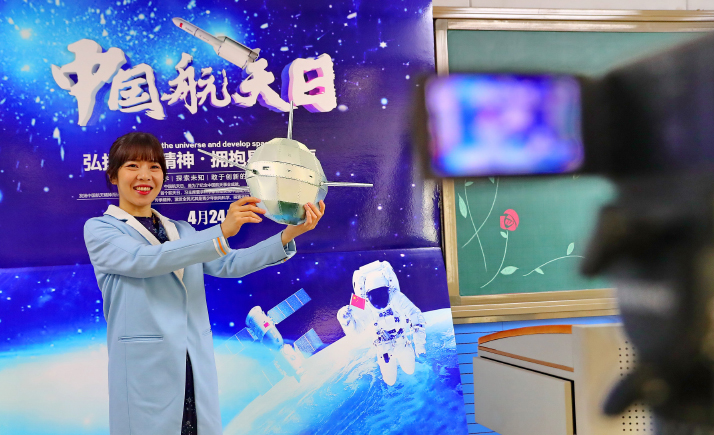 A teacher at a primary school in Qinhuangdao, Hebei Province, records a short video on aerospace science on April 23, 2020 (VCG)
Short 'n sweet
Compared with online courses, short videos communicating information seem to work better for those born between 1997 and 2012, also known as Gen Z. As is the case with Bilibili, many similar podia actively nurture professional streamers, often supported by tight-knit loyal fan communities.
Among these dedicated users are "up zhu", or up-loaders. Like YouTubers, they are content creators who cover a variety of topics spanning game commentaries, online memes, science education, consumer electronics; the works.
Bilibili's "Knowledge" section was launched almost a year ago, merging its former "Science" section with other content, including subjects like finance, history, law, art, campus studies and career development. Many people who upload material to Bilibili's "Knowledge" section are part-time contributors.
Zhang is one of them. "The video is one of the latest methods to further popularize science," he told The Beijing News. For Zhang, the more true science comes out in videos, the less the public will be suckered into believing pseudo-science. "Online viewers always should remain skeptical about the sources of information," he said.
Followers refer to Zhang as a walking encyclopedia of natural history. "When encountering some unknown creature, just call out for Bowu Jun in the Weibo comment section, and he might help you get an answer," Du Boru, a postgraduate of China University of Geosciences and major Zhang fan, told Beijing Review.
"It feels like we all get the opportunity, free of charge, to seek advice from professionals and science is no longer a shelved and out-of-reach topic," Du explained.
Meanwhile, for Du, the persona of a blogger plays a key role when trying to grow an online following. "An effective way of popularizing science to is to first get viewers interested in the blogger as a person, so they can better grasp where he or she is coming from," he said.
To follow or not to follow
Zhang knows his audience. "I am the lucky one among popular science bloggers. I have been talking with netizens since my first day of work. After starting out on Douyin, I got to observe my viewership on a more in-depth level."
When it comes to younger audiences, it is vital to spark their interest in and curiosity about science. In turn, positive viewer feedback inspires educational content creators. "Video platforms are very motivating. A touch of background music or a single punchline can have an amazing effect. Absorbing all these ideas is extremely useful for popular science," he said.
When Zhang entered Natural Science as an intern in 2011, the magazine's Weibo account had only 20,000 followers.
Today, with Zhang at the helm of its operations, this number has reached 13 million.
In 2019, Zhang introduced his popular science topics in the form of daily short videos. This time around, he was no longer hiding behind a sheet of paper, but actually stepped in front of the camera.
The speed of fan accumulation once again snowballed well beyond his wildest dreams. In just over a year, his personal account on Douyin, The Xiao Liang Science Daily, garnered 19 million followers, with his most popular video collecting over 1.2 billion views.
"The most important thing for young people when watching Bilibili or Douyin content is to gradually learn and adapt to the communication mechanism of public discussion, to enjoy the process of thinking," Du added.
The data undoubtedly side with science. According to the 2021 Pan-Knowledge Content Data Report released by Douyin, its popular science content increased by 207 percent in the past year; 609 popular science uploaders, each with more than 10,000 followers, joined the platform, and related content was viewed over 25 billion times. Short video has become the main way for Gen Z to acquire a better understanding of a thing.
More opportunities
In addition to full-time popular science uploaders, well-known academicians and scientific researchers, too, have come flocking to the short video platforms.
Wang Pinxian, an 85-year-old Chinese marine geologist and academician with the Chinese Academy of Sciences, has attracted more than 700,000 fans within a single month, and his popular science content comes with a whopping average of 2 million views.
In his videos, the questions at hand appear to be relatively easy: "How big is the ocean?" Or: "What hides under the Mariana Trench?" Yet Wang does not consider them oversimplified. "I just try to use the most basic language to explain scientific issues," he said on the matter.
This new form of teacher-student interaction has created a welcoming and engaging learning environment, contributing to an equal access to knowledge among online users.
In Zhang's words, "I hope my videos can help people see things that they have never seen before, and allow them to uncover a sense of beauty in daily life that they previously may have been unaware of."
Another recent Douyin report demonstrated that 1,259 domestic colleges and universities have registered their official accounts on the platform. Among them, the accounts of Tsinghua University, Peking University, and the National University of Defense Technology boast the greatest followings.
The popularity of educational videos is further demonstrated by the simple fact that the total number of followers for top-level academic experts on Bilibili today exceeds 55 million. This figure definitely translates as a like.
Printed edition title: Up and Atom!
Copyedited by Elsbeth van Paridon
Comments to taozihui@bjreview.com