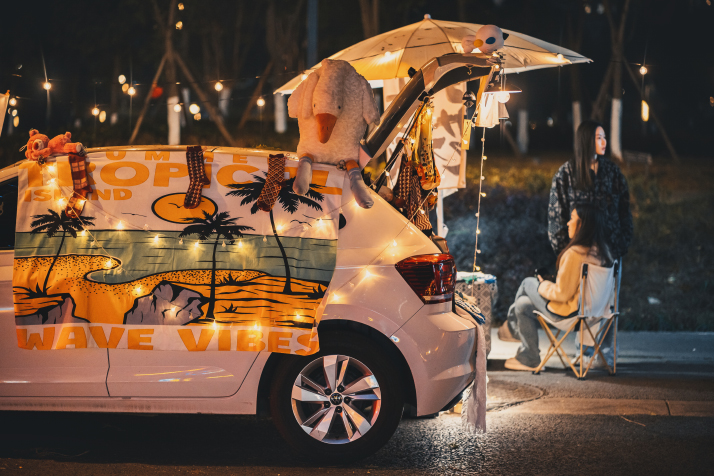 A flamboyantly decorated car stall displays the socks on sale at a trunk fair in Chengdu, Sichuan Province, on February 3 (VCG)
From an amateur baker to a full-time vendor of homemade tiramisu, it took Yan Hui just a few months to make this transition. And it all started from her car trunk.
The idea of selling tiramisu from her car came to her in early 2022, when large sections of Beijing's Chaoyang District, where Yan lives, were in quarantine due to the COVID-19 pandemic. Subways and buses weren't running so her car became her main mode of transportation.
To make some extra money, she turned to the coffee-flavored Italian dessert. Despite Yan being somewhat of an amateur baker, her friends always hailed her homemade cakes as "the best ever." She figured she might as well give "professional" baking a go.
So she whipped up a few tiramisu cakes, parked her car near the gate of her residential community and put her creations on display next to her car trunk. Soon after, somebody pointed out to her how Beijing actually had a few official trunk fairs and Yan decided to apply.
"The first time I attended this trunk fair as a vendor, together with my husband, we were surprised by the fancy decorations other vendors had put up. It was a colorful and 'bling-bling' world," she told Beijing Review.
The couple caught up quickly by purchasing their own adornments, ranging from balloons to light strings and banners. A large fabric hanging of Donald Duck makes the hallmark of the stall. "Decorations have transformed the trunk market into one with a unique culture, which appeals to both vendors and visitors," she said.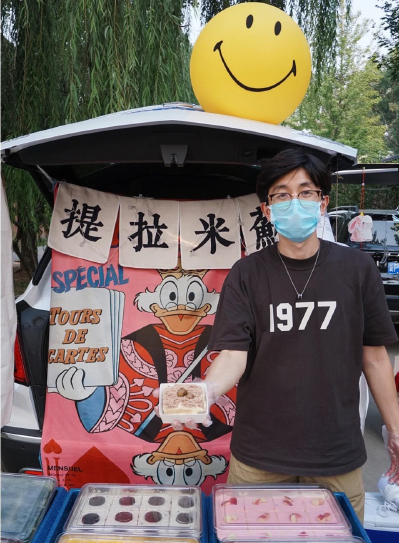 Yan Hui's husband holds up a slice of tiramisu cake at a car boot sale in Beijing on September 10, 2022 (COURTESY PHOTO)
Stalls on wheels
A regular vendor at a trunk fair in Chongqing Municipality, southwest China, Li Lusi assumed the boom in trunk sales over the past year was the result of the country's gloomy pandemic-hit tourism market.
Li used to run an online shop and her first time to a trunk fair was during the 2021 New Year's Day holiday at a scenic spot in Chongqing. As the number of tourists had sharply declined, organizers were hoping to attract more visitors to the area by organizing something novel and trendy, i.e., a trunk fair. Li applied to be a vendor simply because she thought it sounded interesting.
Fewer than 30 vendors showed up. Small as this number may have been, the results weren't all that bad. The market became the liveliest place in the scenic area.
Li never could have imagined this type of market would blossom so quickly—especially not in 2022, when strict COVID-19 prevention and control measures were still carried out across China. She now manages over 10 groups on WeChat, China's ubiquitous super app. Each group has 500 members, also the maximum number of people allowed per WeChat group, with all of them either trunk fair vendors or visitors.
She has also become a regular at trunk sales and is exploring a new lifestyle—i.e., traveling to different cities to check out the local fairs. She has been to Yunnan, Zhejiang and Sichuan provinces and is always ready to hit the road again.
Some of her friends have followed in her tracks, and joined her on the trunk fair circuit. And all of them are witnessing how these markets are springing up across Chinese cities. The number of vendors at a fair in Chongqing can easily surpass 100. At the municipality's 2022 Nightlife Festival last August, the trunk fair even became a highlight, and almost every stall had visitors lining up to check out their merchandise.
Xiong Yingdong, a market organizer in Chongqing, revealed that about 30 percent of sellers are doing so on a part-time basis.
Yoga coach Chen Miao, for example, runs a stall selling handmade sticky rice dumplings. "The market is very popular among young people," she told Xinhua News Agency. "It is very welcoming to those who want to run their own business at a low cost."
Chen's stand has become one of the fair's star attractions. "Life is busy, I have made many new friends here and earned some extra cash, which is great," the coach said.
A healthier track
In September last year, Nanjing, capital of east China's Jiangsu Province, took the initiative to issue measures that would better support the sound development of trunk sales. Other cities are expected to follow the city's lead in regulating the market.
"The current markets are better organized, especially compared with those in early 2022 when I first partook," Yan said. "At that point, the market threshold was very low and organization was inadequate. Some people just organized the market to collect the vendor fees, which ranged from 200 to 500 yuan ($30-75), and didn't care about management."
In a gradually more professional setting, Yan and her husband have become regular trunk fair vendors. "About half the vendors we've met at the market are doing this full-time," she said.
Snacks and beverages make up the largest portion of China's trending trunk markets; and items such as coffee, bubble tea, desserts, hamburgers, sandwiches and cold noodles, sell like hot cakes. Yan's tiramisu cakes have also made a name for themselves and always sell out. On a really good day, she will sell 70 slices and turn a profit of over 1,000 yuan ($150).
Every time the cakes are sold out, the couple will put up a board that reads, "Sold out! But everybody is welcome to take a picture with the trunk!"
(Print Edition Title: Va-Va-Vroom)
Copyedited by Elsbeth van Paridon
Comments to yuanyuan@cicgamericas.com