The revered 20th century painter and art educator Liu Haisu once said: "As beautiful as the moon stitched with threads of clouds, Miao embroidery outshines the needlework of nature."
The embroidery of China's Miao minority, an ethnic group mainly residing in the country's southern regions, is a remarkable artistic tradition spanning 2,000 years and involving a myriad of complex stitches that lend it its unique features, which are very different from, for example, traditional Han Chinese embroidery.
Pan Yuzhen, a Miao embroidery artisan now well into her 70s, had almost never left her hometown in the southwestern province of Guizhou—until she met Beijing-based entrepreneur Xia Hua in 2003. When visiting the village where Pan lived, Xia promised to help promote the local embroidery works both at home and overseas. Years later, Xia delivered on her promise. She and Pan traveled to the capital of the United Kingdom where the artisan strutted down a London Fashion Week catwalk, fully decked out in her self-made Miao garments, to a storm of applause in 2017.
A beautiful discovery
Xia founded apparel company Eve Group in Beijing in 1994. Starting from 2003, the company has been exploring ways to promote the Miao embroidery of Guizhou beyond the remote mountains. "For this craftsmanship with a millennia-long history, we believe the best way to conservation is to revive it in contemporary ways," Xia told Beijing Review. As a deputy to the 14th National People's Congress (NPC), she has made suggestions on preserving ethnic craftsmanship and promoting the digital transformation of traditional industries.
The NPC is the highest state organ of power in China, composed of deputies elected from 35 electoral units. During the NPC, the annual legislative session that usually takes place in March, deputies like Xia discuss plans for national development and issues affecting people's lives. The suggestions they put forward are then submitted for meticulous review before being included in the policies of related state organs and government departments.
China's Miao population mostly concentrates in Guizhou, with the province's Jianhe County, where Pan lives, particularly known for its distinctive Miao embroidery styles. Most craftspeople are women.
According to Xia, Eve Group has integrated the Miao needlework into their products and by doing so improved the lives of its Guizhou-based artisans. It has boosted massive production, established a qualification management system and enhanced the embroidery's brand reputation.
Xia graduated from the Beijing-based China University of Political Science and Law, one of China's top law schools, in 1991 and then became a lecturer at the university. But only two years later, she surprised friend and foe when she quit her job and became a salesperson at a mall in Beijing. In those days, China's entrepreneurial scene was just sprouting and Xia had spotted an opportunity in the designing and selling of men's clothing. Without skipping a stitch, she dove in head first.
After she founded Eve Group, it soon evolved into a leading apparel company.She figured it should start exploring the crafts of the country's ethnic minorities. For good measure: China has 56 officially recognized ethnic groups. The largest is the Han Chinese, numbering more than 1.28 billion as of 2020, who reside in every region of the country. In 2003, Xia and her team of designers decided to travel to Guizhou, where the delicate embroidery patterns on local people's clothing and household articles left a lasting impression on her. But she soon realized the embroiderers were creating these works of art mainly for personal use instead of trade, stitching away in dim candlelight to save on electricity fees.
Xia also learned that many female embroiderers were forced to leave their hometowns to seek employment elsewhere as they could not rely on the embroidery to make ends meet in the remote mountains. The traditional craftsmanship was on the verge of being lost. She decided to integrate the artistry with Eve Group products, and set up workshops in Guizhou starting from 2003. Miao needlework aside, the company has also been promoting the folk handcrafts of other ethnic minorities, including the Yi and Bouyei. As of this year, it has established around 1,200 workshops across the remote mountains of southwest China and built factories near the embroiderers' homes.
The workshop has cooperated with more than 20,000 female embroiderers in Guizhou and several hundred of Eve Group's designers are based in the province to support the collaboration. "We have created a database with information on where they live, what needlework skills they master, what their works look like and how many hours they usually work per day," Xia said. The company has also provided training to help embroiderers hone their skills and create high-quality products.
Eve Group has also developed a database collecting over 8,000 traditional patterns of China's ethnic groups. Global designers can access it and then team up with the embroiderers through the company.
The artisans' creations adorn, for example, the company's high-heeled shoes, bags and notebooks. Skillful artisans can produce decorating patterns for six to eight notebooks per day, earning 80 yuan ($11.5) per pad.
After combining forces with Eve Group, Pan was invited to showcase her works in many countries including Singapore, the United States and France. In 2020, Pan's total earnings came close to 1.5 million yuan ($217,300). Her daughters and granddaughters, too, have become Miao embroidery artisans.
While being able to take care of their children at home, instead of having to leave them in the care of others as they seek employment elsewhere, female embroiderers carry forward the age-old techniques, maintaining their ethnic identity and creating a better life for the next generation. The industry drives rural development, promotes common prosperity and means a lot for cultural inheritance, Xia said.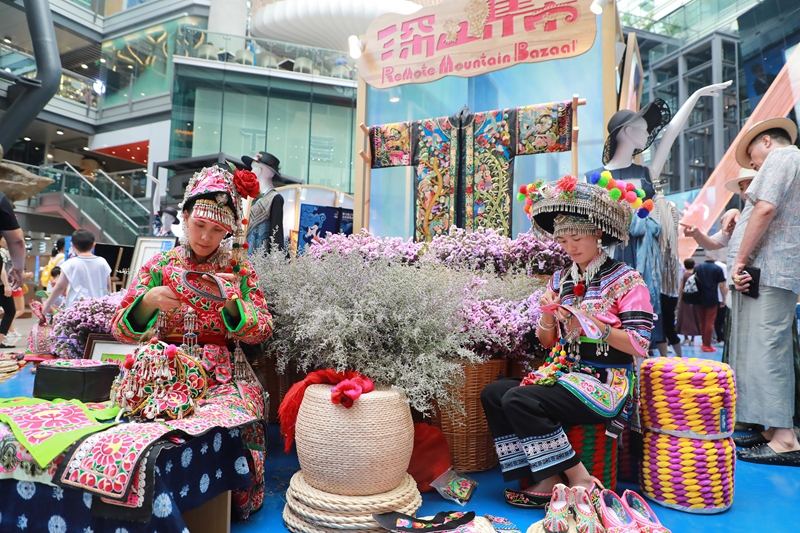 Miao embroiderers showcase their craftsmanship at a Remote Mountain Bazaar hosted by Eve Group at a Beijing mall in 2019(XINHUA)
First practice, then propose
In recent years, the promotion of Miao embroidery skills has become a hot topic during NPC sessions. Shi Liping, a Miao embroidery artisan and a deputy to the 13th NPC (2018-22), called for the encouragement of Miao embroidery during her term. As a deputy to the 14th NPC, Xia has come up with a host of new suggestions based on her professional experience.
This year, she suggested preserving ethnic culture through digital methods. According to her, the database of Eve Group, for example, has attracted many young designers in pursuit of inspiration and offering to create customized designs better catering to contemporary consumer preferences.
Xia expects the government to develop Miao embroidery industry clusters across Guizhou to empower the crafts workers, and women in particular, establish rural demonstration zones and endorse teamwork between government, enterprises and embroiderers. "Government policy support is crucial for leading enterprises to play a key role in rural development," she said.
According to Xia, the apparel and fabric industry is a traditional one, while Eve Group has been exploring digital transformation to adapt to market changes, for example by introducing a digital platform for customers to try on clothes through virtual reality technologies.
"It took six years for Eve Group's industrial upgrading to come full circle. For small and medium-sized enterprises, making big changes can prove very difficult when they can only rely on themselves," Xia said.
As Xia proposed, the government needs to step up support for traditional industries, specifically with regards to digital transformation and business mode innovation. The government and financial institutions should improve their communication with enterprises and provide both policy and financial support.
Xia is set on introducing Chinese culture to global consumers. Eve Group has hosted hundreds of offline fairs, i.e., the Remote Mountain Bazaars, in domestic commercial hubs like Beijing and Shanghai as well as in global fashion capitals, including Paris and London, to present the crafts of the country's ethnic minorities and show how they are made on site to attract consumers.
Starting from earlier this year, service consumption has swiftly rebounded but the recovery of goods consumption is taking longer, Xia added. "But our brick-and-mortar stores have seen increased foot traffic. I believe consumption will make a notable comeback this year," she concluded.
(Print Edition Title: Without Skipping a Stitch)