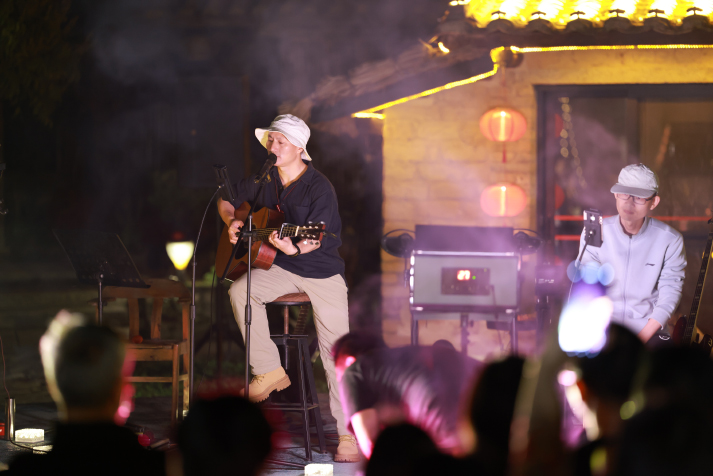 Zhu Hongfei (left), a civil servant who volunteered to work in Tibet between 2016 and 2019, performs at a charity concert in Guangzhou, capital of Guangdong Province, on April 8
(COURTESY PHOTO)
Three hundred and seventy books—that was the "ticket revenue" Zhu Hongfei, an amateur balladeer, earned from the concert he and his friends organized on April 8 in Guangzhou, capital of Guangdong Province. A gift of a children's book was the price of admission to the concert.
Over 400 audience members attended the concert. "Everyone was invited to share one of their favorite books, with a hand-written blessing on the first page. These books are gifts for Tibetan kids," the 44-year-old told Beijing Review.
Zhu is a man of parts and is keenly interested in Tibet Autonomous Region. He is a writer who has published two non-fiction books about Tibet and a mountaineer who reached the summit of Mount Qomolangma, the world's highest peak, in May 2018. Also, he is a Guangdong civil servant who has previously worked in Tibet for three years.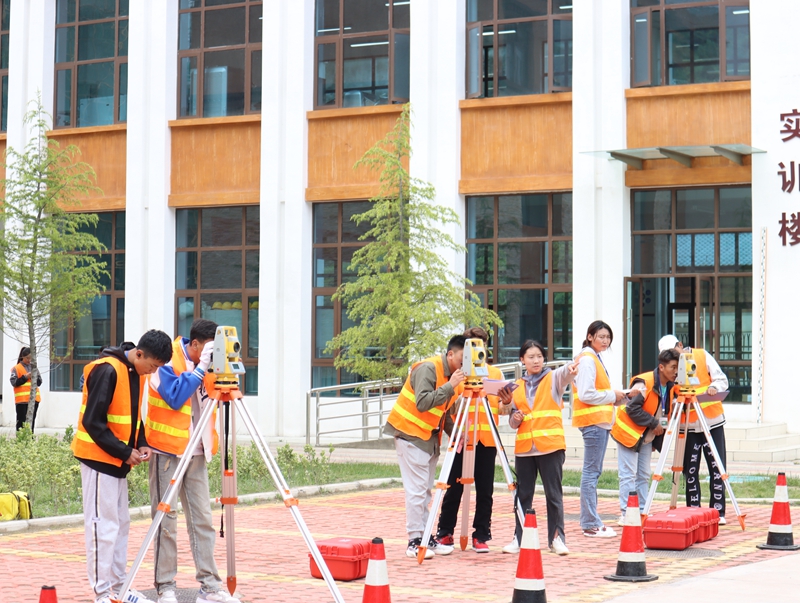 Students practice surveying skills at the Nyingchi Skilled Worker School in Tibet Autonomous Region on June 23, 2022 (COURTESY PHOTO)
Love for Tibet
Zhu first visited Nyingchi City in south Tibet in 2008, in order to take a 130-km hike from the city's Pai Town to Medog County in the southern foothills of the Himalayas. The county was China's last "cut-off county," having no access to highways before 2013. "I was 28 years old and was disappointed in love and life," Zhu said. The four-day arduous hike over snow-capped mountains and through rainforests healed his broken heart. From then on, he fell in love with Tibet and began to seek an opportunity to work there.
Zhu is a civil servant with the Human Resources and Social Security Department of Guangdong Province. In 2016, he was given the chance to work in Tibet for three years as a volunteer under a central government program to assist in the region's development. In 1994, the Central Government launched a policy to provide greater support for Tibet by asking developed provinces to help specific cities and counties in Tibet under a partnership assistance program. Guangdong was one of these developed provinces and Zhu was appointed as the deputy chief of Nyingchi's Human Resources and Social Security Department. "Working in Tibet and doing something for the region had long been my dream," Zhu said.
During his term in Tibet, he convinced the Guangdong and Nyingchi governments to build a public vocational school in Nyingchi, the first of its kind in the city. "The best way to help Tibet is to raise its educational level. The region was short of skilled workers and a vocational school has the potential to empower local young people who fail to gain admission into college," Zhu said.
Zhu played a leading role in the preliminary work for establishing the school, from drafting the feasibility report to applying for funds from Guangdong. In June 2020, one year after he left Tibet, the Nyingchi Skilled Worker School was put into operation. So far, the school has offered 48 workshops on cooking, housekeeping, rural e-commerce, emergency rescue, and surveying and mapping, training 2,800 local workers.
"To cultivate a local talent pool is the top priority of Tibet's human resources development. Only people who love Tibet can play a lasting role in building it," Zhu said.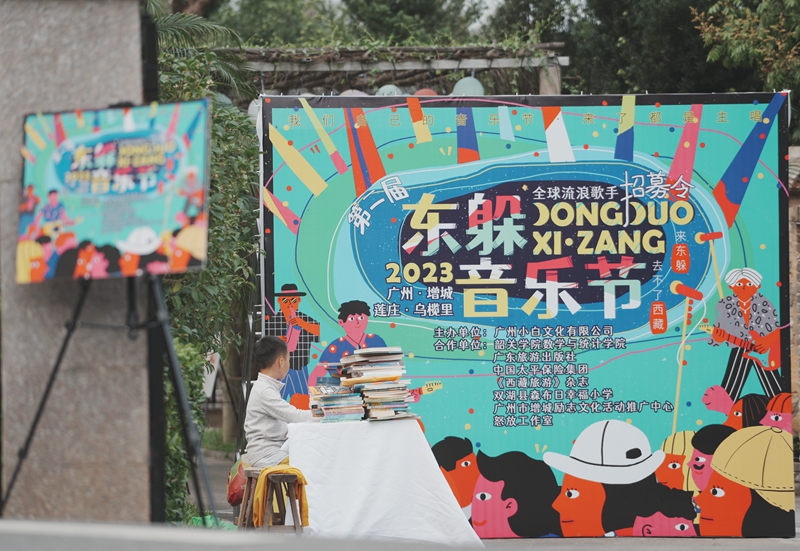 Books gifted by audience members at a charity concert organized by Zhu and his friends in Guangzhou, capital city of Guangdong Province on April 8 (COURTESY PHOTO)
Lasting connection
In addition to building the school, Zhu also built a mini shared library during his time in Tibet. Reading is one of Zhu's hobbies, but when he arrived in Nyingchi in July 2016, there was only one old public library and one bookstore, which was full of workbooks and test prep materials. "Life in Nyingchi was wonderful. But the pity of it was that it lacked public reading spaces," Zhu said.
"I decided to renovate my dorm into a mini shared library," Zhu said. He equipped his living room with a huge bookshelf, a coffee machine and a projector. Then, he posted an advertisement online to invite visitors. It read, "Anyone can read, drink coffee or even stay overnight in the shared library for free, as long as he or she is willing to share something with others in the library, be it a book, a story, a song or even an offer to clean the library."
Soon, his bookshelf was filled with more than 400 books, either bought by him or gifted by netizens and passer-by strangers. The library soon became a destination for backpackers. "It's a space for people to share books, music and love," Zhu said. "Unfortunately, my tiny library was closed down on July 3, 2019, the day I left Tibet."
Now, despite the distance, his love for Tibet and its people doesn't cease. Every year, he visits the region at least once. Wanting to do more for the people of the plateau, he held the free concert to collect books for Tibetan children. "It was a charity concert featuring rock and folk music. Alongside the performers, every audience member was encouraged to engage by ad-libbing on the stage," Zhu said.
As mentioned above, a book with a blessing on its first page was the only ticket to Zhu's concert. "I have been moved by the notes written inside the books shared by audience members," Zhu said. "Every book is a gift, not a donation, to Tibetan pupils."
In addition to the books collected at the concert, Zhu has also received books gifted by students at Shaoguan University in Guangdong and staff from the Center for Americas of the China International Communications Group. "I aim to collect 1,000 books by the end of April. All these books will be sent to Singpori Elementary School in Shuanghu County to enrich its library," Zhu said.
In the future, Zhu hopes to organize a concert every year and make it an influential brand to encourage more people to share books. The books collected every year will be sent to one rural elementary school in a different part of Tibet. "Maybe I can organize a concert in one of those elementary schools in Tibet one day," Zhu said.
Passing on the passion
Zhu is trying to pass on his passion for Tibet to the next generation by engaging his son Zhu Feng in events related to Tibet, including multiple trips to Tibet and working at the charity concert. The 9-year-old's name is a homonym of the abbreviation of Mount Qomolangma in Chinese.
In 2018, in the last year of Zhu's term in Tibet, he was invited to write a book on people volunteering in Tibet. He drove across all the 74 counties in Tibet and talked to over 600 local residents and volunteers. One year later, his non-fiction book Plateau Driving: A Journey Through Tibet From Pastureland to Wasteland was published and, so far, over 10,000 copies have been sold.
In his spare time, Zhu also gives lectures on Tibet in a dozen schools and bookstores in Guangdong. "I do so to promote both the book and Tibet," Zhu said. "I hope to share stories about people who volunteer to work in Tibet, about mountaineering on Mount Qomolangma and about the Roof of the World."
Print edition title: Giving Love by Sharing
Copyedited by G.P. Wilson
Comments to linan@cicgamericas.com