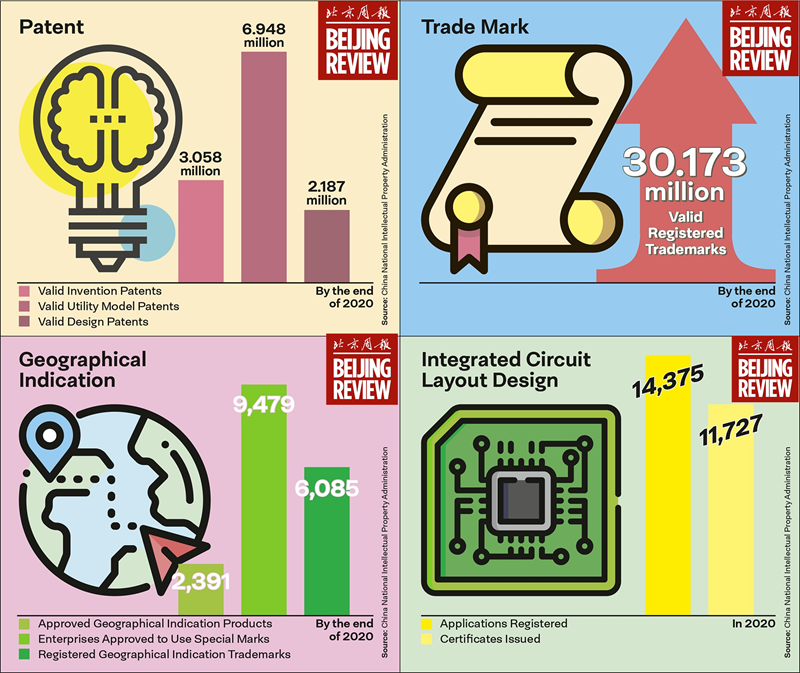 Today is the World Intellectual Property Day, which was established by the World Intellectual Property Organization on April 26, 2001.
Intellectual property refers to creations of the mind, such as inventions, literary and artistic works, designs, and symbols, names and images used in commerce. It is protected in law by, for example, patents, copyright and trademarks, which allows people to earn recognition or financial benefit from what they invent or create.
Let's take a look at the key statistics on intellectual property in China.
Picture 1
Patent
By the end of 2020
3.058 million Valid Invention Patents
6.948 million Valid Utility Model Patents
2.187 million Valid Design Patents
Picture 2
Trade Mark
By the end of 2020
30.173 million Valid Registered Trademarks
Picture 3
Geographical Indication
By the end of 2020
2,391 Approved Geographical Indication Products
9,479 Enterprises Approved to Use Special Marks
6,085 Registered Geographical Indication Trademarks
Picture 4
Integrated Circuit Layout Design
In 2020
14,375 Applications Registered
11,727 Certificates Issued
Source: China National Intellectual Property Administration