It looks like the U.S.-initiated trade war against China is heading down a dark tunnel with no end in sight. We will need to be patient and get ready for a long battle.
Both Chinese and U.S. scholars, media and business insiders have warned Washington that a trade war is going to hurt both sides. But the White House has turned a deaf ear.
One of the main arguments used by the Donald Trump administration is that China is "stealing" U.S. technologies. Chinese tech company Huawei has become the second target of the U.S. witch-hunt.
Huawei CEO Ren Zhengfei responded to a Bloomberg journalist, who accused him of "stealing" U.S. technology. Ren said, "The U.S. has not developed that technology, so from where should I steal it?"
The White House has picked the wrong fight. Huawei just happened to account for more than half of the international patent applications in 2018, "an all-time record by anyone," according to World Intellectual Property Organization Director General Francis Gurry.
I had the privilege of visiting one of Huawei's R&D centers in Xi'an, capital of north China's Shaanxi Province, back in 2016. The manager said Huawei had entered "unchartered territory." He said it was always easy to follow others' footsteps, but with no one ahead, the company had to find the courage and take the lead in developing the newest technologies and forging a path for others to follow. Back then, 4G had just been introduced. And hardly anyone knew Huawei was already developing 5G.
Fixating on scapegoats, from China to immigrants, is much easier than taking a long, hard look in the mirror.
It's time to uncover a painful reality about the divided nation of America. A comparison of patent applications under the WIPO system would tell a lot. The WIPO system is a main gauge for evaluating a nation's innovative ability.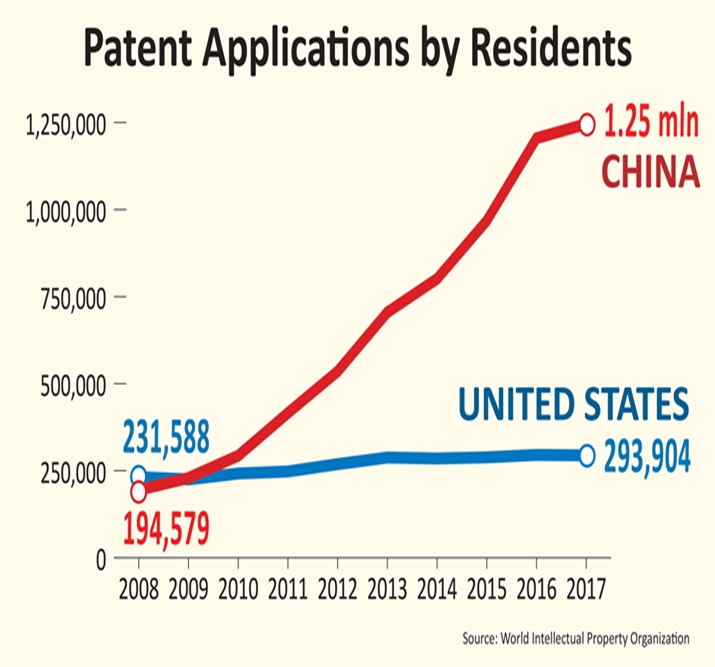 In 2008, the resident patent applications from China were about 200,000, and from the U.S. about 230,000, comfortably ahead of China. But in 2017, the figure from China rose to over 1 million, while the U.S. number hadn't changed much, remaining at under 300,000.
China has ranked No. 1 in patent applications in the world for seven consecutive years now. But you may be thinking, "An application is just an application, it doesn't mean anything."
Let's take a look at patent grants.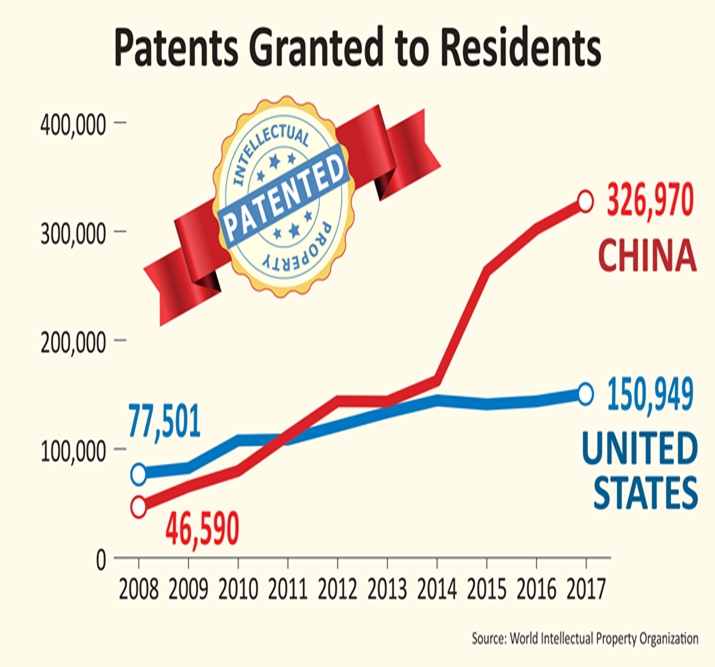 In 2008, resident patent grants to China were about 46,000, and the U.S. received about 77,000, almost double. But 10 years later, patent grants to China stood at about 327,000. And for the U.S.? It was around half of China at about 151,000.
Many people find this hard to believe. How could a nation which used to be a factory churning out cheap and low-quality products become one of the top players in patent applications and grants so quickly?
These folks have no idea that China is an innovative and diligent nation. Its hard-working people have created a highly-sophisticated civilization over the course of 5,000 years with great inventions that have changed the world. The only gap came when it was colonized by Japan and Western powers, which set our nation severely back.
So instead of telling the truth to the people in the U.S, the White House conceals these figures and resorts to the blame game. It's always easy and convenient to blame others for one's own failures, especially with the next election just around the corner. Frankly, I don't know who will be "stealing" from whom in the near future!
Maybe the U.S. should stop scapegoating Chinese companies, and think about creating another moon-landing moment in this new information age?
Copyedited by Rebeca Toledo
Comments to liuyunyun@bjreview.com