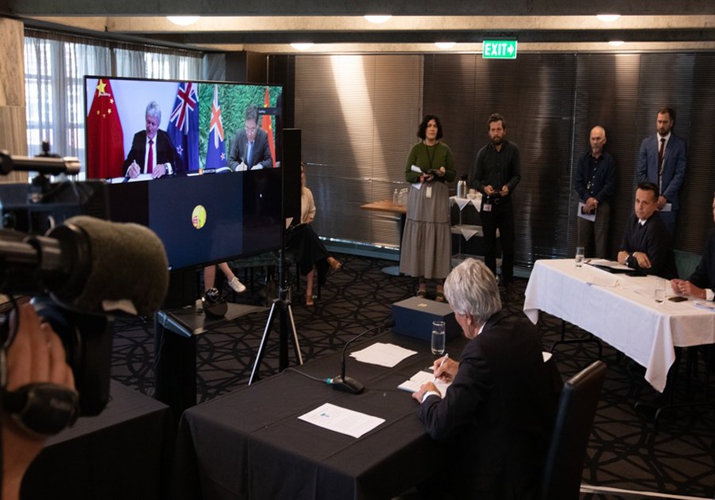 Photo taken in Wellington shows Chinese Minister of Commerce Wang Wentao and his New Zealand counterpart Damien O'Connor signing the FTA protocol via video link on January 26, 2021 (XINHUA)
China and New Zealand on January 26 signed a protocol regarding the upgrade of their free trade agreement (FTA) signed in 2008, a full display of China's commitment to multilateralism and an open world economy. The openness of free trade between the two countries, as revealed by the protocol, even surpasses that of the Regional Comprehensive Economic Partnership (RCEP), signed by 15 countries, including China and New Zealand, in November 2020. RCEP will cover the largest-scale FTA the world has ever seen.
The protocol now paves the way for further regional economic integration: China will further expand its opening-up in sectors including aviation, education, finance, elderly care, and passenger transport to New Zealand to boost services-based trade. New Zealand on its part will bring down the threshold for reviewing Chinese investment, granting it the same assessment requirements as set for those members of the Comprehensive and Progressive Agreement for Trans-Pacific Partnership (CPTPP).
The FTA upgrade adds several new chapters on e-commerce, government procurement, competition policy as well as environment and trade, in addition to a series of upgrades related to the rules of origin, customs procedures and trade facilitation, technical barriers to trade and trade in services.
The modernization of the FTA between China and New Zealand is undoubtedly bolstering the world's confidence in multilateralism and economic globalization, a godsend for a world economy cast into the throes of unilateralism.
China is now the second largest economy in the world as well as a major driver of international economic growth, and consequently the ripple effect of the Chinese economic growth has become too significant to be neglected. China and New Zealand signed their first FTA back in 2008, when the world was still dominated by multilateralism, in contrast to today's prevailing unilateralism that is imperiling international economic growth.
As both nations are RCEP and WTO members, their bilateral agreements can be used as a frame of reference by other members during their trade activities. Although China is not a CPTPP member, New Zealand, which is, is able to permit China the same threshold as the one enjoyed by CPTPP members thanks to the renewed protocol. Another major contribution of this network safeguarding multilateralism is how it helps relieve the harm unilateralism has slapped onto all parties involved.
As far as China's economic openness goes, international opinion divides into two schools: one is that China is to shrink its policies on opening up in the grip of both unilateralism as well as the blows dealt by the novel coronavirus pandemic; the other simply worries that China will not be as open to the outside world as it used to be.
A closer look at the protocol will dispel such suspicions, particularly the part about e-commerce which covers electronic authentication and certificates, online consumer protection, and network data protection. These updated measures combined mean to create a friendly environment for companies hailing from the two countries, particularly small and medium-sized companies, to better tap into market potential through the channel of e-commerce.
Although other countries, too, can get a slice of the cake, China and New Zealand are obviously the two biggest beneficiaries of the protocol. Since the FTA became effective, the trade in goods and services as well as investments has swiftly moved forward and upward. Total export and import volume between both nations jumped from $4.4 billion in 2008 to $18.1 billion in 2020, with an average annual growth rate of 14 percent. China has managed to retain its status of New Zealand's biggest trading partner and second largest foreign investment source for several years running.
The adoption of the renewed protocol is now expected to propel the two countries' economic and trade cooperation to the higher level.
Copyedited by Elsbeth van Paridon
Comments to lanxinzhen@bjreview.com