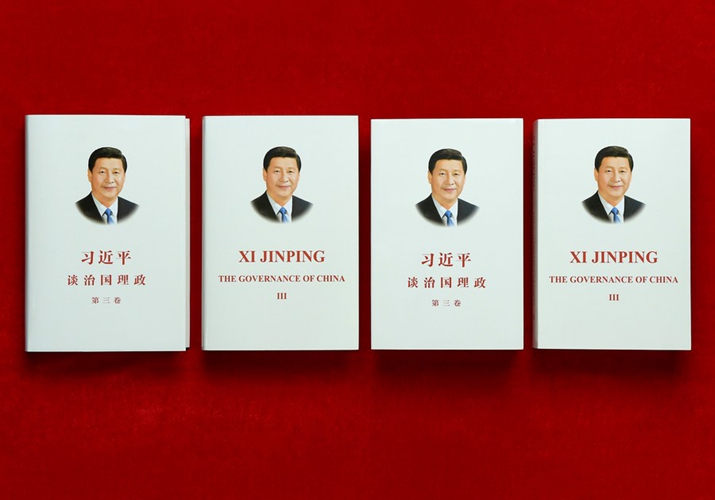 The third volume of Xi Jinping: The Governance of China in both Chinese and English (XINHUA)
When I received a volume III of "The Governance of China" by President Xi Jinping I felt very happy and enthusiastic to read through, get lessons from it and be able to apply appropriately for the good of my own country and its people. Firstly, we need to obtain or seek enough wisdom and knowledge to be able to learn good lessons from others, on their successes and failures or mistakes. Then we have to think big and dream big for the sake of our own country and people, like our big neighbor China, on how we want to lead our lives in the future. Then we have to work very hard and smart as planned in detail, implement with weal and woe and through step by step with good leadership, great courage, perseverance, unwavering spirit, strong will, and most importantly with the strong and genuine support of our own people who understand and trust that you are bringing them to a New Era of peace, security, and prosperity in not-too-distant future.
Every country has the right to dream. As a country, we have the right to dream what is best for its people and for the future of its choice without disrupting other peoples or countries. Not every country dares to think big or dream big publicly like China. China dreams boldly and declare to the whole world as "the Chinese Dream of national rejuvenation". China's reform and opening-up that started over 40 years ago has lifted more than 700 million people out of poverty. International community managed to achieve only one of the United Nations Millennium Development Goals and that was because of China. China has pledged it will be carbon neutral by the year 2060. China's successes and pledges to make the world a better place are unparalleled. Most countries have failed due to lack of courage to dream big or that they do not know how to achieve or make their dreams come true. Nowadays, many countries are facing nightmares with uncertainties, challenges both outside and inside, unwanted circumstances, threats, etc., but the problems that they are facing today are mostly created by their own past and present misdeeds, mistakes, and misrules or by mismanagement.
For Myanmar, we can learn many valuable lessons from China's success as to how it is carrying out measure to realize the Chinese Dream, to make it come true by 2049 or at its 100th anniversary of the founding of its modern nationhood. Firmly based on Xi Jinping Thought on Socialism with Chinese Characteristics for a New Era, the Chinese people are trying relentlessly to reach that New Era despite multitude of obstacles, hurdles, challenges, threats, and all sorts of disruptive, negative reactions, and unfounded criticisms that they face along the way.
The old phrase "time is of the essence" is especially true in our present fast changing world, and time is a resource to be used creatively, innovatively, and smartly for one's country to prosper and enjoy peace and security. China is very fortunate to have successive strong and benevolent leaders in its long history who not only saved the nation and people from chaos and destruction but who have succeeded in bringing up China and its people to the global stage as the second-most prosperous country in the world today. Unlike China, many countries have failed miserably under inefficient, poor, selfish, indifferent, and greedy leadership, misruled and mismanaged by irresponsible and corrupt public authorities, both known and many un-known missed opportunities, and by mistreating and misleading its own people and country.
In the current 21st century, times, circumstances and situations have changed drastically with the advent of IT and other cutting-edge technologies which have shrunk the world smaller and making citizens of the world very much closer and nearer to each other. Both ancient and modern wisdom, useful and essential knowledge can be obtained readily and appropriately online or from numerous sources and a wide variety of subjects can be learned through internet and virtual learning methods. The current pandemic has vastly expedited our reliance on the digital age and we are now more inter-connected to each other.
To be able to enjoy a more secure, stable, safer, prosperous, harmonious, and peaceful world, we must all work together with greater imagination, new innovative ideas or thinking, and with all-inclusive greener and environmentally safer development strategies, etc. Since more than 65% of the world's population are born after the year 2000, they are the ones who will share the future together for better or for worse in this 21st Century. The world leaders of today should think and look into the future of our countries, our young people, and for the future generations. Do we want to leave a lasting legacy by building a better country for the future generations?
No sensible person can deny or ignore the fact that the Chinese leaders of today are working hard tirelessly, selflessly, creatively, and skillfully for their country's future and for their youth with well-thought of plans. China has also opened its arms to the world and seeks partnership with other like-minded nations to join in their noble cause in building a global community of shared future and destiny in which all nations could enjoy peace and harmony. China has also openly declared that China will not pursue development at the expense of others and that it will deepen relations with its neighbors based on the well-crafted and renowned "Five Principles of Peaceful Coexistence". We can clearly learn, with our own independent mind and with clear heads, from the achievements of China and its future plans, without being influenced by biased negative views from external sources. Global governance system is only achievable if most of the world's leaders become proactive leaders and have energetic followers, as in China today. A good system can be implemented only with uncorrupt, competent and professional officials and talented people, especially from the younger generation, and when people have trust and confidence in their leaders. China is fortunate to have thriving, enterprising, educated, and talented young people who have become a great asset to China. If our young people of the world, especially from the developing world, can work closely, innovatively, and cooperatively with the young people of China, like brothers and sisters with genuine friendship, amity, sincerity, and with a sense of responsibility, sharing and caring for our mutual benefit, our future as well as the world's future will be much brighter, safer, cleaner, and more livable with peace and harmony among nations and peoples. I sincerely hope and wish that the best scenario will emerge for our young people, and their forthcoming generations as a global community of shared future.
Khin Maung Lynn is Joint Secretary of the Myanmar Institute of Strategic and International Studies(MISIS)