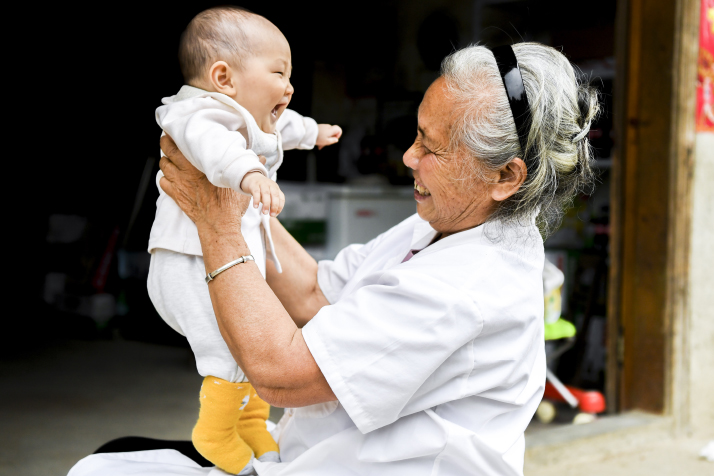 Wang Qiujiao, a 74-year-old village doctor, holds a baby while visiting a patient in her village in Hezhou, Guangxi Zhuang Autonomous Region, on May 11 (XINHUA)
How should we regard China's demographic changes and related issues at a time of heated discussions about new births hitting a record low, the population about to see negative growth and the aging process accelerating? How should China address the population issue from the long-term perspective?
Is the decline in birthrate an inevitable result of economic and social development? To some extent, the answer is yes, at least from the 200-year human history of industrial civilization.
In the 1740s, the First Industrial Revolution was initiated in the United Kingdom, and from the 1870s its population growth rate started to slow down. The process of demographic transition in Western countries followed the spreading track of industrial civilization almost perfectly.
In 1909, French demographer Adolphe Landry, using the population data in West Europe, described the evolution of population from "high mortality rate and high birth rate" to "low mortality rate and low birth rate," which was the rudiment of the theory of demographic transition. A major point is that driven by economic factors, people will consciously refrain from childbearing in order to maintain a higher standard of living.
At present, the industrial civilization has been spreading all over the world, and all affected countries, without exception, have experienced the process of demographic transition, with their birth rates declining. According to the World Population Prospects issued by the United Nations in 2019, the fertility rates in high-, middle- and low-income countries stood at 1.67, 2.35 and 4.52 respectively.
The decline in the fertility rate driven by industrialization and modernization is a complex phenomenon. With the wide application of reproduction knowledge and the improvement of medical technologies, the availability of contraception and birth control technologies has greatly improved.
More importantly, changes in production and consumption patterns have weakened the functions of families and reversed the flow of wealth between generations, making it uneconomical and irrational to have more children. The reproduction of population has also shifted from an extensive type pursuing quantity to an intensive one pursuing quality. It has made people opt to limit the size of their families so as to improve the average benefits enjoyed by each family member.
Seniors in Qianjin Village, Hefei in Anhui Province, celebrate Mother's Day together with volunteers on May 8 (XINHUA)
As women get increasing job and education opportunities and their social status rises, they have greater say in terms of how many children their families should have.
Therefore all those countries that promote industrialization and modernization face the risk of a decline in fertility rates, including China. Some hope that the population policy encouraging childbirth may boost the will for childbearing, but unfortunately, several studies have shown that such policies in developed countries are not as effective as originally expected.
On the one hand, many studies found that economic incentives such as maternity subsidies and child allowances do shorten the birth intervals, but fail to change the number of children families decide to have. On the other hand, generous family welfare policies, once considered to have played an important role in maintaining a stable fertility level, also create a heavy burden for the government budget, and high-welfare policies are constantly criticized.
What should China do to maintain an adequate fertility rate? Answer: Doing everything possible and suitable to China's national conditions. It must optimize its childbearing policy as soon as possible and accelerate the coordination of birth policies and other economic and social policies to create a policy and cultural environment that is birth-friendly, child-friendly and family-friendly and better supports families with fertility needs.
In the meantime, while increasing the support to families and reducing the costs of childbearing and rearing as well as education, China has to take into account the ability of public finance at all levels. After all, many other areas concerning people's livelihood also need more expenditure.
A declining birth rate and aging population are unavoidable demographic trends. Only by upholding the national innovation strategy, promoting the upgrading of the industrial structure and tapping the "second demographic dividend" can China offset the negative impacts of population aging on its social and economic development. The second demographic dividend can be derived from an increase in adult longevity, which causes individuals to save more in preparation for old age. This increase in savings can in turn contribute to capital accumulation and economic growth.
Against the backdrop of an increasingly aging population, the source of demographic dividend will shift from the amount of labor force to the ability of the labor force, making it necessary to improve productivity to offset a decline in labor input and to make science and technology innovations to prevent a possible loss in industrial competitiveness.
The first step to tap the second demographic dividend is to enhance human capital. Improvement of population health and education is also a notable feature of the current population development in China. Figures from the National Health Commission show that in 2020, China's major public health indicators ranked among the highest in middle-high-income countries.
Moreover, China has established the world's largest higher education system and more than half of its newly added labor force are college graduates. To meet the long-term needs of social and economic development, the strategy of invigorating the country through science and education and developing a quality workforce will be important for reaping the second demographic dividend in the new development phase.
It is even more necessary to establish an innovation-based industrial structure. Since the 12th Five-Year Plan (2011-15) period, with profound changes in the economic development environment and the conditions of factor supplies, China has been advancing supply-side structural reform. Its industrial structure has shifted from being labor-intensive and relying on resource processing and heavy chemical industries to a capital-, technology- and knowledge-intensive one.
Seizing the opportunities brought by the new round of science and technology revolution to realize coordinated development of talents, industries and science and technology will be a decisive weapon to address the challenges of an aging population. BR
The author is an associate researcher with the Institute of Population and Labor Economics of the Chinese Academy of Social Sciences. This is an edited excerpt from her article in Guangming Daily
(Print Edition Title: Solving a Population Puzzle)
Copyedited by Sudeshna Sarkar
Comments to wanghairong@bjreview.com