Nancy Pelosi, a Democrat from California, is many things: Speaker of the House of Representatives; a fierce advocate for women; a politician with a net worth of at least $120 million; and a loyal member of the anti-China brigade that on a daily basis reminds the U.S. media and public that China cannot be a real U.S. ally unless it accepts America's hegemony across the globe.
If Rep. Pelosi would stop there, then there would be no real problem; let's face it, and as mentioned, hers is only one voice critical of China in America's capital city.
Unfortunately, she does not want to stop there. Rep. Pelosi has returned to an idea that can be described nicely as one that will further strain already tense U.S.-China relations and the cross-Strait relations. Let's ignore that what she wants to do could also be described in not-so-nice terms.
Rep. Pelosi insists she will visit Taiwan in the coming weeks. According to the Financial Times, she will travel there next month, following up on a scheduled visit from April that was cancelled because she contracted COVID. If her trip happens, she would become the highest-ranking U.S. politician to visit the island since another Speaker of the House, Newt Gingrich, was there 25 years ago. Do not forget that she spoke with Lai Ching-te, the deputy leader of Taiwan authorities via video link earlier this year. In short, Ms. Pelosi is committed to showing her bona fides as a "friend of Taiwan".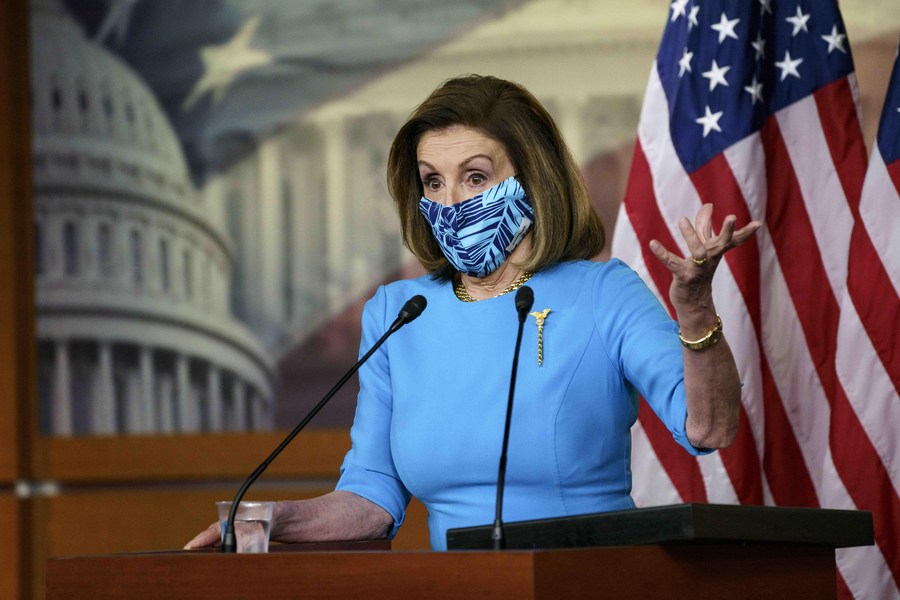 U.S. House Speaker Nancy Pelosi speaks during a press conference on Capitol Hill in Washington, D.C., the United States, Apr. 22, 2021. (Photo/Xinhua)
Justifiably, China's foreign ministry has made clear Beijing will take "resolute and strong measures" should Ms. Pelosi follow through on her ridiculous idea to travel to Taipei.
Let's remember, it was roughly 10 days ago when U.S. Secretary of State Antony Blinken met with Chinese State Councilor and Foreign Minister Wang Yi during the G20 ministerial meetings. At that time, the two sides reported positive news: There are possible high-level exchanges between the two countries in the future. Recognizing the pitiful state of U.S.-China relations, a situation brought on in part because America refuses to consider China's domestic and international wants and needs, any hint of high-level talks is a big deal.
Rep. Pelosi's commitment to traveling to Taiwan could reverse any gains made by Mr. Blinken and Mr. Wang. China's foreign ministry spokesperson already has acknowledged that such a trip would "severely undermine China's sovereignty and territorial integrity, gravely impact the foundation of China-U.S. relations and send a seriously wrong signal to 'Taiwan independence' forces."
Ms. Pelosi knows this, yet she appears content raising the tension in Asia. Her disdain for China is well known, but she has had nothing to say about the purpose of such a visit and what it would accomplish. Of course, we should expect significant national media attention in the United States. August is a month when national politicians flee the heat and humidity of Washington. And that means the Washington press corps will be quick to latch onto any visit Pelosi makes: It has the requisite elements of drama (with whom will she meet?) and symbolism (what imagery will be used to enhance Ms. Pelosi's stature and that of any official of Taiwan authorities alongside her?).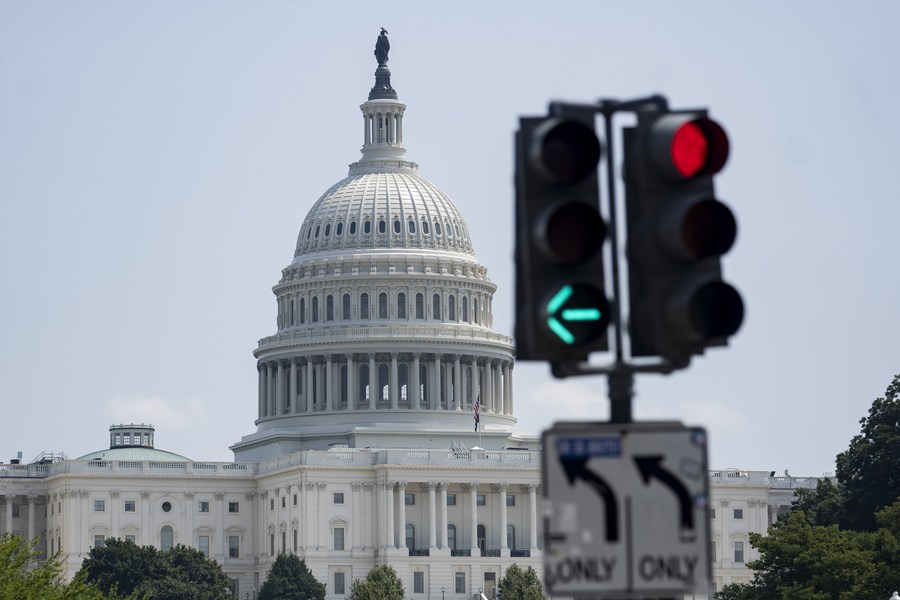 Photo taken on Aug. 10, 2021 shows the U.S. Capitol building in Washington, D.C., the United States. (Photo/Xinhua)
But will it have any substance? What exactly will she say that she could not say at home? And how will any of her words positively address the Taiwan Strait affairs?
I have the answers: Her visit will contain little substance as she makes statements that could have been uttered in the United States, and at the end of the day there will be nothing except that both Tsai Ing-wen the leader of Taiwan authorities and Rep. Pelosi will be able to say that the U.S. is proving it is Taiwan's top ally. And as long as Taiwan continues to purchase millions upon millions of dollars in military equipment from the U.S., that "friendship" will remain strong and unshakable.
Taiwan has been unnecessarily provocative this year in welcoming former high-level U.S. political figures. Consider the recent U.S. delegation that was warmly received by Ms. Tsai. That group included a former chair of the Joint Chiefs of Staff and a former undersecretary of defense. On top of that, two key figures in Donald Trump's administration – Mike Pompeo, who served as secretary of state, and Mark Esper, who was secretary of defense, have touched down in Taiwan this year. And two current U.S. senators, one Republican and one Democrat, also were there in 2022.
The reality is these visits antagonize U.S.-China relations and cross-Strait relations. In effect, American and Taiwanese politicians are playing to domestic audiences; they want to be seen as resolute and standing up to China's perceived growing influence throughout Asia. They are daring China to respond in a way that will allow them to say "see, I told you China was a bully."
A somewhat similar script was used by NATO as it recklessly sought to move closer and closer to Russia's borders, knowing that Russian officials would someday do something to indicate they had had enough. What you and I should have had enough of is political theater that is much more risky than rewarding.
The author is Associate Professor, School of Informatics, Humanities and Social Sciences at Robert Morris University, the United States.