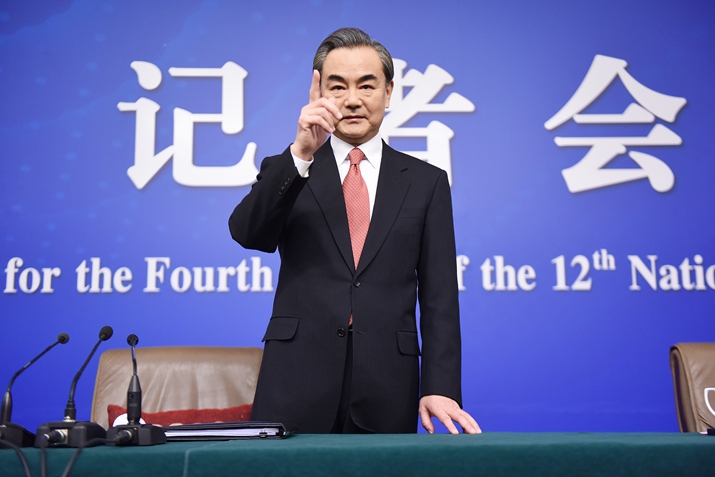 Foreign Minister Wang Yi answers questions from domestic and foreign media on March 8 (WEI YAO)
Editor's Note: On the sidelines of the Fourth Session of the 12th National People's Congress, Foreign Minister Wang Yi was invited to answer questions on China's foreign policy and external relations on March 8. The annual press conference usually sets the tone for China's diplomacy for the year. Wang covered such hot-button topics as the South China Sea disputes, the Korean Peninsula nuclear issue, and China's relations with major countries in the world. Edited excerpts follow:
Diplomatic Strategy
Our goal is to help realize the Chinese Dream of national rejuvenation and build a community of shared destiny for all mankind. The strategic choice is to strive for peaceful development both at home and in the world. The basic principle is to seek win-win cooperation and, on that basis, build a new type of international relations. The main pathway is to establish various types of partnerships and choose partnership over alliance and dialogue over confrontation. The value we insist on is to adopt a balanced approach to friendship and interests, upholding justice in international affairs and putting friendship before interests in state-to-state relations.
Korean Peninsula Nuclear Issue
China is a permanent member of the UN Security Council. We have the obligation and capability to implement all the resolutions passed by the Security Council, including Resolution 2270 concerning the Democratic People's Republic of Korea (DPRK).
I wish to point out that Resolution 2270 does not just contain sanctions; it also reiterates support for the six-party talks [on the Korean Peninsula nuclear issue participated by the DPRK, the Republic of Korea, China, the United States, Russia and Japan] and asks the parties to refrain from taking any actions that might aggravate tensions. So in China's view, the resolution must be implemented in its entirety. Sanctions are just a necessary means. Maintaining stability is the pressing priority, and only negotiation can lead to a fundamental solution.
At the moment, there is some saber-rattling on the Korean Peninsula, and the situation is highly charged. As the largest neighbor of the peninsula, China will not sit by and see a fundamental disruption to stability in the region. And we will not sit by and see unwarranted damage to China's security interests. We strongly urge the parties to act with reason and restraint, and refrain from aggravating tensions.
To eventually resolve the issues on the peninsula, we have to adopt a multi-pronged approach and apply the right medicine. To have blind faith in sanctions and pressure would, in effect, be irresponsible to the future of the peninsula.
In terms of negotiation, China has put forward a proposal to pursue, in parallel tracks, the denuclearization of the peninsula and the replacement of the armistice agreement with a peace treaty. Denuclearization is the firm goal of the international community, while replacing the armistice is a legitimate concern of the DPRK. The two can be negotiated in parallel, implemented in steps and resolved with reference to each other. In our judgment, this is an equitable, reasonable and workable solution.
We cherish our traditional bonds with the DPRK. If the country seeks development and security, we are prepared to help and provide support. But at the same time, we have an unwavering commitment to the denuclearization of the peninsula and we will not accommodate the DPRK's pursuit of nuclear and missile programs.
South China Sea Disputes
China is the largest country bordering the South China Sea, so we hope, more than any other country, to uphold the freedom of navigation in the South China Sea. Thanks to the concerted efforts of China and other regional countries, it is one of the freest and safest sea lanes in the world. I want to remind some people that the freedom of navigation does not give them a license to do whatever they want. If someone wants to muddy the waters or to destabilize Asia, China will not agree to it and the overwhelming majority of countries in the region will not allow it to happen.
The Nansha Islands are China's integral territory. Every Chinese has an obligation to defend them. China has not and will not make any new territorial claims.
In building defense facilities on our own islands and reefs, China is exercising its right to self-preservation under international law. China is not the first country to have deployed weapons in the Nansha Islands, we are not the country that has deployed the most weapons, and we are not the country that conducts the most frequent military activities. China cannot be accused of "militarization;" the label is more suited to some other countries.
In addition to building necessary defense facilities on the Nansha Islands, more importantly, China is building civilian facilities to provide public goods to the international community. When the construction is completed and the condition is ripe, we will consider inviting foreign journalists to visit the islands and reefs.
The fact is, China has made various efforts to promote peace and stability in the South China Sea. We have set up a China-ASEAN (Association of Southeast Asian Nations) Maritime Cooperation Fund, which has supported over 40 cooperation projects. We are actively advancing the COC (code of conduct) consultation: The parties have reached two lists of commonalities and entered into the phase of discussing crucial and complex issues. We have initiated the formulation of preventive measures for managing maritime risks. And we have offered to set up the maritime emergency diplomatic hotline and the maritime joint search and rescue hotline.
These initiatives speak volumes about our sincerity, but they've been obstructed by certain individual countries. Yet China has every capability and confidence to work with ASEAN countries to maintain the overall picture of peace and development in the South China Sea.
China was the first country to discover, name, develop and administer the South China Sea islands. Our ancestors lived and worked there for generations, so we know and love the place more than anyone else. And more than anyone else, we want to uphold peace, stability and freedom of navigation in the South China Sea.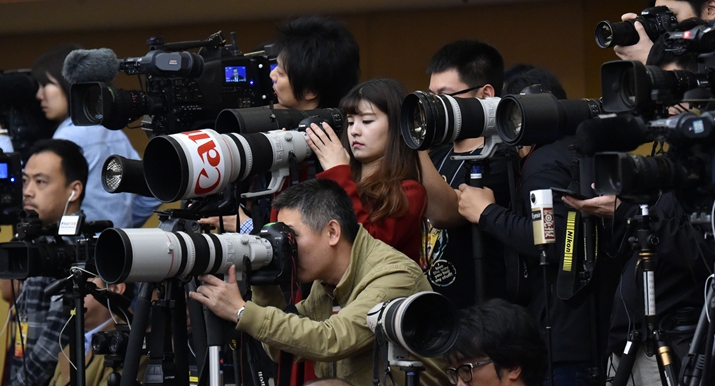 Reporters have their eyes on Foreign Minister Wang Yi at his press conference on China's foreign policy on March 8 (XINHUA)
China-U.S. Relationship
China and the United States are two major countries and there are both cooperation and friction between us. This might be the normal state of affairs. This morning, I've just heard news that the United States has announced trade restrictions on a Chinese company. We don't think it's the right way to handle economic and trade disputes. This approach will only hurt others without necessarily benefiting oneself. In the face of problems, our task is to resolve them. We want to expand and deepen cooperation and, at the same time, work hard to turn friction into cooperation.
In the past, the two countries had friction in the area of climate change. Yet last year, we worked together to ensure the success of the Paris Conference (UN Climate Change Conference). In the recent period, cybersecurity was a point of friction. But we've set up a number of dialogue and cooperation mechanisms. More recently, there is growing friction concerning maritime issues. But I think when the United States truly cools down, it's entirely possible for us to consider conducting maritime cooperation.
The source of these frictions is that there are always some people in the United States who have strategic suspicions about China. They are worried that China will one day supersede the United States. I want to emphasize once again that China is not the United States, and China will not and cannot become another United States. We have no intention to displace anybody or dominate anybody. My advice to American friends: Perhaps you may want to spend more time learning about China's cultural tradition distilled from its 5,000-year history, and don't always judge China with the American mindset. Get this right, and you'll see the bright prospects of China-U.S. relations.
[Our] President Xi [Jinping] has pointed out time and again that when China and the United States work together, we can accomplish great things that benefit our two countries and the whole world. Having gone through a lot in our relationship, we have now embarked on efforts to build a new model of major-country relations featuring no conflict or confrontation, mutual respect and win-win cooperation.
China-Russia Partnership
China-Russia relations are mature and stable. Our comprehensive strategic partnership of coordination is built on a solid foundation of mutual trust and mutual support. In 2015, President Xi and President Vladimir Putin met five times and set the tone for the continued strong momentum in China-Russia relations. We are making active and orderly progress in various big projects. Construction has started on the eastern route of the China-Russia natural gas pipeline. And our cooperation on industrial capacity, equipment manufacturing, agriculture, finance and so on is gathering pace.
This year marks the 15th anniversary of the signing of the China-Russia Treaty on Good-Neighborliness, Friendship and Cooperation. We want to carry forward the vision of ever-lasting friendship set by the treaty, turn our strong political relations into more fruits of practical cooperation, and add new substance to the China-Russia comprehensive strategic partnership of coordination.
China and the Middle East
When it comes to Middle East affairs, China has never been a mere onlooker. We have all along supported Arab countries' quest for independence and liberation, we enjoy ever closer economic and trade ties with the region, and we are contributing actively to peace and stability in the Middle East. China does not seek any sphere of influence in the Middle East, nor do we look for any proxy… All the countries in the Middle East welcome and look to China to play a bigger role.
If there is any change in China's policy toward the region, it is that in the context of building the [China-proposed] Silk Road Economic Belt and 21st-Century Maritime Silk Road (Belt and Road), we want to play a more active role and deepen win-win cooperation with countries in the Middle East. And on the basis of not interfering in other countries' internal affairs, we want to play a more active role in seeking the political settlement of burning issues in the region.
Sino-Japanese Relationship
Thanks to the efforts of wise people on both sides, there are signs of improvement in the relationship, but I don't see any grounds for optimism. On the one hand, the Japanese Government and leaders say nice things about wanting to improve relations. On the other hand, they are making trouble for China at every turn. This is a typical case of double-dealing.
Of course, we want to see real improvement in China-Japan relations. But as a saying goes, to cure a disease, you have to address the underlying problem. As far as China-Japan relations are concerned, the underlying problem is that some politicians in Japan have the wrong perception about China. Do they view a growing China as a friend or a foe, a partner or an adversary? The Japanese side needs to give serious thought to this question and make the right choice.
China and Europe
China has always regarded Europe as an important pole in a multi-polar world, and Europe has come to view China's development and rise in a more objective and sensible way. There was a time when China-Europe relations were beset by recurring frictions. But after the dust settled down, Europe has found that China and Europe are not headed for strategic rivalry and that there is no clash of fundamental interests between us. On the contrary, we have an increasing need for cooperation and a growing set of common interests. Going forward, we want to make concrete efforts with Europe to advance our partnerships for peace, growth, reform and civilization.
Working With ASEAN
We will work hard to build an ever closer China-ASEAN community of common destiny. We see ASEAN as a preferred partner in Belt and Road cooperation. We want to ensure the success of the China-Laos Railway, the China-Thailand Railway and the Jakarta-Bangdung High-Speed Railway that China and Indonesia are building together. These are important building blocks of the Pan-Asian Railway Network. When they are completed, the people of China and ASEAN countries will find it easier to visit each other.
ASEAN is our preferred partner in free-trade cooperation. We want to ensure the success of the upgraded version of the China-ASEAN Free Trade Agreement, so as to bring more benefits to businesses and people on both sides. And we want to actively advance the Regional Comprehensive Economic Partnership negotiation and try to wrap it up before the end of the year.
ASEAN is our preferred partner in regional cooperation. At the end of this month, [our] Premier Li Keqiang will invite the leaders of all countries along the Lancang-Mekong River, namely Viet Nam, Laos, Cambodia, Myanmar and Thailand, to gather in [south China's] Hainan Province for the first Lancang-Mekong River Cooperation Leaders' Meeting. The Lancang and Mekong connect all six countries. To date, we have prepared 78 early harvest items. Lancang-Mekong River cooperation is a useful supplement to China-ASEAN cooperation. It can help boost the holistic and balanced development of ASEAN.
ASEAN is also our preferred partner in maritime cooperation. We want to make good use of the China-ASEAN Maritime Cooperation Fund, and step up cooperation on the ocean economy, marine environmental protection and maritime security. In the meantime, we want to explore the possibility of establishing a South China Sea littoral states cooperation mechanism, and work together to maintain and build our common home, the South China Sea.
China and Africa
At the end of last year, President Xi announced 10 cooperation plans for China and Africa. The most salient feature of these plans is that we want to transition from a trade pattern that has so far been dominated by resource products to more investment and industrial cooperation.
By encouraging more Chinese businesses to invest in Africa, we want to help the continent accelerate its industrialization and boost its capacity for development. So these plans couldn't have come at a better time. They are designed precisely to help Africa deal with the new challenges from the global economy. When China makes a promise, it always delivers. Just three months after the Johannesburg Summit of the Forum on China-Africa Cooperation, we have gotten into touch with over 20 African countries to follow up on the outcomes of the summit. A number of early harvest items will materialize soon, and the China-Africa Fund for Industrial Cooperation is already up and running.
Belt and Road Initiative
Since the Belt and Road Initiative was first put forward more than two years ago, notable progress has been made.
First, more partners are signing up. To date, more than 70 countries and international organizations have expressed interest, and over 30 countries have signed agreements with us to jointly build the Belt and Road.
Second, the financial architecture is basically in place. The China-initiated Asian Infrastructure Investment Bank is up and running, and the first group of projects financed by the Silk Road Fund have been launched.
Third, a connectivity network is taking shape. Important early harvests have been achieved in the areas of infrastructure, finance and people-to-people exchange--most notably, the building of the China-Pakistan Economic Corridor and the China-Mongolia-Russia Economic Corridor. Freight train services now link China directly to Europe. Construction has begun on the Budapest-Belgrade Railway and the Jakarta-Bandung High-speed Railway. Important steps have been taken in the China-Laos Railway and China-Thailand Railway, which are both important parts of the Pan-Asia Railway Network.
And fourth, we are making all-round progress in industrial capacity cooperation. We have institutionalized such cooperation with almost 20 countries and created a new model of cooperation with Kazakhstan. A large number of key cooperation projects have been launched in various countries.
The Belt and Road Initiative was China's idea, but its opportunities belong to the world. This initiative echoes the general call of Asian and European countries for development and cooperation. It shows that China is transitioning rapidly from a participant in the international system to a provider of public goods. In building the Belt and Road, we follow the principle of wide consultation, joint contribution and shared benefit.
Overseas Interests
China will not take the old path of expansionism followed by traditional powers, and we will not engage in any form of power politics. Rather, we want to pioneer a uniquely Chinese way to protect our overseas interests, one that is in tune with the trend of the times and welcomed by the other parties.
First, China is willing to take on more international security responsibilities. Since 2008, Chinese navy has conducted escort missions off the Somali coast. So far, we have dispatched 22 fleets to escort over 6,000 Chinese and foreign ships passing through those waters. China is the biggest contributor of peacekeeping personnel among the five permanent members of the UN Security Council. We are also the second largest contributor to the UN peacekeeping budget.
Second, responding to actual needs and the wishes of the countries in question, we are trying to build some necessary infrastructure and logistical capacities in regions with a concentration of Chinese interests. This is not just reasonable and logical, but also consistent with international practice.
And third, we want to deepen mutually beneficial cooperation with other countries, including law enforcement and security cooperation.
Copyedited by Mara Lee Durrell
Comments to liuyunyun@bjreview.com