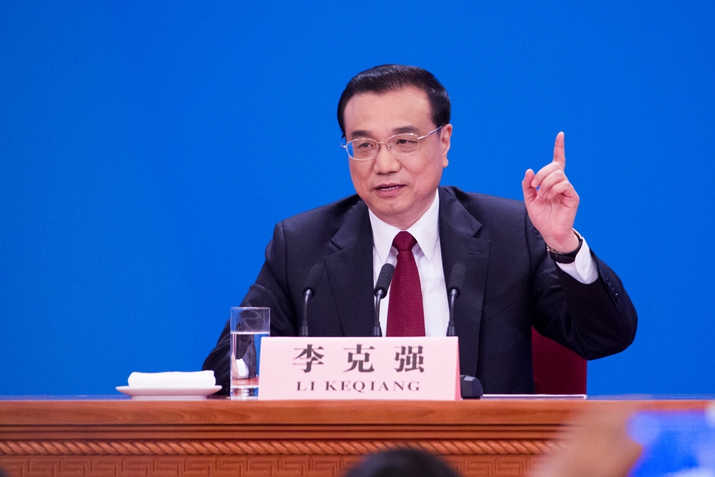 Chinese Premier Li Keqiang answers questions at a news conference on March 16 after the closing meeting of the fourth session of the 12th National People's Congress in Beijing (WANG XIANG/BEIJING REVIEW)
Primary task of finance
The stalemate of the real economy is our biggest financial risk. Related departments at central and provincial levels should be clear regarding their respective responsibilities and deal with problems in a timely matter so that problems won't spread. Of course, we cannot tolerate moral risks either. To sum up, we should sharpen our vision for effective regulation.
China's economy: more opportunities than challenges
I don't agree with the idea that China will be unable to achieve its economic goals. There are both challenges and opportunities raised by the heavy downward pressure. Taking a look at the overall situation, there are more opportunities than challenges. China is gathering a new growth momentum and will sustain its traditional growth momentum. They will serve as the twin engines of our economic growth.
Sino-U.S. ties
China became the Unites States' top trading partner with two-way trade reaching nearly $560 billion. This demonstrates that the common interests between the two countries far outweigh their differences. Economic and trade cooperation between the two countries has always been mutually beneficial. The ongoing election in the U.S. has garnered worldwide attention. In the end, no matter who gets into the White House, the underlying trend of Sino-U.S. relations moving forward will not change.
Paying pensions
Indeed, there are some local governments having difficulties with paying pensions, but it only occurs in isolated places for the time being. If great difficulties do indeed exist, the Central Government will extend help as long as the local governments do the best to their abilities. Everyone will retire and need to enjoy pension benefits one day. Here is a message of assurance. Taking a long-term perspective, the Chinese Government will not have difficulties in paying pensions. Therefore, the elderly will be looked after properly - these cannot, and will not, be empty words.
Cutting overcapacity
There is no conflict between reform and development. We can gain vitality and propel economic development forward through structural reform. In the process of cutting overcapacity, it is important to avoid large-scale layoffs and to ensure that the employees find new jobs. We need to strike a balance with cutting over-capacity, promoting development, and preventing large-scale layoffs.
Less red tape
This year, we are determined to cut some of the items and leave them to the market. For those that need to exist, procedures will be simplified.
Developing culture
On the economic front, there are many problems that the public criticizes, such as fraud, fake goods, and a lack of honesty. Developing culture could enhance morality. In advancing modernization, we should create rich material wealth while supplying our people with rich cultural products in order to win respect from the world with our strength in civilization and morality.
Mass entrepreneurship and innovation
The campaign of mass entrepreneurship and innovation is aimed at providing a platform for various types of companies and research institutions, and to create a broad space for crowd founding, crowd innovation and crowd sourcing.
National network of medical insurance
The government is determined to accelerate the national network of medical insurance. This year, we will basically solve the direct settlement of medical expenses that occurs at a different place within a province. Within two years, we will try to enable the inter-provincial settlement of expenses concerning the hospitalization of elderly people so that this logical, reasonable issue will no longer be a problem.
Purpose of governance
What is the purpose of governance? We must strive to improve the people's livelihood, and that calls for development and reform to respond to the people's requirements.
Comments to chenran@bjreview.com