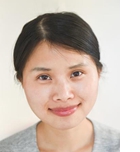 When the news came that the village where I was born was going to be demolished and everyone would have to be relocated, I flew back home, nearly 1,000 miles away, to attend the grand "mobilization meeting" with my recorder and camera in case anything untoward happened.
Several people in charge of the demolition project explained in detail the steps that would be taken, promising that "the government won't let you down." I had mixed feelings about them because I'd read online stories before about holdouts in this situation being bullied.
During my two-day stay and my relentless endeavor to collect government "wrong-doings," I heard entirely different stories: How siblings turned against each other over a few square meters of land; of how a husband and wife filed for divorce because while one found the government compensation acceptable, the other decided to hold out for more money; and how an old man in poor health wept because his house was completely blocked from sunlight—his sons built roofs over the open spaces to get more compensation from the government and developers.
After four months of seesaw negotiations, each family reached a settlement with the government and developers. The village where I grew up is now being rebuilt as part of Nanjing's urbanization efforts.
That is the reality.
And that is partly the reason why the majority of the Chinese who have seen the recent BBC video and accompanying article BBC Team Forced to Sign Confession feel infuriated. The report recounted the team's failure to meet a woman petitioning in a land dispute in central China's Hunan Province because of intervention by "thugs." The reporter used powerful and eye-catching words like "violence," "intimidation" and "forced confession" to engage viewers and readers, while completely ignoring other perspectives in the dispute: the developers, government officials, and fellow villagers.
The BBC reporter's deliberate carelessness is something to be examined.
The whole process of urbanization in China, which involves land reallocation and reintegration, is a Herculean task for local government officials. It requires wisdom and compromise to strike a delicate balance between social progress and personal justice in the form of compensation, while at the same time making sure that no one, even the most difficult of people, has cause for complaint.
Accusing security officers who risk their lives to protect others and are entrusted with maintaining social order as "the squads of goons" damages the reputation of a venerable news agency like the BBC. It is these people who make sure that law and order is guaranteed in Chinese society. The barely veiled hostility toward law enforcement organs and personnel is an unabashed attack on the level of safety and security that he has taken for granted.
The video and the accompanying article make us all wonder, what is the role of a credible media and responsible journalism? Reporting designed to instill fear, anger and resentment toward the government and officials, regardless of the nature of the argument, smacks of a premeditated motive.
This is why a constant pattern emerges in all of his BBC "reports" on China, depicting the nation as "ruthlessly totalitarian" and "opposed to freedom." The David and Goliath narrative, which is a much celebrated concept, becomes irrelevant if "David" is not really who we are led to believe.
When media elites flaunt themselves as champions of the people, something must be made clear: Does people mean the majority or a few? When selective truth becomes the mantra for journalism, we should go for the bigger picture and consider the greater good.
Some publications are so obsessed with sensationalism and how to spin out a message that they sometimes forget about the message itself and its consequences.
A lot of people in China resonate with U.S. President Donald Trump, who vented his anger on some media organizations, saying "fake news is the enemy of the people", (Then the media took out the "fake," distorting Trump's message into "the media is the enemy of the people).
Admittedly, a vast country like China with a huge population of 1.3 billion is not without its problems. Dedicated and well-intentioned journalists who point out genuine issues in a responsible manner are an indispensable part of making China a more agreeable and desirable place to live and thrive.
Copyedited by Dominic James Madar and Sudeshna Sarkar
Comments to liuyunyun@bjreview.com