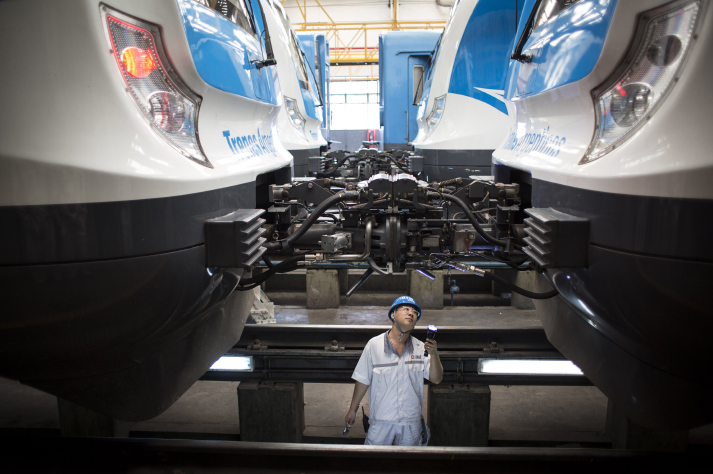 An Argentinian worker examins China-made passenger cars before they are put into use on a local intercity railway (XINHUA)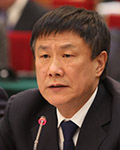 As the sum of rules, norms and regulations that govern states and other actors in global affairs, global governance is now undergoing complex and profound changes. Working toward a new type of cooperative partnership has gradually become an urgent matter for the international community. In the spirit of no conflict, no confrontation, mutual respect, mutual benefit and win-win results, this new partnership is based on peace, cooperation and development, as well as respect for different social and political systems, religions, cultures, national conditions and stages of development.
In his speech made at the United Nations Office at Geneva in January 2017, Chinese President Xi Jinping said, "Pass on the torch of peace from generation to generation, sustain development and ensure civilization flourishes: This is what people of all countries long for; it is also the responsibility that statespersons of our generation ought to shoulder. China's proposition is to build a community with a shared future for mankind and achieve shared and win-win development."
To build a community with a shared future for mankind, China should first fulfill its responsibility as a major country. Acting as a responsible emerging major country is an important public good that China provides to the world. As a participant, contributor and torchbearer in global governance, China aims to establish a fair and equitable international order and a beautiful home for mankind, so as to transform and replace "a disorderly and fragmented world."
To build a community with a shared future for mankind, China should continue to promote economic globalization. The China-proposed Belt and Road Initiative plays a significant role in fostering a new type of inclusive globalization. Issues concerning inclusive, shared and equitable growth should be handled in the spirit of extensive consultation, joint contribution and shared benefits. International cooperation in trade, investment, finance and industry should be green, open, inclusive and beneficial to all. Balanced development should be promoted between the real economy and the virtual economy, financial instrument and innovation, resource development and non-resource industries, as well as human and social capital and material capital.
To build a community with a shared future for mankind, China should continue to promote strong, sustainable, balanced and inclusive global growth. The Belt and Road Initiative involves many developing countries in Asia, Europe and Africa. Some of these countries have fallen into "a trap of low-level development," while others find themselves nowhere near national modernization due to their inability to eliminate long-term development bottlenecks. Infrastructure connectivity and production capacity cooperation under the framework of the Belt and Road Initiative will inject new impetus into the economic development of countries along the routes.
To build a community with a shared future for mankind, China should work hard to make cooperation beneficial to all. It is equally important to build railways and ports as well as schools and hospitals, but the most vital task is to establish fair, equitable, regulated, green and shared mechanisms. "Harmony in diversity" is cherished in Chinese culture, which underlines the importance of respecting different cultures, religions, political systems and stages of development. Inclusiveness is the foundation for cooperation and this is China's fundamental principle when participating in global governance.
Xi has noted that no matter how reform of the system of global governance unfolds, China must always take an active and constructive part in the process and make the international order more just and equitable so as to provide institutional safeguards for world peace and stability.
Looking to the future, China will take more solid steps toward further improving the international order, establishing a mechanism for international macroeconomic policy coordination and enhancing its capacity to benefit the world. All these efforts are aimed at building the global village into a community with a shared future as well as a beautiful home for all mankind.
The author is a principal researcher at the China Center for International Economic Exchanges
This article was originally published on China Report
Comments to yushujun@bjreview.com