Chinese snowboarder Su Yiming celebrates after taking the silver in the men's snowboard slopestyle in Zhangjiakou, Hebei Province, on February 7 (XINHUA)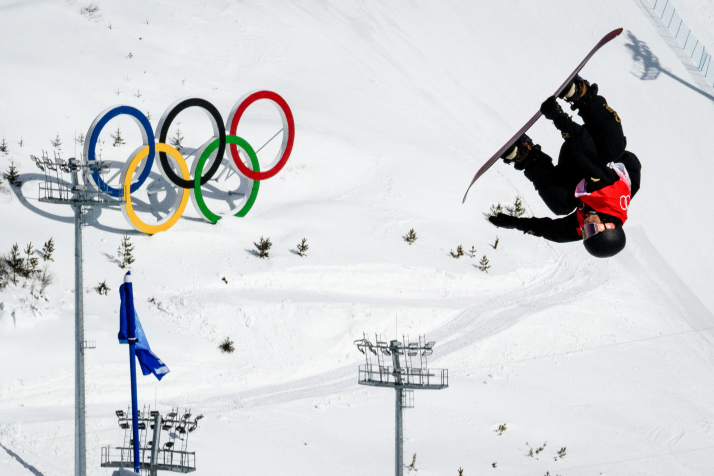 Su competes in the men's snowboard slopestyle (XINHUA)
At Genting Snow Park in Zhangjiakou, Hebei Province, Chinese teenage snowboarder Su Yiming put down three stunning runs to win silver in the men's snowboard slopestyle on February 7. It was the first time a Chinese athlete had competed in this event at any Olympics.
Su scored his medal-winning 88.7 points in the second of his three runs, by performing a triple cork 1800, that is making five full rotations while doing three off-axis flips in the air, in the last section—the first time the trick has appeared at a Winter Olympics.
"I would like to thank my country, my parents and my friends. The medal belongs to everyone who supported me," Su told Xinhua News Agency. "I am really excited to stand on the podium with my idols. I do not know how to express that feeling because I've never had it before."
Su shared the podium with two Canadians who won gold and bronze respectively. "Max Parrot and Mark McMorris are the world's top riders. I learned to snowboard by watching their videos and imitating them. I feel privileged to share the victory with them," he added.
Actor turned snowboarder
However, only a few years ago, Su, who is 17, was better known as a child actor who performed in Hong Kong director Hark Tsui's film The Taking of Tiger Mountain. Although he did ski well in the film, at that time, nobody would have expected him to become one of the world's top snowboarders.
Su, from Jilin Province, was introduced to snowboarding at the age of 4 by his parents, who were both snowboarding aficionados. Su fell in love with the sport the first time they took him to a ski resort. He kept on practicing and to save up more time for snowboarding, Su would get up at the crack of dawn and finish his homework early. As snowboarding was not very popular in China at the time, his parents couldn't find a children's board at the resort, so they gave him a snowboard for adults instead. Standing on its end, the snowboard was over 20 cm taller than the young Su.
Skiing brought Su many opportunities. When the makers of the film The Taking of the Tiger Mountain were looking for a child actor able to ski, Su applied and his snowboarding video awed the directors. He got the part.
As he was required to ski in the film, Su, who could only snowboard, was able to navigate on two planks within a day. His excellent performance in the film won him more opportunities to act in other TV series and films.
Su had regarded snowboarding as a hobby rather than a profession in the beginning, and it was not until July 31, 2015, when Beijing won the bid to host the Winter Olympics in 2022 that his mind turned to professional competition. He dreamed of participating in the Winter Olympics, and decided to go professional to compete in Olympic qualification tournaments.
In 2018, Su was selected to China's national snowboarding team. In 2020 and 2021, he took home gold medals in the big air and slopestyle events in all national competitions. In January 2021, he became the first Chinese male snowboarder to finish the Cab 1800 (a switch frontside 1800 degrees), known as one of the most difficult snowboarding tricks. In October 2021, he completed a backslide 1980 Indy Crail while training in Austria. In January this year, the Guinness World Records credited Su as the first person to complete such a stunt in snowboarding.
In December last year, he won historical gold at the International Ski Federation (FIS) Big Air World Cup in Steamboat, Colorado, the U.S., becoming the first Chinese male athlete to do so.
China is stronger in ice than in snow sports. However, Su and his fellow athletes are constantly making breakthroughs on snow. Snowboarder Yang Wenlong completed a cab triple 1980 in October last year, becoming the first person in the world to complete the maneuver.
Su said as snowboarding started to develop relatively late in China, it used to seem impossible to keep up with the best countries. Now, the overall strength of the sport has improved a lot, although China still has room for improvement compared with the snow sports powers in the world.
Behind his achievements are Su's hard efforts. He has seized every opportunity to train more, consistently arriving at the training base earlier than his teammates so that he could practice more maneuvers. Once, during an intense period of training in the extreme cold, he broke several snowboards in one week.
The standard Su held himself to in training was also extremely high. Sometimes even when his Japanese coach was satisfied with his moves, he would continue trying if he himself was not satisfied.
Su also knows several foreign languages, which facilitates his communication with his coach. Besides learning English at school, he learned Japanese and Korean when he traveled to ski in Japan and the Republic of Korea with his parents.
A versatile youth
According to his parents, Su will return to high school to prepare for the college entrance exam after the Winter Olympics. He will pursue a higher education while continuing his snowboarding career. He will also not give up acting and plans to participate in new works in future.
In addition to snowboarding, Su has many hobbies. He likes surfing as it has much in common with snowboarding. He sometimes watches videos of surfers to get inspiration.
Like most young people, Su is active on social media platforms. He likes to post videos of himself snowboarding on social media. "I think it is important to share videos online. Snowboarders are like a big family. We are competitors during competitions but friends outside of the venues. Seeing my favorite athletes leaving messages on my social media makes me very happy, and the FIS sometimes reposts my videos, which I think is a great form of recognition for me," Su said.
Su also enjoys playing the guitar and likes fashion. He has kept his hair long for many years because he thinks it's cool.
"I hope to be known not only as an athlete, but also as an actor and maybe for other things, too. However, no matter what I do, I will be focused and spare no effort to do it well," he said.
After Su won his silver medal, his father Su Qun told The Beijing News that he expected his son would deliver better performances in the big air event, in which his skills are stronger. The father said that this will not be his son's last Olympics and he'll deliver better performances in the future. Finally, the older Su said his son's idol is American snowboarder Shaun White, a five-time Olympian and three-time Olympic gold medalist in halfpipe, adding his son would love to have a long sports career like White's.
(Print Edition Title: Snowboard Wunderkind)
Copyedited by G.P. Wilson
Comments to jijing@cicgamericas.com